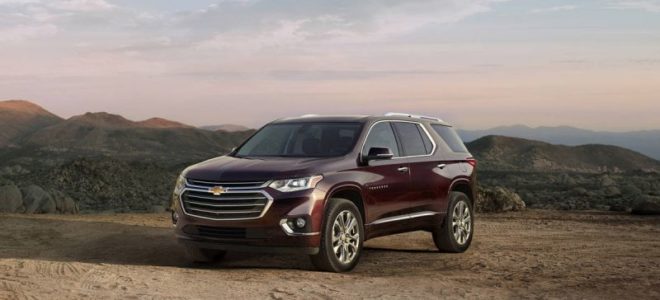 01/09/2017 UPDATE: It's been nine years since Traverse last time went trough any changes and that period is now over. On Monday Chevrolet finally presented new 2018 Chevrolet Traverse who to stay competitive eventually underwent some changes. It is expected for this model to be in the showrooms by the end of fall.
The fact that it hasn't been changed for more than nine years didn't affect Traverse's sales all that much. Chevy sold more than five hundred thousand since its introduction in 2008. All new Traverse will be available in seven trims, and all of them excluding RS will feature GM's 3.6-liter V-6 mated to a nine-speed automatic transmission. This unit is capable of producing 305hp and 260 lb-ft of torque.
RS trim that should represent a sportier version of Traverse comes with 2.0-liter turbocharged four-cylinder, and front-wheel drive exclusively, can make 255hp and 295 pound-feet of torque. This output probably won't be able to compete with Explorers 3.5-liter EcoBoost V6. The rest of the trims stay the same as on the previous model, and they include LS, LT, Premier and top of the range High Country trim.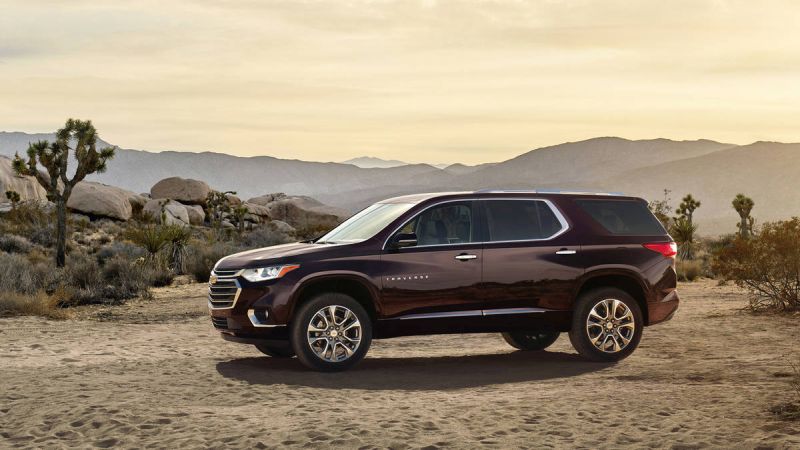 One of the main traits of this SUV was its space. 2018 Chevrolet Traverse comes with a lot of that here. Thanks to its large wheelbase third row seats also get comfortable because they no longer sit on top of the wheels. Traverse is now longer, so it offers more space in the cargo area and also all across the SUV. Space is available for all of its passengers and also to stack all kinds of accessories and gadgets at your will.
The exterior design also got its much-needed upgrade. It was facelifted a couple of years back, but it was yet trailing behind the competition. More muscle and aggressivity was added with much of its design cues being drawn from its larger siblings Tahoe and Suburban. On the front end, new Traverse adopted Chevy's new look all the way, but you can't shake the feeling that it also looks like Ford's Explorer.
On the inside 2018 Traverse also followed trends and it is stacked with highest of the tech that Chevrolet can offer at the moment. Some of the traits that come as standard equipment on new Traverse is Apple CarPlay, Android Auto, 4G LTE WiFi hotspot, eight-inch touchscreen, etc. Some of the optional features depending n the trim of your selection include lane-keep assist, surround view cameras, lane departure warnings, pedestrian braking, forward collision alert and automatic breaking.
08/02/2016
We have seen the new GM Acadia, unveiled in the 2016 Detroit Auto Show and it's been shrunken to fit the current needs of the customers, such as better fuel economy and larger pack of features. Why is this important to the Chevrolet Traverse? Well, the models share the GM's Lambda large crossover platform and the new 2018 Chevrolet Traverse will be built on the long-wheelbase version of the new 2017 GM Acadia. That means the new Traverse will keep its current size, leaving a vacuum between Traverse and a more compact Equinox to slot a mid-sized crossover – most likely the new Chevy Trailblazer. Long story short, if you need a large vehicle, capable of seating up to eight passengers, with plenty of cargo room, with abundance of entertainment and safety features, which also handles well, you'll need to consider this car.
2018 Chevrolet Traverse Powertrain and Performance
Although the current Chevrolet Traverse is using a V6 engine, outputting 281 horsepower under its hood, we might expect an even more powerful unit. Since the model is likely to be bigger and heavier than the new Acadia, its 2.5-liter inline 4-cylinder isn't going to cut it. Therefore, the 3.6-liter V6 unit, capable of outputting 310 horsepower will be perfect choice for the company. The extra horsepower do make a difference, especially in larger vehicles and especially on the inclines.
As far as the transmission system is concerned, the 6-speed automatic gearbox is likely choice, however, the GM is currently developing a nine speed automatic transmission, that may be ready just in time to fit in the new Traverse. Front-wheel drive will be standard configuration, with an option of all-wheel drive, just like on the current model. Performance wise, the new 2018 Chevrolet Traverse will be able to reach 60 mph in around 8 seconds. The estimated EPA ratings are as follows: 17 mpg in the city, 24 mpg on the highway and 19 mpg combined for the front-wheel drive and 16 mpg in the city, 23 mpg on the highway and 19 mpg combined with the all-wheel drive. The total towing capacity will be around 5200 pounds.
Exterior and Design of new 2018 Chevrolet Traverse
The new 2018 Chevrolet Traverse will get a fresh look, when it comes to design. Slightly inclined, semi-sharpened front headlights with LED technology fit quite nicely on the front fascia of the new model. The front grille is split in two, separated by the front bumper. Fog lights, as well as daytime running lights are positioned near the side air intakes on each side of the bumper. The new Traverse is 203.7 inches long, 78.5 inches wide, with a wheelbase width of 118.9 inches. Total curb weight of the car is 4713 pounds. The model will be offered in many different colors, such as Blue Velvet Metallic, Silver Ice Metallic, Summit White, Tungsten Metallic, etc.
Interior, Features and Trim Levels
The new model will come in three trim levels – the LS, the LT and the LTZ. Even the base LS model will have much to offer, when it comes to the equipment and additional features. Some of them are the 60/40-split foldable second and third row seats, Bluetooth and USB connectivity, dual-zone air conditioning, OnStar telematics system, cruise control, automatic headlights, rearview camera, CD player, a 6.5-inch LCD touchscreen, with infotainment display, satellite and HD radio and much more. The LT trim adds up features such as rear parking sensors, leather-wrapped steering wheel, tilt-adjustable steering wheel, front heated seats, 10-speaker Bose audio system, etc. The most expensive LZT will come with the previously mentioned equipment, plus stuff like leather upholstery, built-in navigation system, collision warning system.
Pricing and Release date
If everything goes according to plan, we should expect the new Traverse in early 2017. There are some indications that new Traverse could be presented at this year Los Angeles Auto Show. What is more likely is that we will have to wait until start of the next year and Detroit Auto Show. As for the price, around $30k seems reasonably, considering the price of the current model, and the competition. Looking at the competition (Nissan Pathfinder, Ford Explorer, Mazda CX-9, Honda Pilot, Hyundai Santa Fe, GMC Acadia), and the offerings of new Traverse, rise in price would be unwise move by the Chevrolet.