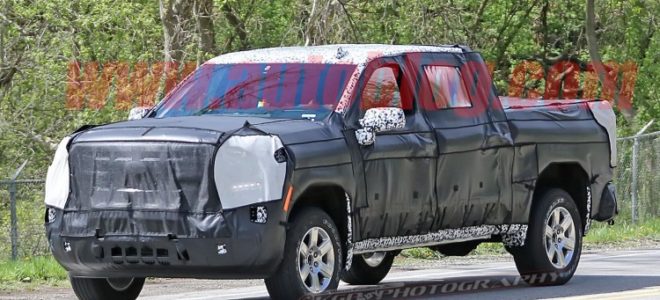 The work on 2019 Chevrolet Silverado is on full steam as new, lightly camouflaged prototypes have been spotted. The engineers and test drivers from the Detroit-based company are tireless in thoroughly testing this vehicle.
The camouflage feels less bulky compared to the previous photos, but we still can't see its new design in its full glow. But, this time we at least had a better look at Silverado's radiator grille. The front end of this truck is going to be more pronounced than it's the case with the ongoing version. In the middle of the grille, there is a vertical divider where Chevy's badge is going to be put. Bellow that you have a bumper with two fog lights and air intakes that look to have an additional hole.
At the rear end, there are more details visible. The taillights are going to feature an all-new L-shaped design. Lower on the rear fascia we have a single exhaust pipe, which is standard on Chevrolet trucks. If you remember, previous test mules had fake oval pipes. Also, new 2019 Silverado is planning to lose some weight by going partially-aluminum which is in contrary to its anti-Ford commercials, but it needs to be done. But, for fans of steel bed, worry not, some models continue to use bed made of steel.
More improvements 2019 Chevrolet Silverado is going to get under the bonnet. The lineup will be broadened by an inclusion of diesel powertrains. The options that are most likely are a 3.0-liter inline-six or even more potent 4.5-liter V-6. On the petrol side of powerplants, Chevy is going to add new V6. As for the gearbox Chevrolet is going to switch to a 10-speed automatic transmission which should enhance trucks fuel efficiency.
Thanks to the $1 billion investment Chevrolet will be able to produce both 2019 Silverado and 2019 Sierra trucks in their plant at Michigan. The vehicles are expected to debut in the autumn of next year as 2019 MY. In recent months reports started to surface that this truck is not going to be inducted in January at NAIAS, but now it seems that it will instead wait for Los Angeles Motor Show next year. Either way, it remains to be seen how will this play out.
11/06/2017 Update: Prototypes of new 2019 Chevrolet Silverado are being seen on the streets in more frequent intervals than before. The latest spy photos reveal looks of the upcoming truck more than ever before. There aren't exact information on when will it be released (2018 NAIAS is a possibility), but with refreshed 2018 F-150 already on the market, and new RAM 1500 on the horizon, new Silverado is expected soon enough.
The new set of photos is giving us more precise look at the Silverado design, LED lights and the rest of the frame. At the ends of the bar on the grille, you can see new tweak on headlights in Z shape. The lights are more angled than they were on the last model. We dare to say that they have a bit of 'Honda' in themselves. The fog lights are now more centered, above the bumper, positioned on the corners of the grille. The entire front fascia, especially the hood, looks close to the rest of the Chevrolet lineup. The nearest vehicle that it resembles it's smaller sibling, the Colorado.
Now, moving onto the side profile, we see more and more changes compared to the ongoing model. The wheels squared look that previous generations of this truck are gone with 2019 Chevrolet Silverado. New round shape is more fitting, and it gives the truck a clean look, that it was missing in years past. The mirrors are mounted on the doors, rather low, and not on the window. This way they got more glass to them and better viewing experience. All in all, the design of new 2019 Silverado is not entirely new, but it's more an upgrade to the current version.
At the rear end, there aren't any significant changes that are visible with this set of spy photos. The taillights are there but are covered so much that the red color of the backlight is barely there. What can be seen is that specific models or trims will receive different exhaust pipes. The rear-facing ones, quite similar to those that RAM 1500 boasts. The bumper is also barely visible, without any standout features. Look for more new photos and information in upcoming weeks and months.
06/30/2017 UPDATE: It seems that diesel in half-ton pickup trucks is becoming a must-have. The latest vehicle to add a diesel powertrain in its lineup is 2019 Chevrolet Silverado. The most recent set of spy photos are showing a prototype on the gas station tanking, you guessed it with diesel fuel. This became evident after the driver took the green handled from the pump. Green is the clear signal of diesel, and that's how we know. In addition one of Chevrolet engineers even fueled a gas container, a yellow one, which is usually reserved for this type of fuel.
So, we know that there's a diesel unit under the bonnet but which one? The most likely solution is a 4.5-liter V-6 mill. Also, we wouldn't like to exclude the smaller 2.8-liter Duramax four-cylinder which is used by Canyon and Colorado trucks. If the upcoming 2019 Silverado goes trough with the weight loss, this powerplant would have enough power to do a decent job.
The pound-drop would be achieved trough excessive use of aluminum.This was announced by Chevy, but also we know that they won't get rid of their bragging bed. You know, the highly durable steel bed, which is easily noticeable if you are 'real people' and 'not actors.' The parts that would use aluminum and other lightweight materials are hood, body panels, and fenders.
Regardless of engines under the hood, GM will probably use a ten-speed automatic transmission. This gearbox was developed in cooperation with Ford, and the Blue Oval company is already using it. It is expected for Chevy to follow suit.
In addition to a diesel powertrain Chevrolet will offer a range of V-6 and V8 units. Also, there ought to be a turbocharged engines, but we still don't know how will Detroit-based company address this. From the rest of the spy photos, we can conclude that 2019 Chevrolet Silverado is going to use dual exhaust pipes, Rancho shocks which are shared with Silverado Z71.
In conclusion, let's just say that truck market was never more vivid. With Ford already using diesel in F-150, RAM is exploring the market and plans to enter the oil-burner fry; now we have Chevy doing the same with Silverado. What a time to be alive.
CLICK HERE TO SEE THE SPY GALLERY
05/08/2017 UPDATE: The work in progress that is 2019 Chevrolet Silverado is getting more and more closer to being a finished product. To confirm this statement of ours, we have a new set of spy photos. Unlike before this time around, we have a good view of the interior of this truck. To say that we are not surprised would be an understatement because the changes that the cabin of Silverado has undergone are small to none. The steering wheel is the part of the interior that has been a subject of redesign and now features four-spoke design. It also has scroll wheels on both sides of the top positioned spokes which are there to make display navigation easier.
Center part of the dash is, like always, reserved for the display and it has the latest generation of MyLink, and it has eight preset shortcuts. Bellow the screen there is a set of buttons and knobs which presumably serve for climate control. Moving even lower than that and we have 110V AC power, several USB ports (at this point we don't know the exact number), and a standard 12V DC outlet. The part of the console that is positioned overhead features what seems to be OnStar call button, front reading, and entry lights, and an integrated HomeLink transmitter that comes with three buttons.
Same as Ford with F-150 Chevy won't change too much in order not to upset the loyal customers, and that is why column shifter will be a part of 2019 Silverado.
In addition to the interior, we also have a much better look at the outside of the truck than it was the case before. On the front fascia, we have noticed a new set of headlights that now feature a full LED technology. New to them is the set of multiple reflectors that are positioned on the upper part of the lights. Among spied test mules some of them looked like they are part of lower-trim, with dual rear exhaust pipes, which is different from standard right positioned outputs. If you look carefully, you will notice the absence of venturi tip which is a clear sign of a petrol powered unit.
2019 Silverado Release date
If you are wondering, when will we be able to so a completed model, there is a couple of answers? The most optimistic are that we are going to see it at the Texas State Fair. This manifestation is on schedule in September. If new Silverado misses this opportunity, the odds shift to the Los Angeles Motor Show. As you know, this auto show is usually held in November, and that is the case now. The latest option, which means that the release date of 2019 Chevrolet Silverado is set for the beginning of the next year, is Detroit Auto Show. We all know that this show is held in Detroit in January. 2018 release is a possibility but we keep our hopes high, and our fingers crossed for a 2017 release.
03/08/2017 Review: The Silverado is the second best selling truck on the US market but despite that many said it is also the best. While this was true when it was released, this is no longer the case. In order to get back at the top GM is already preparing a new model. So far the new truck has been just a rumor but more recently the 2019 Chevrolet Silverado has been actually seen testing in the Arctic. The best part about this camouflaged truck is that it was a complete prototype which means Chevrolet is nearing the end of the development process. Unfortunately though, so far there is very little information available about it. From the spy shots we can get a good idea about the size of the truck but that's about it. We currently know two things for sure.
Firstly, GM is heavily criticizing the use of aluminum in trucks. They say aluminum increases repair costs and it doesn't make much sense in a truck. While we tend to agree, aluminum does have its advantages which are quite clear. It is lighter so it allows for a higher payload than otherwise and it is also immune to rust. These alone should be more than enough to make GM change their mind.
Secondly, even though GM is waging a war against aluminum, it seems that they might develop an aluminum alloy to use on their 2019 Chevrolet Silverado. This was just a rumor but it has been confirmed not that long ago that the truck will be considerably lighter than before. This could only be achieved with aluminum, especially since a truck needs to have a beefy running gear to tow and go in off-road. The price will likely not change much so expect it to cost from around $28,000.
2019 Chevrolet Silverado Redesign
Even though Chevrolet is camouflaging the development mule as a Ford, it is quite clear the truck is the future Silverado. The prototype is definitely a crew-cab model with a short bed. There are some interesting design notes such as the rectangular dual-exhausts integrated under the rear bumper. On top of that it seems to get an all new front fascia. This boast a more subtle grille than before and so far it seems they might skip the massive amounts of chrome for once. When parked near a current generation version, the 2019 Chevrolet Silverado seems to be slightly taller and wider as well. On top of that, the wheel arches are definitely wider while the wheels do seem to be smaller than before. Soon enough we also expect to see development mules for its other versions which will get rid of some of the mystery surrounding it.
Unfortunately it is still quite early in development so the cabin of the upcoming Silverado is still a well guarded secret. Luckily though Chevrolet has been fixed on simplicity for the past few years. All of their models, including crossovers, SUVs or cars, feature a minimalist dashboard, great materials and a great set of features. We are quite sure the new Silverado won't be far off their other models.
2019 Silverado Engines
V8 engines are great but they do not represent the future. Emissions standards are getting harsh and naturally aspirated engines won't pass them soon enough. Because of that rumors suggest the 2019 Chevrolet Silverado is going to boast new turbocharged V6 gasoline engines. The base model of the truck will likely receive a smaller 3.6 liter naturally aspirated V6 offering around 330 horsepower and 280 lb-ft of torque. Both the 5.3 and 6.2 liter engines on the other hand could get replaced by either a 3 or 3.6 liter twin-turbo V6. Either of them is known to make as much as 400 horsepower and over 400 lb-ft of torque, more than enough to power the lighter Silverado.
Some even suggested that GM could develop a high-torque 3 liter twin-turbo V6 offering around 325 horsepower and north of 400 lb-ft of torque as their mid-level engine. Like before, rear wheel drive is going to be standard while a four wheel drive system, with an optional rear LSD, will be offered as an optional extra. The old 6 and 8 speed automatic gearbox will definitely be discontinued. In their place we should see a single 10 speed automatic which should considerably improve fuel consumption.
We listed all of its rivals bellow but you, same as us, know just at which competitors truck is new Silverado aiming. The Ford F-150 is archival which needs to be dethroned. Hence why Chevy is going to do with its premium truck the same thing Ford did with its. The work is in progress, but still in early stages. Nevertheless, the date is set. 2019 Silverado is going to be presented at 2018 Detroit Auto Show. NAIAS has for years been the main stage for promoting new trucks which are adored in the States. Summer release in dealerships is what awaits us after and we sincerely can't wait to see what Chevrolet has in store for us.
Competitors
They say that the only way to become better is to compete with someone and by outshining them set new boundaries for yourself. This is an everyday occurrence in the car industry where competitors fight each other to stay on top. The truck segment in the United States is one of those where big fish battle the most. The list of Silverado's rivals inevitably starts with 2018 Ford F-150 and goes across GMC Sierra 1500, 2019 RAM 1500, 2017 Nissan Titan all up to 2018 Toyota Tundra.