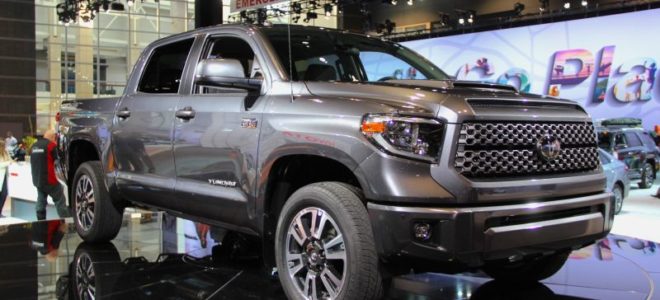 02/24/2017: There are a lot of news for 2018 Toyota Tundra, but the biggest one is that the Japanese manufacturer is adding a TRD PRO model. This installment is going to differ from other in Tundra's lineup by mirrors which will now be color-keyed, bumpier hood scoop, wheels from silver colored alloy, bezels from smoked chrome and LED headlights. TRD emblem will be stylishly put in various spots across the truck. The TRD PRO version will be available in five different colors. The improvements don't stop only at exterior, but every TRD PRO Tundra will come with Bilstein shocks and anti-sway bars both upfront and at the back.
Moving onto the next models of 2018 Toyota Tundra all of them are going to get a bit changed design, but nothing significant. Base trim will now come with mesh grill while the 1794 edition is going to feature billet style grille; Lights for daily driving, LED headlights and a separate pair of fog lights will come with Limited, Platinum and already mentioned 1974 edition. TRD Off-road package will get only headlights and fog lights while base trims such as SR and SR5 will come with halogen headlights and LED lights for daytime running.
On the safety side, each and every new Tundra will feature Toyota's Safety Sense-P Package. This system consists of adaptive cruise control, automatic high beams, lane departure alert, and the pre-collision system.
For the end, we left disappointing news, and they are that Aichi-based company didn't say a thing about 2018 Toyota Tundra coming with a diesel engine. After Ford had announced diesel powertrain for their F-150, same was expected from Toyota. We keep our hopes high, but at this moment 2018 Tundra Diesel wasn't confirmed. Instead, you can look forward to powerplants that are already available on this truck, and those are 5.7-liter V-8 with 381 hp and 4.6-liter V-8 available with 310hp.
02/09/2017 UPDATE: 2018 Toyota Tundra seems to be greeting us despite the fact that the year has just begun. The Japanese manufacturer is losing no time and is ready to improve its workhorse in a segment that never sleeps. US market is still craving for new, better and stronger pickups but looking at the spy photos new Tundra isn't going to offer anything new. The only part of the truck that is covered is the front end and a small part of the tailgate which is so small that we are not sure what is hiding. Despite being covered front end, unfortunately, doesn't seem to cover up any significant changes.
In spite the camouflage the only new part would be the meshed grille. Headlights and bumper look almost identical. There's a bump on the hood so that clearly signifies that at that spot there's going to be a design change. A small one at that but a change nevertheless.
The spy photos we have acquired by courtesy of motor1.com don't show interior features. In spite of this, we can assume that the car that is undergoing little facelift won't receive any significant internal changes. Small tweaks on the dashboard, and maybe few new materials could be included, but you shouldn't expect anything over the top.
Under the hood, there probably won't be any changes worth mentioning. Later in the article, we indicate the possibility that a diesel powertrain could be included similar to what Ford has done with its respectable F-150. At this point, we don't have a video, so it's hard to talk about the sound that new Tundra makes, but we keep our hopes high for a diesel engine. If not with 2018 MY then with a 2023 model which will signal a full redesign for Tundra. According to same sources from motor1.com, one of the subtle changes could happen with the gearbox. They are claiming that Toyota's renowned pickup is going to have same 10-speed automatic transmission which is available in LC 500. Same as with diesel, this could become available only after the full overhaul.
The way things stand now, and with info at our disposal, we can say that what we have on our hands is only a minor upgrade. The model as we know it today was introduced in 2007, wit only real changes being made in 2014. With this small tweaks on the hood, we can say that till 2023 MY you won't be seeing any profound changes with 2018 Toyota Tundra.
Even though the Tundra still looks up to date, the truck has been out for nearly a decade and its chassis remained unchanged ever since it was released even though it received quite a few updates throughout the years. At this point a new model is still unannounced but it seems that the future 2018 Toyota Tundra Diesel is going to be the first one of the new generation to be released, first as a concept and a few months after the production truck will be released for the general public. Its petrol powered versions are likely going to be offered at a later date in order to give the public a true competitor for the Nissan Titan XD.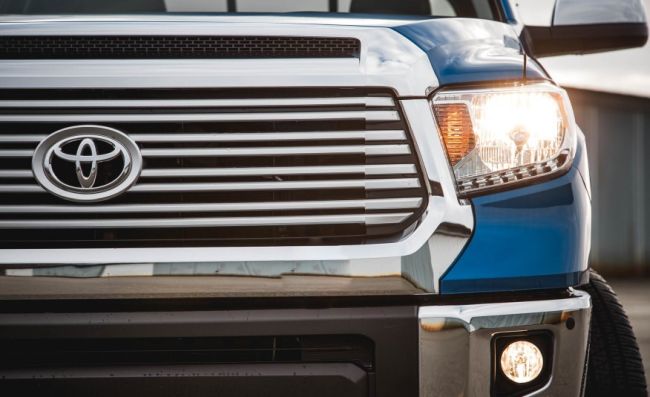 Exterior Design of 2018 Toyota Tundra Diesel
Just like with its competitors, the Tundra will be an all new truck which will share little to nothing with the ongoing model. This is great because it finally means that we are going to have on the US market a few more trucks than just the F-150 and the Silverado, the current two best sellers. The new chassis of the Tundra is going to be more rigid but not lighter than before. That is due to the fact it will likely be strengthened in order to allow the fitment of the diesel engine and also to give it a larger towing rating. On top of that, the body will be completely redesigned. At this point in time it still is unclear if the truck will receive an aluminum body like some of its competitors.
We do know though that the 2018 Toyota Tundra Diesel is going to look vastly different than what the current model looks like. Instead of refining the old design the new model will finally get a more aggressive and muscular body, similar to what the new Tacoma has. This means that it will also likely be slightly smaller than before but thanks to the new chassis and engines it should be just as capable, both on and off the road.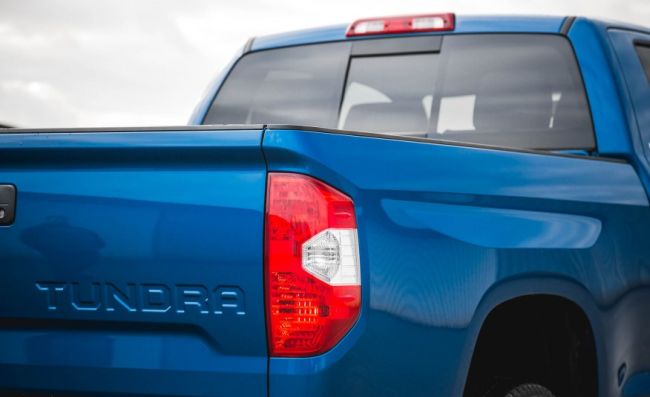 2018 Tundra's Interior
In order to keep one of the best selling points of the Tundra unchanged, its interior is going to be vastly superior than any of the interiors of its competitors and this is true for the current model as well. There is likely going to be slightly less space inside the cabin than before, but the materials, driving position and even equipment level are all going to be superior. Also, this time around some rumors also suggested that the Tundra will get a high end luxury version specifically aimed at those that buy the G-Class Mercedes or other similar cars.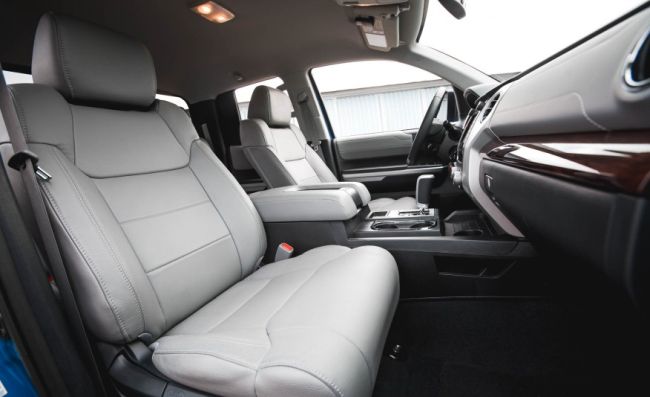 Engine and Transmission
Because the usual petrol engines are going to be missing from the market for some time, the 2018 Toyota Tundra Diesel will have to be quite impressive in order to make people buy it. This might not be as hard to do as we first thought because Toyota currently has three different diesel engines than they may install under the hood of the new Tundra. Toyota's current 4.5 liter turbocharged V8 diesel which can also be found under the hood of the Land Cruiser is unlikely going to be fitted due to its sheer cost.
However, the 5 liter turbocharged V8 Cummins diesel might be a really good choice. It offers 310 horsepower and 555 lb-ft of torque while using quite a bit less fuel than an equivalent petrol engine. On top of that, thanks to the fact Toyota currently works with BMW, some said that a 3 liter twin-turbocharged inline 6 diesel could also be offered. This would easily be capable of 300 horsepower and well over 500 lb-ft of torque while using less fuel than even the V8 Cummins. It remains to be seen though which engine Toyota will decide to install when the truck will first be showcased to the public in 2017.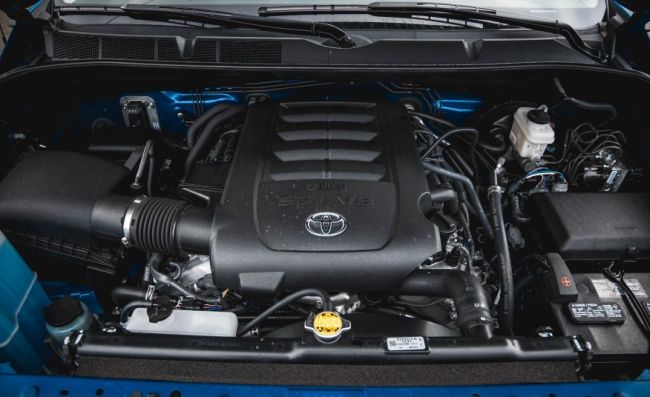 Price and Release date of 2018 Toyota Tundra Diesel
There is no official announcement from Toyota, at this point, regarding the date of release. According to rumors, new Tundra Diesel should be presented somewhere during 2017, while the start of sales would be in first quarter of 2018. Price shouldn't be much different from current models, with expected starring price in range of $36,000 for basic model.
Here is a video of 2017 Toyota Tundra TRD Pro: