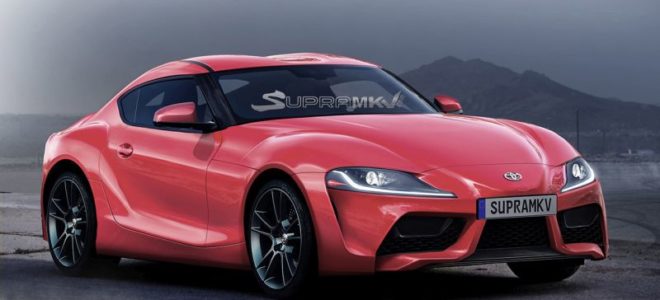 2018 Toyota Supra was spied on more than a few occasions during the last months, and photos rarely revealed anything new. But, this time late Supra brings something new. The rear end has one, significant difference. The prototype lights that were a part of the test mule have been replaced. The one that latest spy photos feature looks production ready. The circular lights, which weren't pretty by no mean, are now replaced by the new ones. These now look like a part of the vehicle and fit its design perfectly. If you want to get behind the wheel of this new Supra, make sure you check out the free online Drift Hunters MAX game.
The new set of taillights on 2018 Toyota Supra are slim and stretch wide. There are no cues of the last gen Supra lights which had circular elements within them. Now, they feature LED technology, and the light is spread through a new scheme. The taillights seem like they don't have a separate section for reverse lights. This makes us think that these will be put somewhere else. Probably on the bumper. Also, we didn't notice any turning lights. These also might find its place anywhere on the bumper.
Besides the taillights, there aren't any new details on the outside. Only the wheels are similar to those on 2019 Z4 with whom new Supra shares more than a few features.
In addition to photos of 2018 Toyota Supra, we also have a new video at our disposal. But, watch on your responsibility. Why, do you ask? Well, the one thing that we expect from modern Supra is performance provided by a roaring engine. New video shows Nurburgring tests of this vehicle, but the sound that powertrain makes doesn't sound encouraging. It doesn't differ too much from Toyota Camry or Toyota 86.
On the video, you can see that prototype of Toyota's new sports car is overshadowed by a four-cylinder turbo engine of Porsche 718 Cayman. The expectations that Supra will boast a robust unit such 2JZ was might pass unfulfilled. But, news that comes from the auto industry give us a ray of hope. The base Supra will have a four-cylinder engine with 248 horsepower. The upper-level models will come with a six-cylinder mill which will have a 335hp output.
More will be known in upcoming weeks and months, so stay tuned.
08/10/2017 Update: The Supra has enjoyed the support of quite a few enthusiasts over the years, so it stands to reason that the upcoming 2018 Toyota Supra model will pique the interest of the general public. Given the status and the popularity of the series, it would seem that there is no shortage of eager customers awaiting the newest addition, for the first time since the '90s. Some of the people that are eagerly expecting the return of the Supra might find themselves disappointed.
Toyota is not planing this new model, that might not even bear the Supra name, to resemble much older versions of the car. FT-1 concept that has long been touted as potential suitor for Supra resurrection is to big and bulky to be even considered a prototype of the new model. Option, that now is the most likely solution and one that has been confirmed by Toyota, is that 2018 Supra Toyota will be build in cooperation with BMW. BMW Z4 platform will be improved, and named Z5, for the next generation of BMW's linchpin, an it will be transmitted on to the new Supra.
08/10/2017 UPDATE: Latest spy photos of 2018 Toyota Supra, as you can see below, bring us an almost production-ready car. The conclusion that 2018 Supra is ready for production is drawn from headlights. Rest of the vehicle is still heavily camouflaged, but the front lights are uncovered. They are showing a set of LED lamps which will indeed feature on new Supra.
The headlights stretch all up to side flanks and are separated by 2018 Supra nose. Under the lights, there are two large air vents. These made us believe that the beast of an engine under the hood needs lots of cooling. But, according to leaks from BMW that surfaced a few days ago, this might not be the case. According to these rumors, there are two units that will power Supra. First one is a 2.0-liter four-cylinder that comes with 248 horsepower.
The second option is a 3.0-liter V-6 that has 335 ponies. To our, and to the disappointment of many this doesn't sound very promising. Some people believe that there will be an even more powerful option that will top the range. If the things stay the way, we said they would there's not much 'sport' in 2018 Toyota Supra. With 355 hp to its name it just won't stand out in today's market.
Another downfall that came with BMW leaks is the question of transmission. According to data from the same source, there won't be a manual transmission offered on new Supra. The only available gearbox will be BMW's six-speed automatic. On the other hand, BMW Z5 will have a manual in its lineup, so the doors aren't closed for 2018 Supra to get one.
06/11/2017 UPDATE: 2018 Toyota Supra is one of the most anticipated vehicles in recent years. We can't wait for its release, which is still not on the schedule but it will be in a few months. Until that happens, we have another set of spy photos for you. 2018 Supra was spotted at Nurburgring this time around, and we have few new details for you. Mostly thanks to the test car having less camouflage than it was the case before. But, despite being stripped off from some of its camo, it is still very much covered.
The similarity between new Supra and FT-1 concept is now more pronounced than ever. At the front, the nose is pretty much the same between these two cars, and it features large bumper and three air intakes. The intakes look massive, so we hope that under the hood is something that needs cooling, and lots of it. The profile of the car is now shown with clarity, and at the back, you have decklid which is changed compared to the previous photos. The taillights which are positioned bellow decklid are small, and they seem to give a homage to the original Supra. At the lower end of rear part of 2018 Supra, we have two exhaust pipes positioned at both ends. This design cue is shared with ongoing GT86.
2018 Toyota Supra is currently being tested in Germany, and another thing that will come from this country is the gearbox. Car magazine autocar.com claims that new Supra will have an automatic transmission manufactured by BMW. They support these claims with spy shots of the interior that show BMW's switchgear.
Which is even more interesting is that the interior, for the most part, seems like it's coming straight from some BMW model. The pieces that look Bavarian are climate control buttons, infotainment system and entire center part of the dashboard. Thanks to these photos most sources are together on the thought that besides the gearbox, BMW will be in charge of the entire interior design.
Like we have speculated in the bottom part of the article 2018 Toyota Supra will most likely come as a hybrid vehicle. The green combination will be made of a BMW's turbocharged gasoline engine and an electric motor. Also, the only offered transmission could be automatic which is reasonable for hybrid models. But, this claim remains to be confirmed.
As for the release of this model, there is a possibility that Japanese manufacturer is going to show a nearly completed vehicle at 2017 Tokyo Motor Show in October. If this turns out to be true, we could see a finished product by the end of the year or early next year. The production of 2018 Supra will start during next year, and it will be conducted at Magna Steyr's Graz plant in Austria.
02/25/2017 UPDATE: Thanks to the courtesy of the British car magazine autoexpress.com we have the latest set of 2018 Toyota Supra spy photos. These pictures give us by far the best view of Toyota's latest sports car, and from the first look, we can say that this test mule is carrying lots of production bodywork. Some rumors even suggest that the vehicle is running on hybrid powertrain, but more on that later, now let's focus on the story of the first product of Toyota/BMW cooperation.
Looking at the front end it easily noticeable that the car will, on our personal pleasure, draw a lot of design cues from the FT-1 concept which debuted back in 2014. The part which resembles concept mentioned earlier the most is new Supra's nose. It is the first thing that you will notice on this model, and it is a natural continuation of the hood and blends in nicely with the bumper. On the later one, you will find three large air vents. Whatever 2018 Supra hides under the bonnet, it's going to take a lot of cooling according to MotorCities.com.
The overhangs on the rear end and the short front part of the 2018 Supra give us a feeling and create the opinion that this car is a compact and sturdy coupe. These two things that we mentioned fit perfectly with the parts of the FT-1 concept that you can see on this test mule such as bulky roof and sensational lines.
Moving onto the rear end similarity between what is going to be 2018 Toyota Supra and its predecessor the FT-1 Concept continue. The tail, duck-like spoiler and a pair of horizontal taillights look just like the prototype mentioned above which Toyota showed us in 2014. Getting to the lower parts of new Supra, one will notice exhaust pipes identical to those on the Toyota GT86.
2018 Toyota Supra Specs
In the engine department, there are a lot of assumptions, but nothing official has been released so far. Considering that BMW and Toyota only cooperated on creating the chassis while engine and transmission will belong to each manufacturer individually. This prompted the question, whether will Supra have a petrol-electric powertrain under its hood. The model will almost certainly be positioned above the mentioned GT86, but we can't be sure will there be a hybrid unit powering it. Rumored mills for 2018 Supra are as following. For the entry level model, you will have a 2.0-liter turbo four-cylinder engine from a B48 generation which will be offered in different outputs in the range between 191hp and 252 horsepower. From the mentioned mill Toyota will derive at least two options. The third and top tier powerplant under the Supra's hood is going to be a straight-six cylinder B58 with 340hp and 450Nm of torque.
2018 Toyota Supra price tag
As far as the pricing goes 2018 Toyota Supra Price tag will be in the region between $40,000 and $50,000. Some rumors suggest, and digitaltrends.com confirms this, that the new Supra is going to cost more than Chevy Corvette Stingray which starts at $55,000. We won't know for sure before official release which is expected before the year ends. By some informal agreement between BMW and Toyota, the new Z5 will be the first to exit the market. So, when you see the BMW's soft-top, you can look for the Toyota's hard-top beauty – The new Supra.
At the end of this update we have an gallery of photos that present the renderings of new Supra provided by supramkv.com. Enjoy:
UPDATE: The Supra was announced but it now seems that the time has stopped and that the day when we will see 2018 Toyota Supra will never come. Of course, it will but the wait is killing us. Literally!
With every passing day, we got some piece of new info, some spy photo, some simple rumor but nothing substantial yet. In addition to spy photos that come frequently, and that's a good sign that the work on the car is progressing, now we even have some videos. Supra have been spied testing around Nurburgring.
Not much can be said from the sound on this video but we will sprout to you some rumors. 2018 Toyota Supra allegedly is being powered by BMW's inline-six four-cylinder engine or by a 2.0-litre four cylinder aided by a pair of BMW's electric motors. This is stated as a possibility because of Toyota-BMW cooperation. Either way one of these will feature on new Supra and it will be able to produce between 300 and 400 horsepower. Another thing that is a stuff of opinion is that Toyota Supra from this video sounds like it has a V-6 powertrain. The car really sounds like it features a turbo engine so the claims about V-6 could be a real deal. These rumors suggest that Supra is going to get new twin-turbocharged V-6 which will be developed by Lexus for their luxury brand and for some upper Toyotas.
Judging by the sound and moving, new Supra won't be the fastest car out there but it has some nice handling, accelerates very well on the straight road and is quite well balanced.
There's no word on the pricing but Toyota has signaled to us that it could be accessible to larger masses so we expect affordable price. The car will hit the markets during the next year as a 2018 model.
Photo gallery from Nurburgring:
Finally! 2018 Toyota Supra is here. The thing that we talked about so much is finally here. As we predicted, first product of BMW's and Toyota's cooperation will be the new Supra. Spy photographers have caught, what definitely seems to be the new Supra coupe. From the first few glimpses it is easily to see that new Supra will not be made out of the FT-1 concept. Round lights and somehow oval front end clearly suggest that new model will bee continuation of the older model. On the rear end there is a large spoiler , and full rounded lights, that might not find itself on the production model. From the look of the interior, it's clear that 2018 Toyota Supra will feature modern infotainment system with large touchscreen on the middle of the dashboard.
When Toyota bought the rights for Supra trademark name in Europe we were almost sure that the Toyota's and BMW's child will bare the name Supra. Now, after seeing new model on the spy photos, we can be almost certain that new Toyota's model will carry on Supra name in the future .
Photo credit: motortrend.com
Exterior Design
The 2018 Toyota Supra is not exactly standing out right now, but with all the hush-hush that surrounds its manufacturer, this is highly a surprise. Once completed, however, this will be another story entirely. Even though they have announced a radically different design, it seems there is still plenty of similarities with the earlier models as well as concepts. Certainly some lines of the design will be taken from the FT-1 concept. It wasn't confirmed, nor denied, that the car will use the FT-1 as platform for the new Supra. But, what is more likely as we already mentioned, is that the 2018 Toyota Supra will use Z5 platform and that it will not resemble any previous Toyota model.
In fact, major differences to previous Supra's and available concept models, will be in the line near the vent on the rear fender, as well as the slightly tweaked driver's door and completely redesign front mask. Front side of the car will be made to accommodate Z5 chassis, and that will make it look more like the BMW or even more like Aston Martin. The new Supra is going to look shorter from the outside, but it remains to be seen whether the passengers will feel this as well. This and the new lights are the only noteworthy changes so far.
Toyota Supra 2018 Interior
Unfortunately, since this is a 2018 model we are talking about, there is no way of knowing what the new Supra will be like on the inside. Still, judging from its competition that it needs to beat as well as similar models, we should not be surprised if we see a slightly dumbed-down controls and a simplified center stack. The old one seems to be far too demanding in terms of labor and effort on behalf of the driver, so feedback might finally get through to the bigshots in time for this model.
Along with the slightly revised steering wheel, the infotainment system might be the least-tweaked part on this car, and that says something. Also, we are not sure that Toyota and BMW will expand their cooperation in the terms of interior, infotainment and equipment used. Based on this, it is expected that new Z5 and the upcoming Supra might not share any similarities in terms of interior design, so at this point it is really impossible to predict the looks of it.
Engine Options
By far, the most mysterious part of the Toyota Supra 2018 is its engine as well as the exact number of configurations that will be on offer once the car is finally built. Rumors go as high as V10's but the final one is likely going to be a lot milder than that. Most likely, the top of the line will be a hybrid, but that one has yet to be confirmed. Engines that were used on previous Supra models are out of contention, and nothing that Toyota has in store currently doesn't quite fit the bill. As for the prevailing thought, we are most likely looking at a forced-induction V-6 and/or a hybrid that should total more than 400 hp. It should hit 60 mph in under 6 seconds and top it off at no less than 186 mph.
On the other hand, there is above-mentioned cooperation between BMW and Toyota, that started in 2012. Since then, the two manufacturers worked on creating a car together. Many people believe that first product of this cooperation is the Toyota Supra. So, logically, we might expect that new Supra will actually boast an BMW engine. In contention are BMW'S turbo-charged four and six cylinder engines, that will transmit it's power either on rear wheels or even on all four wheels.
2018 Toyota Supra Release Date
The 2018 Supra is going to keep us waiting for as long as it takes, given that it took almost two decades for it to resume. Official presentation can be expected somewhere during 2017, probably on Tokyo Auto Show, with 2018 as the year of complete comeback of the Supra to the market. One of the clearest signs that Supra is coming will be the BMW's announcement of their respected Z5 model. Still, fashionably late as it is, 2018 is not too far off.
Price
Unfortunately, since there haven't been any of these around in the past few decades – at least no new ones, it is hard to guess the price of the 2018 model. Still, anything between $40,000 and $50,000 is a decent estimate, without additional equipment of course.
Little reminder on how did the old Supra looked like: