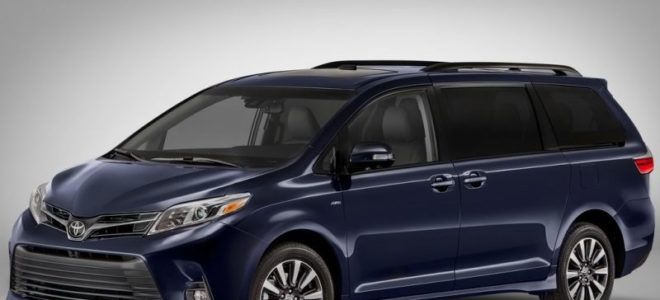 03/24/2017 UPDATE: The ongoing Sienna minivan is selling rather well, but the time is waiting for no one, and Japanese vehicle is getting bitten by it. These things don't go unnoticed with car manufacturers, and that's why the Aichi-based company is giving this model a slight refresh with 2018 Toyota Sienna. The updated model is scheduled for a next month debut at 2017 New York Auto Show. With this facelift, Toyota is expecting that the Sienna minivan is going to reestablish itself on the market once again. In recent times competitors such as Chrysler Pacifica and Honda Odyssey have taken the tool of the Sienna's sales.
For 2018 MY the Japanese have treated this minivan with small design changes and set of new features. Some of the most notable feats include Toyota Safety Sense which wasn't available on the ongoing model, Toyota Entune 3.0, five USB ports, and rear seats entertainment system compatible with Android.
The thing that we mentioned first is TSS-P (Toyota Safety Sense) is a feature which Toyota wants to make standard across the entire lineup because all of the new models including Toyota C-HR come with it as a standard piece of equipment. Features that TSS-P consists of are Pre-Collision System with Pedestrian Detection (PCS w/PD), Full-Speed Range Dynamic Radar Cruise Control (DRCC), Lane Departure Alert with Steering Assist (LDA w/SA), and Automatic High Beams (AHB). It is worth to mention because there is a war of minivans going on, that none of the above-mentioned competitor's vehicles don't have these feats as standard equipment.
For people that expect Android Auto and Apple CarPlay on their vehicles are going to be disappointed. Toyota doesn't offer these features but instead serves you with its own App Suite connect. Lower trims come with navigation and LTE WiFi while on the upper ones in addition to this you will also find JBL audio system with 10.1inch subwoofer.
Design wise the changes are most noticeable on the front end of 2018 Toyota Sienna. The front fascia has a new grille and bumper, both heavily influenced by newly introduced 2018 Toyota Camry. On the side part, you will notice more sporty lines which were previously available only in SE trim and are now available across the lineup. SE trim gets a new laminated windshield while the most upper trim the Limited comes with acoustic side glass. Both changes were introduced in order to reduce the noise, vibration, and harshness.
The engine options remained the same, because as you all know Toyota really improved its V6 in Sienna for 2017 MY.
02/03/2017 REVIEW:The Sienna may not be the best selling minivan on the US market but it is one of the better choices. It was released all the way back in 2009 and since then it changed very little. Nearly a decade after its official unveiling, a new model will be released with the 2018 Toyota Sienna. The new model is expected by the end of the year and its showroom release should happen shortly after that. So far Toyota hasn't actually said much about the minivan. Despite that we do know they are working on it and they are trying to come up with an answer for the new Pacifica and Odyssey which are the current leaders in its class.
Toyota Sienna 2018 Review
Most inside sources suggested so far that the upcoming Sienna might get to use the same K-platform as before. Toyota didn't make any significant changes to the platform since the ongoing model of the minivan was released. However, for the new model they might go a step further and revise the chassis or even release a new one. The current K-chassis is a bit too heavy and not all that stiff. An alternative would be Toyota's brand new Global Architecture. This was first used on the Prius and it also made an appearance on the brand new Camry.
The platform is also in use by Lexus and it is well above the older K platform. On top of that, it is suitable for front, rear or all wheel drive applications so it would be perfect for a minivan. If they decide to go with it then the new 2018 Toyota Sienna might lose more than just a couple of hundred pounds in the process. With the help of the new platform the structural rigidity would increase and it would make for an overall safer car. No matter what platform they choose though, the price is expected to remain similar to that of the ongoing model.
2018 Toyota Sienna – Redesign or Not?
The Sienna was never a pretty car but this might change for the new model. Not that long ago Toyota did release a brand new design scheme which they seem to use on most of their cars. The last to receive it is the new Camry. It wouldn't be a big surprise if the new Sienna will get to use this new corporate look. In the front it may use Toyota's new large grille with sharp and aggressive lines, quite similar with what Lexus has been doing for some time now. In the back the Sienna would benefit from the angular design as it would make for a more muscular look. However, the end design is still far from release and we will be able to see camouflaged prototypes with the finished design closer to the car's official release date.
The upcoming 2018 Toyota Sienna is expected to borrow heavily from Toyota's newer models, at least in terms of materials and technology. The design will likely follow the older model's style with the really minimalist look and really easy to use interface. This should allow the driver to use most of the car's functions without having to take its eyes off the road for too much time. There will likely be more space than before. This will be achieved with the help of the new platform which will feature a lower center tunnel, a flatter floor than before and even a longer wheelbase. All of these will assure that the new Sienna will be one of the top cars in its class.
Photo gallery of 2017 Toyota Sienna. Courtesy of caranddriver.com
Engine and Transmission
The ongoing model features Toyota's newest 3.5 liter naturally aspirated V6. This uses port and direct injection and it is both powerful and quite efficient. The new model will likely continue to use it or at least a mildly modified version of it. Expect right around 300 horsepower and 260 lb-ft of torque. The port and direct injection system will likely stay. This will assure that the car gets both good mileage and a good amount of power. Unlike the current model, which barely gets 25 MPG on the highway, the new one should be able to get at least 27 MPG, especially since it has competitors that easily get more. Its optional all wheel drive system will more than likely remain which has always been one of its better selling points.
Release date of 2018 Toyota Sienna
There is no official release date set for 2018 Sienna, but Aichi-based company already setting the tone for its release. With new Camry Japanese automaker has shown us a new face of future Toyota models, and Sienna should be another vehicle that should get an upgrade in upcoming months. Another thing that rally matters are the competition. With Chrysler Pacifica already dominating the market and 2018 Honda Odyssey being recently presented at 2017 Detroit Auto Show, Toyota has no time to spare. First spy photos of 2018 Toyota Sienna should come our way in next few months while the official presentation should happen before the year ends. With its immense popularity in the USA, we expect that Toyota's premium minivan gets its fits appearance at one of North American auto shows.
Video review of 2017 Toyota Sienna: