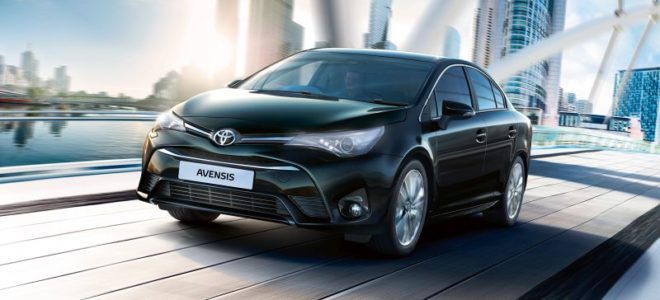 The Avensis is Toyota's large family car offering for the European market. Back in 2015 rumors about it being discontinued started to appear while more recently Toyota was ready to announce its discontinuation. However, things changed and it seems this is no longer true. While at first some believed the Camry would take its place, this won't be the case. Instead it seems a new model is being readied to be released as the 2018 Toyota Avensis. So far there is little information about it and the camouflaged test mules didn't reveal much either. In fact Toyota went as far as installing fake headlights and tail lights. Luckily though the car's design lines remain uncovered, but more on that later. The current model is based on Toyota's New MC platform but the upcoming version will likely won't be.
2018 Toyota Avensis Price and Other Details
Instead, the new Avensis is expected to use Toyota's brand new modular architecture which also underpins the new Prius. The TNGA architecture would offer a lower center of gravity, better structural rigidity and an increased impact protection. The end result should be better NVH levels as well as a considerably better to drive car as long as Toyota will tweak its suspension system. So far it seems that the new Avensis will feature a fully independent setup which is usually the norm in its class. The car's price has yet to be revealed but considering the current model starts right around the equivalent of $22,000, it is safe to assume things won't change much.
Toyota Avensis 2018 Exterior Design
Unfortunately the test mule of the 2018 Toyota Avensis was the wagon version of the car. Luckily though, despite being camouflaged quite well, some design lines can clearly be seen through it. For starters, in the back it seems the rear window is heavily raked and the roof ends quite early. This might suggest something more similar to a hatchback rather than a wagon. On top of that, the rear bumper seems to have a rather aggressive profile. Another good indication about its design are the tail lights. Even though they tried to hide them, it seems these extend upwards, slightly similar to the Prius. The front is too well hidden but we can see the car's front end is quite low. This likely aids with fuel efficiency and it might give the car a more aggressive look than otherwise.
Interior
The test mule seems to have a development interior, so the entire dashboard, steering wheel and even the instrument cluster are placeholders. A production ready version might come in the near future. If we had to guess then the US models such as the Camry are a great indication. The new 2018 Toyota Avensis will likely receive a more modern-looking dashboard, better materials and a less edgy-design scheme. Thanks to the new platform there should also be considerably more room inside than before.
2018 Avensis Engine Options
The current model gets a choice from 3 gasoline engines and 3 diesels. These offer between 110 and 174 horsepower so the selection is good but not great. The new model has been rumored to receive just three engines. The base 2018 Toyota Avensis could get a newly developed 1.6 liter turbo-four with anything between 120 and 150 horsepower. Two diesels are also expected. A 1.5 liter three-cylinder mill with up to 120 horsepower is expected to be offered as the entry level model. A larger 2 liter four-cylinder would develop up to 200 horsepower and give the Avensis the performance it always needed.
Both diesel engines would come straight from BMW thanks to Toyota's agreement with them. So far it seems that a 6 speed manual is likely going to be standard across the range. An automatic, possibly an 8 speed unit similar to the one in the US Camry. Like before front wheel drive is going to be offered as standard while an all wheel drive system might be an option this time around.
Some also suggested the new Avensis could receive a hybrid powertrain. Toyota's current 2.5 liter hybrid doesn't really suit the European market though. It is quite large, not that efficient when compared to a small diesel while its acquisition price would be just too large for it to be successful. In the future we may see a smaller hybrid developed specifically for the European market but until then the diesel would remain the best option.
2018 Toyota Avensis Release date
With Avensis being intended for European markets it is only logical that it will be presented at one of the European auto shows. Japanese manufacturer didn't set the official date of release for 2018 Avensis but with test mules already spotted it is only a matter of time when will production ready model hit the streets. The work on new generation of Avensis should be over by the end of summer so you should expect that Toyota is going to present its sedan in Frankfurt, Germany. The 2017 Frankfurt Motor Show starts on September 14th, and it ends on September 24th.
Competitors
Same as Camry in the States, Avensis has a lot of competitors in Europe. Despite the fact that sedans are not as popular as they were some time ago fight for every percent of the market share is still going on. Most significant rivals of new 2018 Toyota Avensis are going to be 2018 Opel Insignia, KIA Optima, Hyundai i40, Audi A4, Ford Mondeo, Volkswagen Passat, and 2017 Mazda 6.