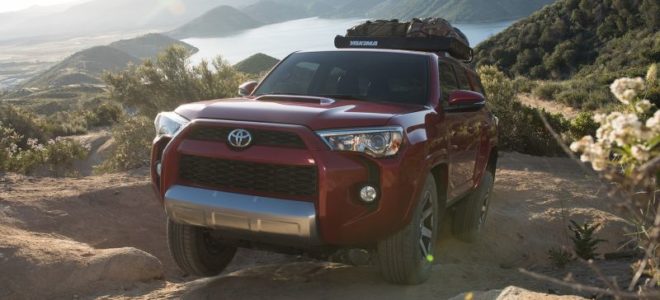 Released in 2009, the ongoing 4Runner sells better than ever. In fact Toyota sold more than 110,000 units last year which is very impressive, especially for a car designed nearly a decade ago. The number shows that pickup-based SUVs are not dead. Even though most manufacturers discontinued these types of SUVs, there are now quite a few manufacturers trying to get back in the game. Toyota never left their customers and despite not being the best looking car out there, the 4Runner was one of the most dependable. This is still true in the present. However, being so old the 4Runner can no longer meet all of its customers' expectations. In order to solve that, a new model will more than likely be released with the 2018 Toyota 4Runner.
New 4Runner Rumors
So far Toyota has not confirmed the new model but a document has been leaked on the internet a while ago. This document said that the new 4Runner will be released in the first half of 2018 and it should be priced similarly to the ongoing model. On top of that, there are quite a few inside sources saying some really interesting things about the future 4Runner. For starters, Toyota is not going to move the car to a unibody design. This is great, especially for all those people looking to get a highly capable SUV and not just a minivan on stilts. The new 4Runner is expected to use the same chassis as the new Tacoma. This is now made mostly out of high strength steel and its suspension system has been vastly improved over the original. The new 4Runner is expected to use a fully independent suspension for its front end with a solid rear axle in the back. This setup would allow for a great off-road behavior without compromising its on-road use. The price is still unknown but expect it to fill the same slot as the current model, right around $35,000.
2018 Toyota 4Runner Release date
There is no confirmed info about any part of new 4Runner, and the case is the same with its date of release. The current-gen model received its last refresh for 2014 model year. In the automotive industry, this is a lengthy period, even for a model which was expected to have a longer life cycle. This SUV owes its popularity to its 'rough around the edges' design, so it comes as a no surprise that Toyota didn't want to change it a lot. They stayed loyal to their customers, and that is by no means a good thing, but the time has come for some changes in order to attract new customers. This shift in design is bound to happen with new 'Runner but when to expect it?
Well according to sources, not very reliable ones, the car should be presented at the beginning of 2018. This info sounds promising but if that is to happen there ought to be test mules and prototypes spotting during this year. None of those were seen, but the time is about right for a Japanese manufacturer to bring new 4Runner out to the light of day. So in conclusion, we admit that there is no substantial information about 2018 Toyota 4Runner release date but in best case scenario things will turn out like this. The second half of 2017 – first spy photos; late 2017 – pictures of a near-production model; the beginning of 2018 – official presentation; mid-summer of 2018 – first 2018 4Runner hits the streets or better say off-road terrains.
2018 4Runner Redesign?
One of the real problems with the current generation of the car has been its design. Many people hated it due to its rather unusual look. For the 2018 Toyota 4Runner we expect something completely new. Most rumors point at a design very similar to that of the Tacoma or the upcoming Tundra. Instead of the massive front grille with the rather odd lines and integrated bumper, we may see something more in the lines of Toyota's medium sized truck. The hexagonal grille, sharp-looking headlights, muscular body and clean lines are all expected to be seen on the 4Runner. Even though it will share so much with the trucks, the 4Runner will get a unique twist on its design in order to make it a bit more suitable for its class.
The interior concept of Toyota 4Runner 2018
The current car has most of its cabin taken straight out of a 2006 truck. The 2018 4Runner should improve on that quite a bit. The materials will become noticeably better, the space inside will be improved and the available technology should be considerably better than before. In terms of design, the cabin of the 4Runner will more than likely borrow from the Hilux and the Tacoma. A clean center stack with a great infotainment system and a minimalist look will go a long way for Toyota's best selling SUV.
V8 in 2018 Toyota 4Runner – Not Likely!
Sporting a 4 liter V6, the current model is not efficient or all that powerful. Despite that it can easily tow 5,000 pounds and it can go pretty much anywhere in off-road. These traits will more than likely be borrowed by the 2018 Toyota 4Runner. However, instead of a 4 liter V6 expect a smaller 3.5 liter naturally aspirated V6. This would be the same engine that can be currently found in the Tacoma. Here it features direct and port injection and variable valve timing. The end result is 278 horsepower and 265 lb-ft of torque at 4,600 rpm.
This is actually less than the ongoing engine which churns out 278 lb-ft of torque at 4,400 rpm. Luckily though, the new model should be considerably lighter than the older car, so the new engine should offer roughly the same performance. One of the things that will improve will be the fuel consumption. Expect in excess of 24 MPG on the highway which is considerably better than the current model. The old 5 speed automatic will likely be replaced by Toyota's newer 6 speed transmission.
Competitors
4Runner owes its enormous popularity to its pickup-based platform. Despite this and the fact that competitors have already moved on to the unibody design Toyota's body-on-frame SUV still has very stiff competition. Some of those who would love to reach 4Runner's selling numbers are Nissan Pathfinder, Ford Explorer, Jeep Grand Cherokee, Kia Sorrento, Dodge Durango, Hyundai Santa Fe, and even Jeep Wrangler.