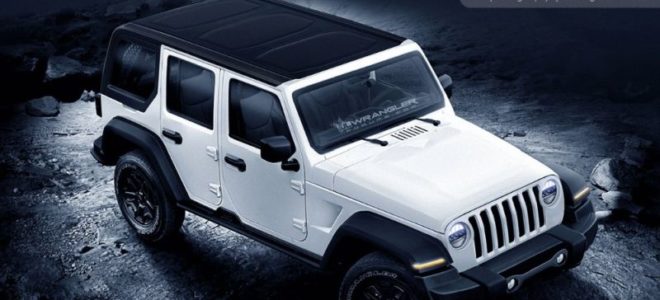 03/06/2017 UPDATE: A prototype of 2018 Jeep Wrangler has been spotted once again. This time around spy photographers have caught a test mule of a four-door Wrangler Unlimited while the photos we have from earlier showcase two-door version.
Regardless of the version, both of them are set for a late 2017 release and will be presented as 2018 MY. Current information suggests that the presentation is going to take place at 2017 Los Angeles Auto Show. Same as we have stated before the design of new Wrangler is going to take more evolutionary steps rather than revolutionary.
The spied vehicle which represents model from JL series looks almost the same as the ongoing JK. The front end is same as today's model characterized by round headlights and a slatted grille while at the rear end we have square-like taillights that, guess what, look pretty similar like those on a model already available. At the side profile, we have door cut lines which are identical to the current Wrangler and pretty much reminiscent of all and every Wrangler trough history. Other trademark details that scream 'Wrangler' are prolonged front bumper, bulky side mirror caps, and exposed door hinges.
2018 Jeep Wrangler will start production at Toledo, Ohio where Fiat Chrysler Automobiles have a factory. Regular Wrangler body-style won't be only one coming out from this plant because later on the line it will be joined by a pickup version.
In addition to the novelty of a Wrangler pickup, you will also have a few more things to look forward. The standard six-speed automatic transmission will be there, but you will also have an option of an eight-speed automatic one. Also, engine lineup will have a turbocharged inline-4 engine keeping company to a regular V-6. Later in time, a hybrid powertrain might be added to the list. All of this mentioned will be mounted to an all-aluminum platform as we already mentioned bellow in the article.
06/12/2016 Update: The official reveal of 2018 Jeep Wrangler won't happen before the end of the year. As the things stand right now we will have to wait some time in 2017 to actually see the real product. But don't fall into despair, thanks to the good people from JLWranglerForums.com we have renderings that match future 2018 Wrangler more than 90%, at least according to this forum.
They have gathered all of the available info, leaks and rumors on upcoming Jeep Wrangler and together with spy photos have created series of renderings and supplied us with some real facts. Here's what is known abut 2018 Jeep Wrangler that is dubbed the first all-new Wrangler in over a decade.
From the first glance, we can conclude that the looks won't change much but there are a few things that stand out. Front grill will keep its recognizable look that features seven slot design. The grill will be curved backward and will blend perfectly with Wrangler's long hood. Windshield will also be a little swept back. Headlights will stay true to its Wrangler origins because they remain round shaped. Turning lights are slim and stretched positioned on the fenders.
Frome the photos that have leaked from Jeep CEO's meeting and spy photos of new Wrangler, we can conclude that taillights on 2018 Jeep Wrangler are going to be similar to those that can be found on Jeep Renegade.
The biggest difference between current and future Wrangler is the fact that they are going to replace its roll cage with integrated roof rails. It is assumed that its place will take removable or even retractable roof panels that will fit onto the roof rails. Also, Jeep Wrangler Pickup will be added to the lineup. This has been confirmed but there is not much official info. Only a set of spy photos and renderings from JLWranglerForums.com that are presumed to show future pickup .
Frome the things that can't be seen by simply looking at 2018 Jeep Wrangler spy photos and renderings, we have it's chassis and engine options. The car will, opposite to early claims, stick to its steel body-on-frame design with aluminum hood and doors. At first, it was thought that the entire SUV was going to be built from aluminum.
Under the hood, we are going to have a four-cylinder turbo, a V6 and at this point unknown diesel option. This will also be the first time that Jeep offers its Wrangler with diesel powertrain in the USA.
The official presentation of 2018 Jeep Wrangler is expected at the 2017 Detroit Auto Show. The start of the sales is expected on a later date of the same year. SUV will be sold as a 2018 MY.
The Wrangler didn't really needed an upgrade but because emission and safety standards are getting tighter, the FCA Group had to do something about one of their iconic cars in order to keep it on the market. This means that the future 2018 Jeep Wrangler will be a vastly different model than the current generation which will employ new manufacturing standards, new engines and transmissions as well as an entirely reworked chassis. The new Wrangler is actually expected to shed close to 300 pounds from the base model and up to 450 to 500 pounds from the higher end versions.
This will be possible because the new Wrangler will be one of the first crossovers on the market to get a body made entirely out of aluminum with only a few high strength steel parts in key areas. On top of that its chassis will be strengthened. It should also receive beefier axles and suspension components in order to allow it to go further in off-road without having to worry about breaking something on the car. The base Wrangler will be just that, a basic off-road machine which will cost around $25,000. This should come as standard with four wheel drive but not much else. The only problem we currently see with the upcoming Wrangler is that Jeep will offer it for sale starting with 2018.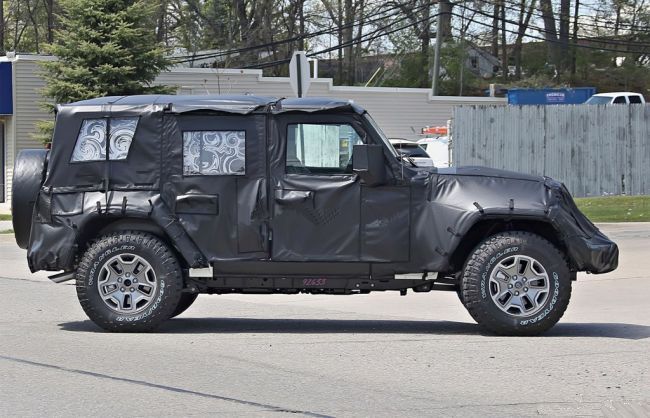 Drivetrain
On top of that, while it may not be that bad for many people, because gasoline is so cheap, the 2018 Jeep Wrangler is not going to come with a diesel or even with a hybrid at launch. This is rather sad because it seems that the Wrangler was supposed to receive back in 2015 a diesel version but the US market simply doesn't want one. As standard the upcoming model is going to get a 3.6 liter updated Pentastar V6 naturally aspirated engine which will likely make close to 330 horsepower and up to 300 lb-ft of torque. Around 2023, the Wrangler will also get a 3 liter turbocharged V6 diesel, the same as in the EcoRam, which will make around 250 horsepower and 450 lb-ft of torque. A mild hybrid offering close to 350 horsepower and roughly 15% better fuel efficiency than the base V6 might be offered around 2023 as well.
Like before, a standard four wheel drive system will be available and a 6 speed manual should serve people quite well. However, for those wanting for more, Jeep will also offer lockable differentials, a better suspension system, larger brakes and even a new 8 speed automatic gearbox. This gearbox will help not only with fuel consumption but also with low-end gearing.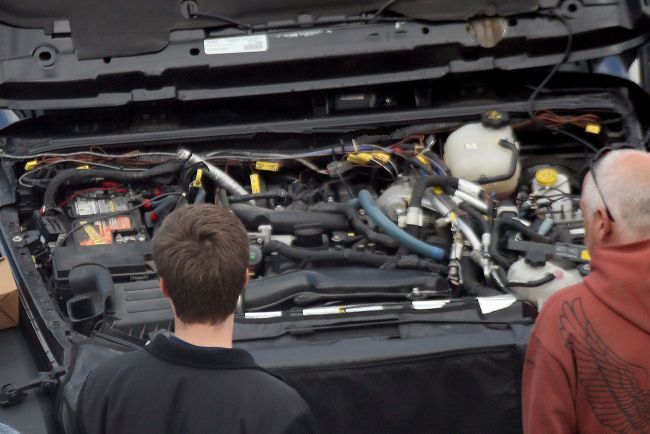 Exterior and Interior Design of 2018 Jeep Wrangler
Likely the largest mistake for the upcoming 2018 Jeep Wrangler is the fact that they are no longer going to offer the detachable doors and windshield due to safety concerns. This is a bit sad because people were used to take them off when going off-road in order to keep them in good shape. They chose to remove this feature because the new aluminum body would lose a lot of structural rigidity and the car wouldn't really be able to withstand an impact safely. We do hope that in the future they will at least offer an option for this or at least an aftermarket kit.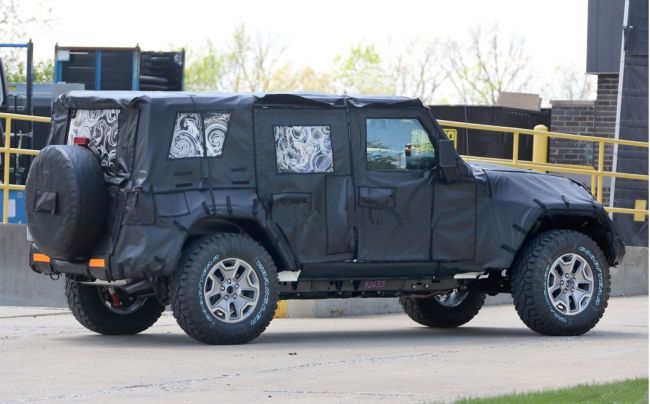 The current generation of the Wrangler is a bit agricultural inside the cabin but the new 2018 model should be nothing like that. Instead it will get a more modern-looking dashboard, much better materials, a better driving position as well as more space thanks to the fact its chassis is going to be reworked in order not to intrude in the passenger's foot-wells.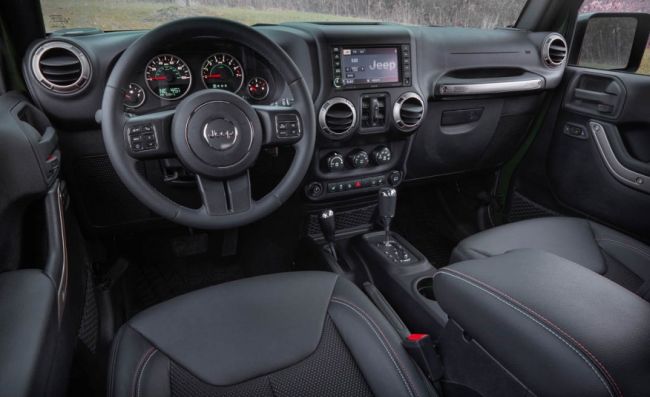 Video: