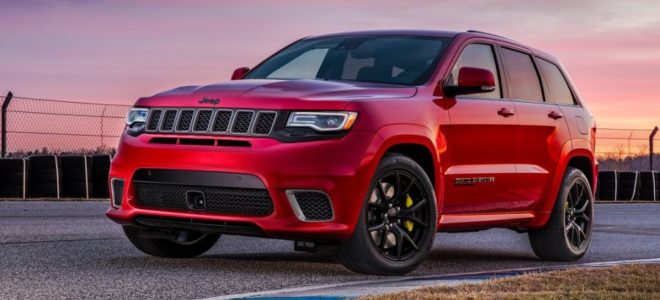 04/27/2017 UPDATE: 2018 Jeep Grand Cherokee Trackhawk is finally here. For the regular installment of this premium SUV, we will just have to wait for some more time. Now, for the time being, let's take a look at what this limited Trackhawk edition has to offer. First, let's run trough most relevant facts tied to this SUV. It is first ever Hellcat-powered SUV; it has a Supercharged, 6.2-liter V-8 engine capable of delivering 707hp; compared to the regular SRT Grand Cherokee it has upgraded all-wheel drive, brakes, and suspensions; and finally despite pricing not being announced it will come at a price above $85,000.
Move on, and now we have it in front of us. At the 2017 New York Auto Show 2018 Jeep Grand Cherokee Trackhawk was finally presented. By just looking at it, it does not differ too much from standard Jeep Grand Cherokee SRT. But, if you look under the hood you will know that this SUV was elevated to the level of Charger and Challenger Hellcat models. As a consequence of it becoming a 'Hellcat' model, it is now able to achieve the speed of 60mph in 3,5 seconds, and more impressively it can cover a quarter mile in 11,6 seconds. Ready to be more impressed? It can do this despite the fact that it weights 2.5 tons.
On the outside, if you don't pay attention you will get an impression that you are looking at a regular SRT Grand Cherokee like we already mentioned. The places where you should spot the difference are the brake calipers which are painted in yellow, exhaust pipes at the back are quad-designed, it has one of a kind 20-inch wheels, which if you prefer it come in matte-black color made of aluminum alloy. At the front, you will notice that it lacks the fog lights that were removed in order to create more space for cooling of the 'beastly' engine. In addition to all of this you also have Trackhawk brand name on the side and at the tailgate and supercharged badges on the sides of the vehicle.
Inside the cabin, there is nothing extraordinary that would point out that this is a 2018 Jeep Grand Cherokee Trackhawk. The SUV comes with all of the premium feats that regular SRT model has and that includes Nappa leather details, carbon fiber pieces across the cabin and some chrome-blacked details. Seat inserts are made of Alcantara, and both front and rear seats are heated and ventilated. If you want that 'special' feeling, Jeep is offering quite a few upgrades. Some of the most notable include Laguna premium leather, interior trim of real metal, panoramic roof, and a premium sound system.
In the end, we come to the real deal. Under the bonnet of 2018 Trackhawk Grand Cherokee you will find, as we stated at the beginning, a supercharged 6.2-liter V-8 shared with Dodge Charger and Challenger. Regarding power it deliverers the same 707hp but it terms of torque it goes a bit down at 645 lb-ft of torque. Transmission offered with this unit is an eight-speed automatic which transfers the power to all wheels. This dispersion of power does wonders to the acceleration of this SUV. Thanks to the launch-control system acceleration is more than smooth.
The 2018 Trackhawk offers four drive modes, and depending on the mode of your selection the power will be shared differently. Choose Snow mode and the power will go 50/50 to both front and rear wheels. Opt for Auto mode, and 40% goes up front while the 60% is transferred to the rear wheels. In the end regardless if you pick Sport or Track the power will go 30% to the front wheels and 70% to the rear wheels.
In order to decrease acceleration or to stop the vehicle in its track, you will have to reach for Brembo brakes. They come with 15.75-inch rotors and six-piston caliper in the front, and four-piston calipers and 13.73-inch rotors at the back.
From safety features, we would like to single out adaptive cruise control with full-stop capability, forward-collision warning system, automatic emergency braking, a lane-departure warning system, a blind-spot alert system, and a rear cross-traffic alert system.
03/24/2017 UPDATE: Spy photos of new Grand Cherokee have been available for some time now, but today, for the first time we have a picture of what this SUV hides under the bonnet. The changes on the design part of this vehicle were more than obvious, but there was no chance of telling whether it's regular Cherokee, an SRT version or new rumored Trackhawk which fill feature a Hellcat engine. Now, after seeing this image, we know it for sure. The model spied all this time was 2018 Jeep Grand Cherokee Trackhawk.
Mike Manley, the CEO of Jeep company, stated that you should expect the performance version of new Cherokee before the year ends and guess he intends to keep his word. Same as us, you can see that FCA's regular 6.2-liter V8 unit has a supercharger positioned above it. This feature is from before available on Hellish models of Challenger and Charger. Another thing in common with these two model is 707 hp which will this engine be able to produce on Grand Cherokee SUV same as on two ponies car.
There are some differences on the exterior of the model recently spied and those who were pictured earlier. For example, the fog lights that were previously positioned on the lower part of the grille are gone now, and the fascia on the rear now holds more aggressive stance. Some small details like this might be just that which will make the difference between regular and Trackhawk models ( in addition to 707hp). The exhaust pipes are now quad type, and as such weren't present on earlier prototypes.
With these new photos and details we are in high spirits, and full of hope that 2018 Jeep Grand Cherokee is going to be in the showrooms in not so distant future.
08/29/2016 Review: The all-new 2018 Jeep Grand Cherokee is one mean machine, that will shake the ground upon its arrival. The new muscular looks and, especially, the supercar-level engine beneath the hood, that is rumored to be shared with the Dodge Challenger and Charger SRT Hellcat models, an over 700 horsepower beast, that will be hardly to match by the rivals.
The new model will make improvements over the previous on many fields. It will be lighter, with the extensive use of light-weight materials, it will have an improved all-wheel drive system capable of handling the vast power coming from the engine and, of course, the looks, as the designers truly outdone themselves, making the new Cherokee look sharp, muscular, put in one word – stunning. We surely can't wait to see it on the streets, and according to the officials, we just might see it sooner than expected.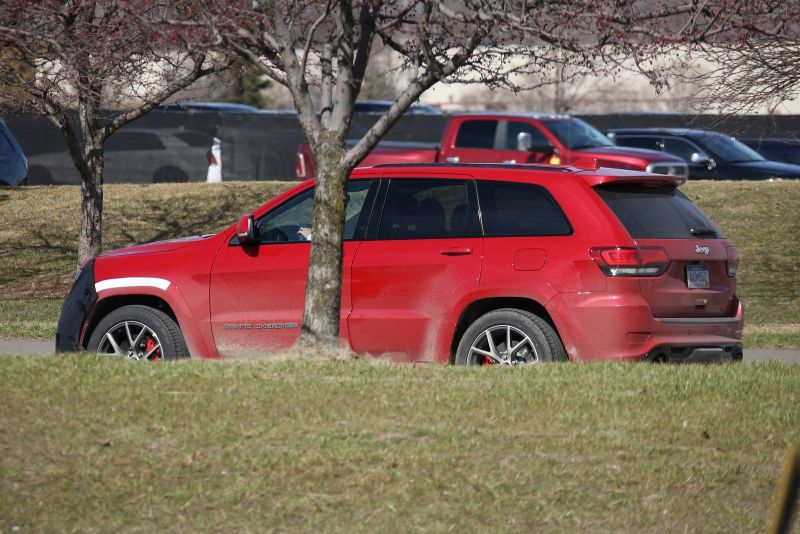 ngine and Specs
As we have already mentioned, the new Jeep Grand Cherokee will have a beast hidden under its hood, but other than that, it will still have an option for mortals like us in a form of the base engine. Speaking of it, it will be a 3.6-liter turbocharged flex-fuel engine, capable of outputting 290 horsepower, at 6400 rpm, with a maximum torque output of 260 pounds-feet, at 4800 rpm. The engine will have six cylinders positioned in V configuration, with 24 valves. The engine will also have a variable valve timing technology that will vastly improve the fuel consumption, that is desperately needed in such powerful engines. The engine will be paired to an eight-speed shiftable automatic transmission system, with a rear wheel drive configuration.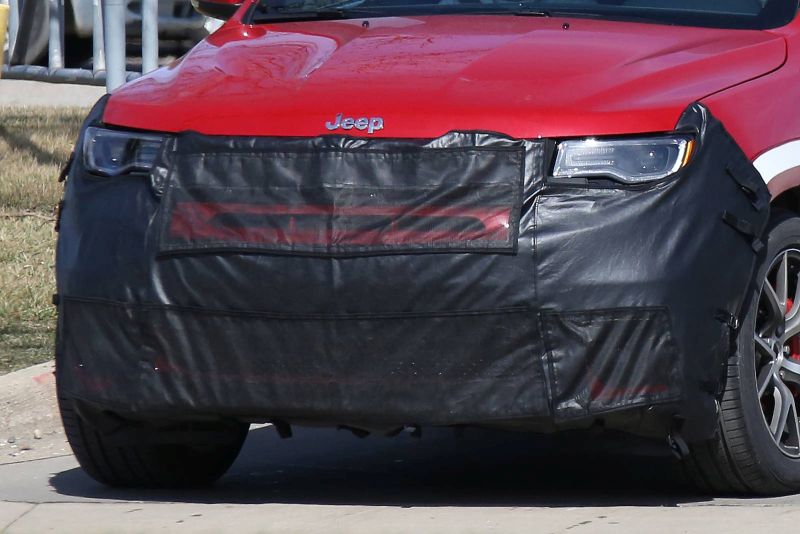 The model will have a four-wheel independent suspension and a front and rear stabilizer bars. As far as the fuel economy is concerned, the new Grand Cherokee won't disappoint even considering he near 300 horsepower engine, as the EPA estimated fuel economy ratings are 19 miles per gallon in the city and 26 miles per gallon on the highway. The total range in the city is set at 467 miles per fuel tank, while on the highway that number reaches 640 miles per fuel tank. The fuel tank capacity is 24.6 gallons. The other, far more powerful engine will most likely be the version found in the SRT Hellcat, the 6.2-liter Hellcat turbocharged V8, capable of delivering 707 horsepower. We must admit that no one has ever put such a beast under the hood of an SUV, so we're really looking forward to see its performance in the Grand Cherokee model.
2018 Grand Cherokee Redesign
The 2018 Jeep Grand Cherokee will really look stunning. Design elements, such as small and thin headlights, large front bumper with single long air intake opening and no side air intakes, makes the new Grand Cherokee look more muscular and powerful than ever. On the inside, the new Grand Cherokee will be spacious and comfortable and be able to accommodate passengers of all sizes. Features on the inside include cruise control, electric power steering, front and read cup holders, front and rear door pockets, front seatback storage, overhead console with storage, tilt and telescopic steering wheel, transmission, cruise and audio controls on the steering wheel, climate control, dual illuminated vanity mirrors, leather coated steering wheel, aux audio input, memory card slot, am/fm stereo, hands-free entry, heated mirrors and much more.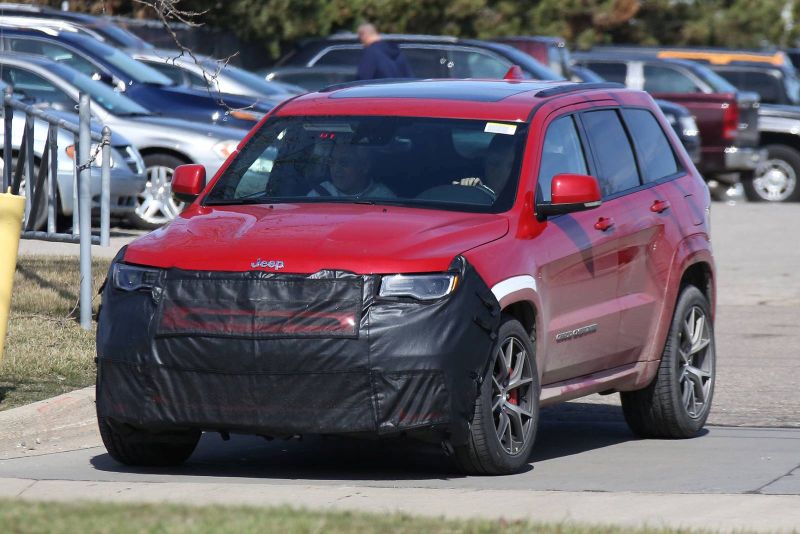 2018 Jeep Grand Cherokee Release date
At first, rumors suggested that the new generation of Grand Cherokee is going to debut at 2017 NAIAS which was held in January. This date came and went by, but Jeep's premium SUV didn't have its introduction. Latest information from sources close to companies headquarters suggests that the model is going to debut in the third quarter of this year. The first model that will see the light of day is the performance installment called Trackhawk. Shortly after that, we should see Cherokees regular models from base to premium trim coming our way. The Long awaited 2018 Jeep Grand Cherokee which will come as a redesigned model will come with a price of $31,000 for a base model and $75,000 for a performance Trackhawk.
Competitors
Grand Cherokee was a vehicle which carried Jeep company trough some hard times and while doing that it became one of the most sought-after models on the market. Nonetheless, it got old and with a new version of Cherokee Toledo-based company wants to take the leading role in the segment once again. To do that it will have to be better than the likes of Dodge Durango, Ford Edge, Kia Sorrento, Hyundai Santa Fe Sport, Nissan Murano, and Volkswagen Touareg.