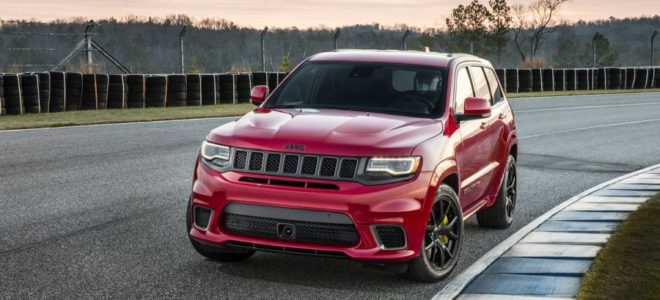 04/11/2017 UPDATE: The long rumored Trackhawk is finally here. Few days prior its debut at 2017 new York Auto Show we have first official photos of what's to be 2017 Jeep Grand Cherokee Trackhawk. Unlike our previous claims, the model won't be available as 2017 MY but rather as 2018. Putting this aside, we can finally say: It's here! With the price of the fuel being low as it is it was only a matter of time when will SUV's become a horsepower monsters. This one certainly is. As it was previously speculated, new Trackhawk has no more and no less than 707hp. This vehicle expands FCA Hellcat family lineup which consists of highly powered Chargers and Challengers, and now they have and SUV that can easily perform on a drag track.
Looking at the exterior, it doesn't feature all that much aggression. Possibly it's because we had high expectations. But, nonetheless same as with its siblings Charger and Challenger you can easily tell just what kind of beast lies ahead of you. Comparing it to a regular Grand Cherokee, this one lies one inch lower, has new 20-inch wheels hidden behind wheel flares in color of the chassis, see more. The optional rims are aluminum made ones who shed the weight by 20 pounds. As far as tires go you have Pirelli Scorpion Verde all-season and Pirelli P Zero three-season.
Other things that make 2017 Trackhawk recognizable are Supercharged marks on the doors and a Trackhawk badge on the tailgate. On top of that, the front end is stripped of fog lights because Jeep needed that space to create air intakes which bring the cold air under the hood. With the type of engine hiding under the hood of this Grand Cherokee, you need as much of cold air as you can get. On the rear end, you will notice quad-exhaust system which is not a part of regular Grand Cherokee lineup.
Moving on and we will tell you about what really makes the difference between regular and 2017 Jeep Grand Cherokee Trackhawk. You already know it, but here we go: It is the engine! The supercharged 6.2-liter 707hp unit which is familiar to us from already mentioned Charger and Challenger Hellcat models. The engine is mated to an eight-speed automatic transmission, and together they create between 645 and 650 lb-ft of torque. The 0-60 speed of Trackhawk stands at 3.5 seconds, while for the quarter-mile distance it needs 11.6 seconds. The speed that it achieves while covering quarter-mile range is 116mph. The top speed is set at 180 mph, and it can tow around 7,200 pounds. Don't know about you but we are impressed.
The Pirelli tires we mentioned certainly help in keeping the Trackhawk to the ground but so does the drives modes that this model has available. Auto, tow and snow modes contribute to keeping traction to control by splitting the torque between front and rear wheels. In addition to those three modes, you also have sport and track. Previously we talked about what powers this Jeep and how fast can it go, but what stops it? In order to slow down and to stop you have 15.75-inch Brembo vented brakes. They come with six pistons up front and are the biggest standard front brakes ever offered on a Jeep vehicle. At the back, you will find 13.78-inch vented rotors with four-piston calipers. With this equipment, you will be able to go from 60mph to a standstill in less than 114 feet.
This vehicle was created in order to resemble a beast, and as such, it needs to hunt down the competition. There's no lacking pray around from all of those performance-oriented SUVs from Porsche and Range Rover. The 2017 Trackhawk definitely has the speed to counter them, but as far the handling is concerned we don't know as of yet. With its nicely arranged interior and low positioned wheel, it has what it needs to play against more luxurious adversaries. Also, we are eager to see how will it fare against Tesla Model X while the EV SUV is in its Ludicrous Mode.
There's no doubt that 2017 Jeep Grand Cherokee is an attractive vehicle just like it was the case with all Hellcat-powered models introduced before. All that is left to see is the production model ready for dealerships, and most of all at what price will this SUV go. We will know more when it comes close to release date set for the last months of 2017.
UPDATE: What was known for a while now, and now we can see it close to final product, is that Jeep's next SUV will definitely be 6.2L Hemi V8 powered Trackhawk. This SUV is basically the car that was previously named Jeep Hellcat. Jeep is, for some time now, making SRT Grand Cherokee that has 475 hp and 470 pound-feet of torque created by 6.4L Hemi. After a couple experiments, successful at that, and creating 707-hp Dodge vehicles SRT felt that Jeep needs to be powered with something more powerful. Result of this cooperation between SRT and Jeep is 2017 Jeep Grand Cherokee Trackhawk. In many ways new Trackhawk resembles regular SRT Grand Cherokee Jeep, but we will make you see that for yourself in this exposed photos of Jeep's latest installment:
Photo Source: autoblog.com
2017 Jeep Grand Cherokee Trackhawk Review
Back in 2014 Jeep was setting up a trademark agreement for the "Trackhawk" name which was going to be used on their future high performance models but since then they haven't released a single car to bear this name even though there have been plenty of rumors suggesting that the brand would be applied first on the Grand Cherokee. Well, now that their crossover is ready to be replaced by a new model it seems that the 2017 Jeep Grand Cherokee Trackhawk is finally going to be released and while the name might not say all that much, it would basically be a Hellcat in Jeep's clothes.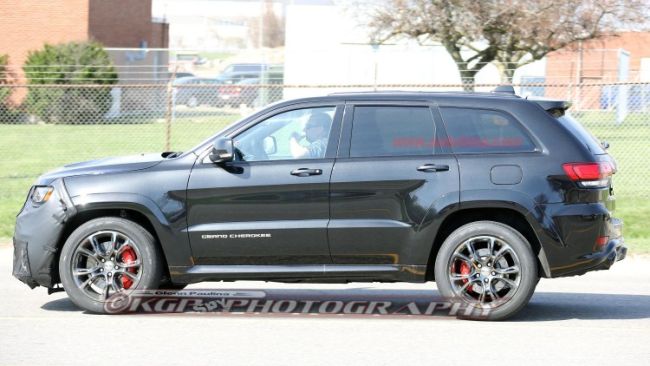 Price and Release date
Rumors about this car have been floating around ever since 2015 but only quite recently Jeep's CEO confirmed that such a car is in fact coming to the market. On top of that, its statement has basically been confirmed after a camouflaged Trackhawk has been spied testing on the open roads. Unlike Dodge which is offering their Hellcat models with quite a few exterior and interior changes, the new model of the Grand Cherokee is going to be quite subtle despite the massive engine under its hood. The car should be ready for the market by the mid of 2017 when it will likely be released for around $70,000 which would become one of the most expensive Jeep cars ever made.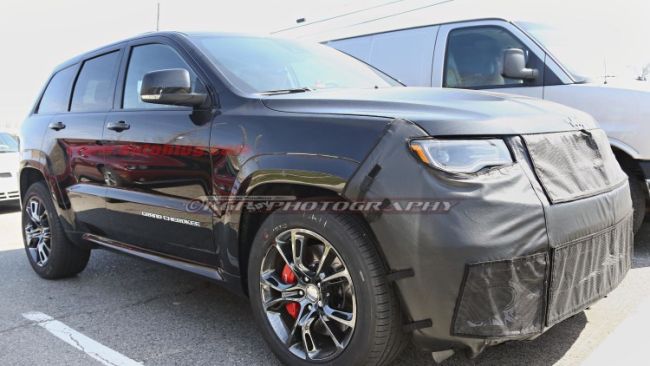 Interior and Exterior Design
The test mule of the 2017 Jeep Grand Cherokee Trackhawk we have seen a while ago was an SRT model wearing some camouflage over its front end as well as it had different wheels. What was notable was a slightly lower suspension to the front and large rims wrapped in high performance tires. At the front the bumper seems to have much larger air intakes than before and its grille will certainly be updated as well. The wheels are the same as on the SRT in size and design. The production model will likely feature a new design for these, while behind them there are all new Brembo calipers with much larger rotors than usual. The production model will likely be as low at the back as in the front and it should also get a slightly redesigned rear end as well.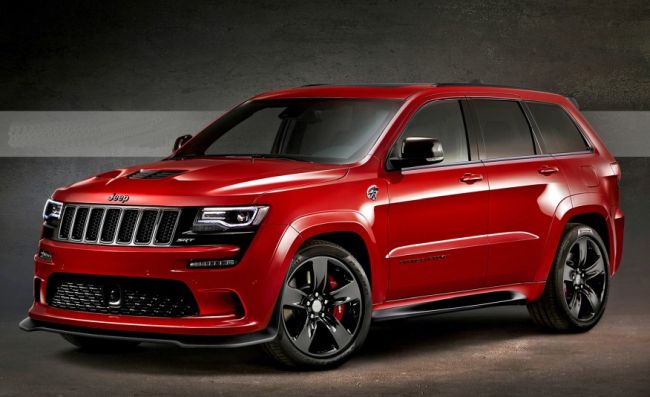 This more subtle approach should fit the Grand Cherokee quite well as it is a family crossover and its design would not really make too much sense with a more aggressive body kit and a much lower ride height because it would no longer be a crossover. Its cabin should be nearly identical to the SRT with the only real difference being the addition of a new color for the upholstery and possibly new seats as well.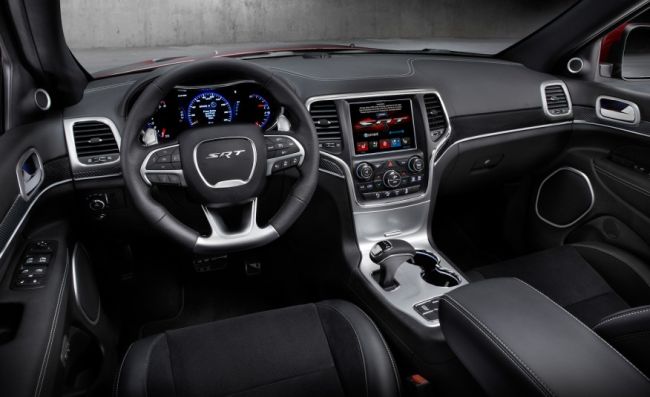 Engine and Drivetrain of new 2017 Jeep Grand Cherokee Trackhawk
The 2017 Jeep Grand Cherokee Trackhawk is going to be powered, unlike the other models in the range, by a 6.2 liter supercharged V8 petrol engine which is going to provide an outstanding 707 horsepower and 650 lb-ft of torque which, unlike on the Charger and the Challenger, are going to be all routed to an all wheel drive system via an 8 speed automatic. There is still no word on the updated Jeep made to its transmission in order to withstand all that power and torque but if they will manage to get it our as a production model, the Trackhawk is expected to become the quickest crossover to 60 MPH in the World with a time of around 3.5 seconds or less which is quite a bit faster than the BMW X5 M with its 3.7 seconds. Also, the top speed is likely going to be limited to around 140 to 160 MPH in order to not stress all that much the tires and transmission, especially if it will be all wheel drive.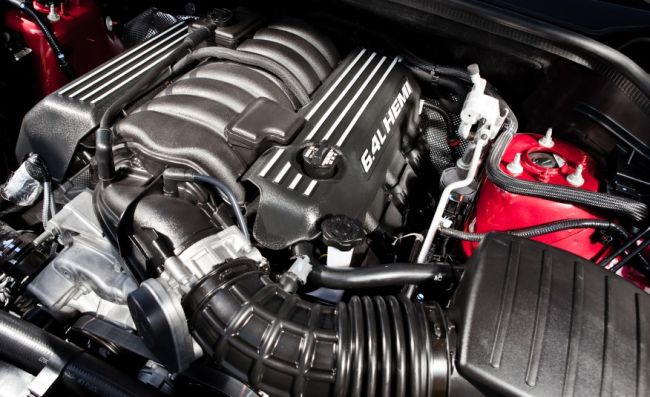 Photo credit goes to: autoblog.com