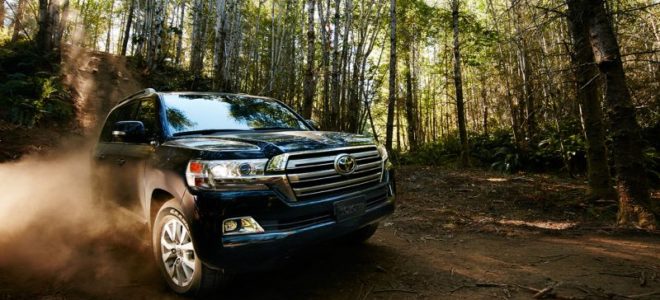 05/29/2017 UPDATE: 2018 Toyota Land Cruiser (Prado) is coming in September, and now we have first official/unofficial information. From leaked photos, we can clearly see that this SUV is coming with an updated exterior and quite revised interior. The photos first appeared on social media (such is the trend nowadays), and while the exterior photos are clearly part of brochure available in Japan, the inner ones are leaked unintentionally.
2018 Land Cruise will be presented in Japan, on 12th September, like we already said, and now with these photos, this is almost sure, but Toyota declined to give a comment.
The most notable changes compared to the ongoing model happened on the front fascia. The front end was almost entirely redesigned. The headlights are new, packed with LED technology, the chrome grille now has more bars and slots and is chromed like never before. The bumper is also revised with a new set of fog lights ( previous ones were round while these are vertical). At the back, changes are more subtle. While both the taillights and bumper have some new traits to them, they are not as changed as their pairs on the front end.
On the inside, there will be an all new dashboard spiced with an 8-inch infotainment system. The changes will be more tied to the evolution, rather than to revolution. But, nonetheless new 2018 Toyota Land Cruiser will come with some brand new tech solutions. Some of the technology that will find its way onto this vehicle is automated emergency braking with pedestrian detection, lane departure warning with steering assistance, automatic high beam lights and adaptive cruise control.
If the September release of this SUV come trough, rest of the world can expect this model in early 2018.
09/11/2016 Review: The all-new 2018 Toyota Land Cruiser will have much to offer to the SUV community and it won't be just the off-road capability the Land Cruiser has been known for. The new model will feature a more spacious cabin, comfortable interior, abundance of technological features, solid performance, with a variety of engines and a decent price. Wince its first introduction, the Toyota Land Cruiser has been one of the sentinels when it comes to true off-road capability, but, at the same time, maintaining the luxury elements, as well. We hope the Toyota continues the trend and that the new Land Cruiser will be better than ever before.
Engine and Performance of new 2018 Toyota Land Cruiser
Looks like the Toyota decided to keep the current engine, that will be implemented in the next generation Land Cruiser, as well. We're happy to see that there will be no shrinkage in terms of power in order to "go greener" like many manufacturers do now days, but we do feel like some improvement in terms of power increase wouldn't hurt neither. Still, there is still plenty of time, until the model is officially revealed to the public, se we might just get what we ask for.
To do a quick reminder, the engine in question is a 5.7-liter turbocharged V8, capable of delivering 381 horsepower, at 5600 rpm, with a maximum torque output of 401 pounds-feet of torque, at 3600 rpm. The engine will feature variable valve timing technology in order to cut fuel consumption as much as possible. The drive configuration will be a four-wheel drive and the engine will be mated to an 8-speed shiftable automatic transmission system.
The engine is, of course petrol based, with no diesel option whatsoever. As far as the fuel economy is concerned, the Toyota Land Cruiser is not the greenest car out there, and never was. With its EPA fuel economy ratings of 13 miles per gallon in the city and 18 miles per gallon on the highway, it is one of the worst performing vehicles in terms of fuel consumption out there, despite the near 400 horsepower engine. As far as the mileage is concerned, the new Land Cruiser is able to travel 320 miles per single fuel tank in the city and 443 miles per fuel tank on the highway. The fuel tank capacity is 24.6 gallons.
2018 Toyota Land Cruiser Interior and Exterior Design
The 2018 Land Cruiser will come with many entertainment and safety features, such as 10-way power driver seat, 8-way power passenger seat, bucket front seats, height adjustable driver seat and passenger seat, leather upholstery, multi-level heating driver and passenger seat, ventilated passenger seat, foldable read seats with storage center armrest, rear ventilation ducts with fan control, 4 one-touch power windows, hands-free entry, heated mirrors, adaptive cruise control, front and rear door pockets, front and rear parking sensors, front, side and rear view camera, power steering, tilt and telescopic steering wheel, etc. On the outside, the new Land Cruiser looks as good as always. Not much of the design philosophy has changed over the previous model, except some minor details, but it will be just enough.
Pricing and Release Date
Nothing has come directly from the officials regarding both prices and official release date, but some experts state that we might expect to see the new Land Cruiser on the streets by 2017. As far as the prices are concerned, the new model will start at base price point of around $85,000, ranging to over $100k, depending on the features and trim levels. Given its performance and long history of being an amazing off-road vehicle, we really look forward to seeing one soon.