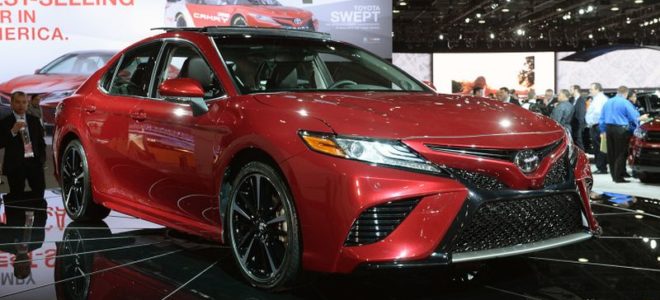 02/25/2017 UPDATE: The outgoing Camry was the best-selling vehicle in the United States during 2016. A feat which is an actual accomplishment considering that the market is shifting more and more in the direction of SUVs and crossovers. Taking into account that this is the America that we are talking about where pickup trucks also have large intake into the market the to be a sedan and best-selling vehicle at the same time is truly astonishing. It may seem that we appreciate Toyota's car a bit too much but in the year in which Camry set the record sales was the seventh year of this generation. Imagine, the model which is one year away from redesign was the top selling vehicle in the States. Japanese manufacturer wasn't prepared to sit on the past achievements so at the 2017 Detroit Auto Show it has presented an all new 2018 Toyota Camry.
Changing of its most valuable asset Toyota started from the outside. The new model is 0.7 inches wider; wheelbase is 2 inches longer; roof and hood are 1 inch lower, and hip points at the front and the back are both lowered by the same amount. These dimension tweaks have as a result better layout of the interior. The dashboard is now set lower to improve visibility, and there is more space for a driver and wheel has more room to be set correctly to the desires of the driver.
Toyota has always tried to make the Camry stiffer, and it has achieved that with 2018 MY. It features new suspension and engine mounts on four different points which reduce the in cabin noise significantly. With changes on the outside and the inside Toyota claims that the driving dynamics have been improved to a level that will satisfy every driver.
Engine Options
New exterior, new interior, and guess what an entire lineup of new engines. The most models of 2018 Toyota Camry will carry a new 2.5-liter naturally aspirated four-cylinder Dynamic Force Engine. Output numbers weren't released at Detroit presentation, but Toyota claims that it will better the current 178hp and 170 lb-ft of torque. Another thing that Aichi-based company promises is that 2018 Camry is going to have a 'best in class' fuel economy. Moving on and we have a 3.5-liter V-6 which is shared across the lineup and with models such as 2017 Toyota Highlander and new 2018 Toyota Sienna. Here we will have a four and six-cylinder options, but regardless of your choice all of them will be paired to the eight-speed automatic transmission which is you can already guess, all new.
2018 Toyota Camry Hybrid
Hybrid Camry will use a 2.5-liter four cylinder mated to a CVT equipped with Sport mode which can simulate six gears. Also, you need to know that the battery pack in hybrid model is now moved from the trunk to the back seats. This will, like many other things on this model, influence the driving dynamic and fuel economy which Toyota claims that will be the same on Camry as they are on Prius.
2018 Camry Interior
The interior will now, more than ever be driver-oriented. Depending on the trim selected interior will feature Toyota's, also new, Human-machine Interface which is assembled out of 7-inch gauge display, a 10-inch color Head-Up Display and centrally positioned set of controls that feature Entune 3.0 touchscreen which is blended with HVAC control panel.
All of the 2018 Toyota Camry trims including LE, XLE, SE and XSE will have Toyota Safety Sense system as standard equipment. This system consists out of forward collision warning with auto-brake and pedestrian detection, lane-departure warning and auto-steering, adaptive cruise control and automatic high beams.
Release date of 2018 Toyota Camry
As we said at the beginning the all new Camry was presented in Detroit during the last month, and it will be sold as 2018 MY with sales starting in the summer of 2017.
12/30/2016 Review: Toyota sells more than 400,000 Camry units each year so it is easy to see why they hate change. The previous model, and the one before it, are just mild updates that are meant to give people a car that is easy to drive, reliable and cheap. However, times change and there are now a lot more competitors in its class. Because of that, it seems that the upcoming 2018 Toyota Camry is a rather large step from the current generation. For starters, the new model will be using an all new platform and it will also come with considerably more models.
2018 Camry Price
With that said, the car will continue to be reliable, easy to use and cheap. The base model is expected to start right around $24,000 which is similar to its competitors. However, the Camry usually comes with more gear than its rivals and this will likely be the case with the new car as well. The release date is unknown but considering the stage of the spied prototype, the car is likely around a year away from release. The largest change for the car is going to be the addition of a TRD model which is expected to hit the market at roughly $35,000. Even though it has not been confirmed by Toyota, the car has been spied testing already a few times. It is also worth mentioning that the car will be using Toyota's modular platform which first debuted on the Prius.
The design of new Camry
The rumored TRD model of the 2018 Toyota Camry seems to boast new front and rear bumpers, a quad exhaust system, LED headlights and side skirts. The wheels seem to be unique to it with triple-five spoke black wheels. Leaving the TRD behind though, the entire car will change. Some suggested at first that the new Camry will only suffer mild cosmetic changes. Well, this is simply not true. Instead, the new car has a completely new shape which takes it a lot closer to a coupe than before. The front end is similar but the back sports a large and raked window and a completely new bumper design. The new car also seems to boast a longer wheelbase than before and it might just be wider as well.
Inside the cabin
Unfortunately it is quite early to say anything about the way the new Camry will look on the interior. Toyota did give us a few hints with some of their newer models, more precisely the Prius. This features a large center screen which provides most of the information the driver needs. While the Camry will likely feature a regular instrument cluster, it is also expected to feature the Prius technology in one form or another.
Toyota Camry 2018 – Under the hood
We do hope the 2018 Toyota Camry will feature turbocharged power, at least in its base model. Unfortunately though Toyota doesn't really have a suitable engine. Because of that we do think they will stick with the 2.5 liter naturally aspirated inline 4 engine which may see a bump to around 190 horsepower and 170 lb-ft of torque. The larger V6 engine is now more than likely going to be available only on the top end trim levels such as the TRD.
This time around though the engine will be a new 3.5 liter naturally aspirated V6 with direct injection, the same that can be found in the newly released Highlander. This is known to make 295 horsepower and 263 lb-ft of torque. However, the TRD might get an even more powerful version of this engine with closer to 300 horsepower and 270 lb-ft of torque. An eight speed automatic will likely be available across the range, the exception being the base model which is expected to receive a six speed unit only.
Release date of 2018 Camry
There is no strict release date for 2018 MY installment of Camry but one thing we know for sure. New Toyota Camry will have its debut at 2017 Detroit Auto Show in January. After that we are sure that more info will come our way about actual release date. Stay tuned for more info.