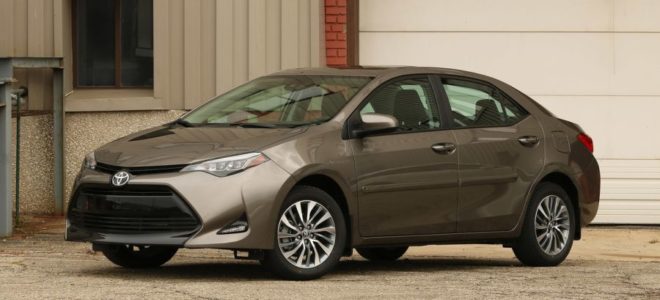 Last year Toyota released the Corolla iM for the US market. However, while the name of the car is new, the car really isn't. The same model has been sold before by Scion in the US while the European market received it all the way back in 2012. This means that an update is already overdue. Even though Toyota hasn't said a word about its successor, not that long ago a camouflaged prototype of the 2019 Toyota Corolla has been seen testing on European roads. Even though it was heavily covered, the car did reveal a few interesting things about it. The design will change quite a bit and it seems a new platform will be used for it. Just like before the car will be sold under two different names depending on the market of choice. The US market will receive the Corolla iM while the European market will get the Auris.
This new model is going to be based on Toyota's New Global Architecture, also called TNGA. This highly modular chassis offers a unibody design which is considerably more rigid than that of its predecessor. On top of that the chassis can be configured in front, rear or all wheel drive setups which is quite impressive considering it is meant for small to medium-sized cars. The one that will underpin the Corolla will be a front wheel drive version of the chassis which will more than likely boast a nearly identical wheelbase to its predecessor. The entire running gear will be changed while the engines are likely going to be heavily updated.
2019 Toyota Corolla Release date & Price
As you can see by yourself, the spied Corolla is definitely a test mule rather than a nearly production-ready version of the vehicle. Unfortunately, this means that release date of 2019 Toyota Corolla is not scheduled for this year, not even for the next one. To be precise the land of its origin, Japan could see this vehicle during 2018, but that won't be the case with the rest of the world. According to sources, such as Canadian car magazine motor1.com international market will witness the reveal of this car in late 2018 or early 2019.
Another thing is the price. It is really untimely to speculate anything or to be remotely precise in predictions. The price will go up, that one is for sure. Why? Well with new Corolla you will get an entirely new car, riding on a Toyota's new Global Architecture (TNGA). Put into that account set of new engines, petrol diesel, and hybrid ones. Technology which is almost outdated on current installment of Corolla will be revised from bottoms up. All of this will merit an increase in price. How much we can't tell right now, but 2017 Corolla starts at $18,500 for base L trim while the top version the XSE can be bought for $22,680. With additional equipment, the price will logically only rise.
Click here to see spy photos gallery.
Exterior and Interior of 2019 Toyota Corolla
The current car is identical to the European model and this is not going to change for the 2019 Toyota Corolla. However, this is not exactly a bad thing, especially since this time around the two cars will be released at roughly the same time. Even though Toyota hasn't revealed much about the car, the camouflaged test mule gives us a good idea about the overall look. In the front it seems the new Corolla will get a much lower front end than before. This makes it seem more aggressive and together with the slimmer grille and larger lower intake, the car should be able to finally look competitive. The headlights are likely the biggest change here. Instead of the slim units found on the current car the new Corolla boasts massive headlights that seem a lot closer in design to what the Prius has to offer with the 3D-like design. The roof is both lower and has a small curve to it, so we can expect a hot-looking version soon after launch.
The current model, while it didn't win any prizes when it comes to its build quality, offers a really modern-looking dashboard even after more than 5 years since its release. The 2019 Toyota Corolla is expected to build on the success of its predecessor. The car is expected to feature a more minimalist looking dashboard with a smaller instrument cluster cowl and a lower driving position. This would give the driver a better view out of the car while maintaining the low roof-line. The center stack found in the Prius might be used on the Corolla but with a small twist in order to offer slightly better materials than in its hybrid sibling.
Engine Options
The US model of the car only gets a 1.8 liter naturally aspirated engine good for 137 horsepower and 125 lb-ft of torque. Because the engine is mated to a CVT gearbox, it can't really provide a good amount of performance. Things are expected to change with the 2019 Toyota Corolla. Not that long ago rumors about a new 1.5 liter turbo-three engine started to surface. It seems this engine could provide anywhere between 130 and 180 horsepower and over 150 lb-ft of torque. Considering the old 1.8 liter engine was quite heavy, this smaller unit should be more than capable of replacing it. Also, the aging CVT gearbox with its simulated gears might be gone for this generation. This hasn't been confirmed just yet but the gearbox is just too sluggish to cope with today's roads. We do hope Toyota will move their attention to dual-clutch gearboxes which are faster, considerably better to drive as well as more efficient than their old and heavy CVT automatics.
Competitors
When it finally arrives in late 2018 or early 2019, Toyota Corolla will go against rivals such as Honda Civic, Volkswagen Golf, Mazda 3, Chevrolet Cruze, Hyundai Elantra, Ford Focus, and Volkswagen Jetta.