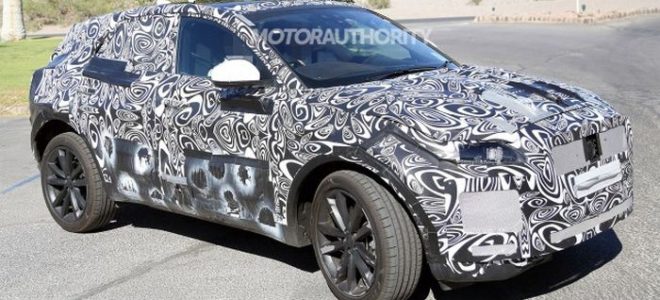 Jaguar released their first SUV, the F-Pace, less than two years ago. However, they are going to release their second SUV in the near future as the 2019 Jaguar E-Pace has been confirmed a short while ago. Even though Jaguar still hasn't released all the details about the car, they did tell us some interesting pieces of information. For starters, it seems the new E-Pace is set to be based on Land-Rover's modular LR-MS platform. This is a high strength steel front wheel drive platform also in use on the Evoque or the Discovery Sport. The platform is quite capable in off-road and it usually offers a great experience on the road too. However, it is not nearly as good as Jaguar's rear wheel drive chassis so it actually remains to be seen what they will do in order to stand out over their siblings.
Because it will be based on a steel chassis it means the E-Pace won't be much lighter than the F-Pace despite being quite a bit smaller. However, it means they will be able to build the car for far less than otherwise so they should be able to get ahead of their rivals. From most spy shots we have seen so far it looks like the wheelbase of the new car is roughly the same as that of the Discovery Sport. However, the car definitely seems to be wider, lower and actually shorter. This is because both the front and rear overhangs are much smaller which translates in a shorter package.
The Interior of 2019 Jaguar E-Pace
One of the largest unknown factors about the 2019 Jaguar E-Pace is the car's cabin. So far Jaguar hasn't released a single picture or render about it. However, we can safely assume they are not going to just take the interior of the Evoque and install it on the E-Pace. Instead, we can expect a similarly built cabin with premium materials but with an entirely new design. The car may actually get a lot of design cues from Jaguar's other cars which would make it stand out. We can expect a wide center console, possible thanks to the car's width, a less vertical-looking dashboard and a center stack aimed towards the driver. Things like a digital instrument cluster, their latest wide-screen infotainment system, premium sport seats and possibly individual rear seats might be possible on the higher end versions of the car.
Exterior Design
Thanks to a couple of pictures released by Jaguar we do have a clear look at the car's design. It seems they decided to offer a much more interesting design than that of the F-Pace. For starters, the car's front end is clearly inspired by the F-Type sports car. Here the SUV has a very similar set of swept-back headlights and nearly identical vertical intakes on the sides of the main front grille. The rear on the other hand is much closer to the F-Pace. Here the smaller SUV boasts a more aggressive rear window rake as well as a larger roof-spoiler. The car is also quite low and it has a really aggressive window-line which makes it seem much lower than it really is.
Under the hood – 2019 E-Pace Specs
Because it is based on a front wheel drive chassis it means that Jaguar's V6 won't be available on the car. However, the 2019 Jaguar E-Pace will still come with more than adequate engines across the range. In Europe the car will be available with three different engines. There will be two petrol-powered engines and a diesel. The 2.0 liter turbocharged inline 4 and the 2.0 liter turbocharged diesel are both going to offer anything between 160 and all the way up to 250 horsepower. The base cars will come with front wheel drive and a 6 speed manual gearbox.
However, the higher end versions will only be available with an 8 speed automatic and all wheel drive. The car will make use of Land Rover's AWD system so it should be more than just capable in off-road. A third engine option will be a 1.5 liter turbo-three Ingenium diesel mated to an electric motor. The output is still unknown but we can expect around 150 to 200 horsepower and well north of 200 lb-ft of torque. This is likely going to be the most fuel efficient offering in its class.
2019 Jaguar E-Pace Price & Release date
Based on success made by F-Pace the British automaker wasted no time in making another one. The upcoming 2019 Jaguar E-Pace has debut scheduled for 13th of July. In exactly one week from publishing this article new E-Pace will be introduced to the world. This will only be formal show-off while a full-scale debut is going to happen in Frankfurt. The biggest German car show is on the program in September.
In conclusion with above written you will be able to buy this vehicle in the first few months of 2018. The price is not yet determined for this model, but motorauthority.com and other source estimate the price to start at $39,000.