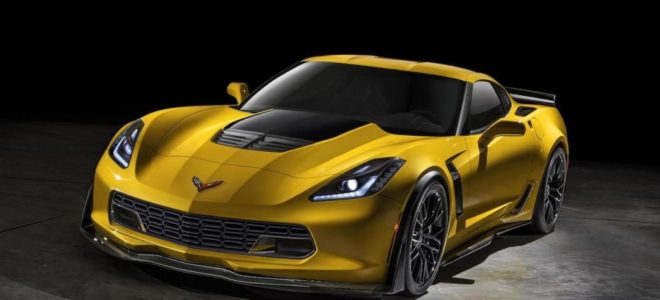 The Corvette is likely the best US-made super-car currently on the market. It is not only fast but also incredibly good to drive. However, its design has its roots back in the '80s and Chevrolet knows that. Before the 2009 crisis they were actually developing a mid-engine supercar to be sold as the new Corvette. Unfortunately those plans were scrapped and the car that was released is the current C7 which is nothing more but a placeholder. Things are about to change though. Sightings of a mid-engine car made by GM started to surface ever since the early 2016. More than a year later we finally have the confirmation that those were more than likely test mules for the 2019 Chevrolet Corvette C8. The car has been seen a few weeks back testing in the North together with what seems to be the upcoming C7 ZR1.
Chevrolet Corvette C8 Price and running gear details
So far there is very little official information about the C9 Corvette. We do know the car will be a mid-engine supercar meant to compete with all those European offerings. On top of that, the car will likely be built in a similar manner to the current Corvette. This means a plastic composite body, likely reinforced with carbon fiber, built on a high strength or aluminum chassis. The end result should be a lightweight car more than capable of becoming one of the fastest mid-engine cars out there. While the current Corvette starts right around $55,000, the C8 is actually expected to cost north of $80,000. This price increase shouldn't pose a problem for Chevrolet, especially since the Camaro is there to fill in the gap.
Unlike the current model, the 2019 Chevrolet Corvette C8 is more than likely going to feature a fully independent suspension system. This has been quite clear ever since we seen the first test mules which were using a modified Holden Ute body. The rear part of the car was quite flat but the bed was modified in order to house the suspension.
2019 Chevy Corvette C8 Spy Photos and Design
So far it seems that the C8 might be quite close in terms of size to the C7. The car is definitely using a similar wheelbase to its predecessor. Despite that, it is noticeably wider and lower as well. The test mules were not only wider but all of them sported wider tires in the front and at the back. Some of these had fixed wings but this doesn't exactly mean the production model will boast a fixed wing. Instead Chevrolet might be testing different wing profiles for an active rear spoiler. In the front the 2019 Chevrolet Corvette C8 will likely feature a large splitter, possibly active air intakes and an instantly recognizable Corvette look.
The interior of the Corvette C8 will be able to house up to two passengers. So far most test mules actually used the cabin of the C7 which likely means the interior of the production car will be similar in size to the current model. The design will likely take quite a bit of design cues from all of its predecessors. The dashboard should continue to be angled towards the driver so the passenger will be able to enjoy the full view in front of the car.
2019 Chevrolet Corvette C8 Specs
Even though the 2019 Chevrolet Corvette C8 will be a mid-engine car, this doesn't mean we are going to see exotic powertrains. Instead, the base model is more than likely going to stick with a 6.2 liter naturally aspirated V8 with around 450 to 480 horsepower and close to 450 lb-ft of torque. This should allow the C8 to be more than capable while keeping the reliability of its predecessor. However, things will change for all the other versions. We do know Chevrolet trademarked the "E-Ray" brand which is set to name a new set of 32 valves V8 engine. This would be identical in layout to that in the original ZR1. So far it seems that the new 32V V8 might be a 5 to 6 liter naturally aspirated gasoline mill offering north of 550 horsepower and 500 lb-ft of torque. All engines will likely be mated to an either a manual or an automatic and rear wheel drive only. Some also suggested a hybrid but we are more than likely to see a twin-turbo V8 than a hybrid at this point.
2018 Corvette C8 Release date
The long lasting desire of every Corvette lover in the world is close to fulfillment. The mid-engine Corvette C8 was spied testing, but it won't be available as fast as we would like. With tests being in the first phase there is a long way to go until we see fully prepared model. We will be happy when spy photographers bring us photos of near production model. For a car expected as this one, Chevrolet is going to make a great entrance for it, and what place would be better than its birthplace. Sources close to US automaker claim that 2018 Chevrolet Corvette C8 is going to be presented at 2018 North American International Auto Show in Detroit. Considering the hype that is surrounding this vehicle, it is only logical to show it on the grandest stage of them all. After the early introduction at the beginning of 2018, we can expect the car to debut in dealership before first summer months. The C8 Corvette will be sold as 2019 MY. Stay with us as we bring more, photos, information and we hope some official announcement.
Rival Models
New C8 is one year far away from arriving, but the rivals in this segment have already fully prepped their models. When it comes, it will be one of the most exotic Chevy models, and its acceptance by the customers and fans alike will mostly depend on how will it fair against rival models. If C8 was available today it would go against the cars such as Nissan GT-R, Acura NSX, Audi R8, Dodge Viper, Nissan 370Z, Porsche 718 Cayman, Porsche 718 Boxster, Audi TT RS, Lotus Evora 400, Jaguar F-Type, and Alfa Romeo 4C.