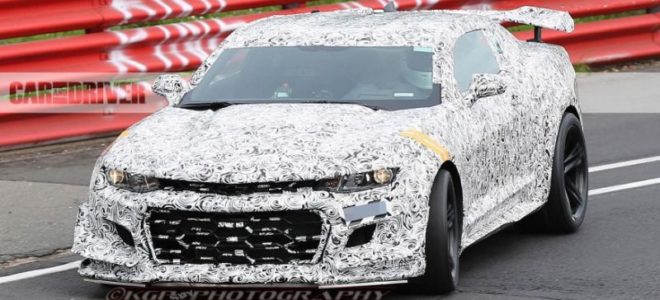 The Camaro is Chevy's muscle car offering and it has been one of the better selling two-door cars in the US for a while now. The new model has been released a couple of years back but so far Chevrolet hasn't actually released all versions of the car. They released the regular LT and SS models first with the high performance ZL1 coming slightly later. However, it is not time for a new version of the Camaro. Even though it will likely not be the most powerful in the Camaro range, it will likely be the fastest around the track. The 2018 Chevrolet Camaro Z/28 has already been spied a few times and the car seems promising to say the least. Over the regular model the Z/28 will come with an upgraded aerodynamic package, a better suspension system, likely larger brakes as well as a unique engine.
Price of 2018 Chevrolet Camaro Z/28
The older generation of the Z/28 has a massive 7 liter high-revving V8 which managed to allow it to be faster than a Porsche 911 around Nurburgring. In order to beat its record the new model will have to be more than just your average muscle car. Even tough it will start its life as a regular Camaro, the Z/28 will have very little in common with the usual version. Like we said, the suspension system will change. Even though nothing has been confirmed, it seems that the Z/28 will come with a set of magnetic shocks and tweaked springs. The end result should be a lower car than the usual Camaro that will be able to adapt faster to the road conditions thanks to the adaptive dampers. Some also suggested that the 2018 Chevrolet Camaro Z/28 might also receive carbon ceramic disc brakes. Its price is expected to be north of $75,000 which will make it the most expensive Camaro to date.
Exterior and Interior Details
Being based on the regular Camaro, the Z/28 won't look all that different, at least for an untrained eye. The car's prototype has already been seen testing and the changes are rather impressive. In the front it features a massive carbon splitter, bumper air-canards that will direct the airflow around the car as well as wider wheel arches in the front and at the back. The front bumper features a much larger air intake while the hood does feature a rather large bulge. The rear of the Z/28 prototype features a large fixed wing, quad-exhausts and also a large diffuser. So far it seems that the car will also get wider wheels than your regular Camaro, most likely identical to those on the ZL1.
The previous model had Recaro seats and an Alcantara upholstery. However, the rest of the cabin was identical to the regular model. The new 2018 Chevrolet Camaro Z/28 is expected to follow its predecessor quite closely. The seats are likely going to be very similar but GM might decide to offer a stripped down version offering just the bare necessities. This will safe weight and it will make it a true track weapon.
2018 Chevrolet Camaro Z/28 Engine, Specs, Horsepower
There have been many rumors saying the new 2018 Chevrolet Camaro Z/28 will feature a 6.2 liter supercharged V8. While this would be great to offer plenty of power and torque, it wouldn't be that special for a track car. The old 7 liter naturally aspirated V8 can't really match its rivals anymore meaning that Chevrolet doesn't really have a suitable engine. However, this is not entirely true. We all know GM has been developing in secret a new DOHC 32 valves naturally aspirated V8 for their future mid-engine Corvette. This is a 5 to 6 liter unit offering anything between 500 and 600 horsepower and north of 500 lb-ft of torque. Being a high-revving engine, and also quite light, the new DOHC V8 would be the perfect candidate to be installed under the hood of the new Z/28. Its only drawback would be the height but this could be solved with the help of the large hood bulge. Like before, a 6 speed manual and a true mechanical rear LSD are likely going to be standard. GM's new 10 speed automatic could also be offered as an option for those looking to squeeze the most amount of performance from their Z/28.
Release date of 2018 Chevy Z/28
The Z/28 prototype which was caught on spy camera on a few occasions so far looks like it is close to completion, but Chevy won't rush things. The reasons are that Detroit-based company want to be thorough in tests of durability, and in other aspects regarding its behavior on the road. The other reason is that ZL1 installment of Camaro was just released and Chevrolet doesn't want to spoil its 'party.' The difference between release date of these two versions, sadly for all of us expecting Z-/28, could amount up to one year. First estimates are saying that new Camaro Z/28 is going to be presented at 2018 North American International Auto Show which is held annually in Detroit. The release for all of the interested buyers is going to be postponed for mid-2018. Presenting this model in Motor City has symbolic meaning for Chevy because they originate from this city and also because their arch-rivals in muscle car category Ford typically show their Mustang at this location. The vehicle will be sold as 2018 MY.
Competitors
Being an American Muscle Car 2018 Z/28 has a head to head clash with other models that, rightly, call themselves muscle cars. We already know this but let's say it nonetheless they are Ford Mustang ( in all of its variations such as GT350, GT500, Fastback, etc.), Dodge Challenger, Challenger SRT, Dodge Charger, Charger SRT, and its internal rivals such as Zl1, 1LE, and Chevrolet Corvette ZO6. When you are a pony car speed is expected from you, and Z/28 offers just that. With this said you could draw a comparison to some of European and Asian Sports cars and those are Nissan GT-R, Porsche 911, McLaren 570S, Mercedes AMG-GT, Audi R8, Acura NSX, and Jaguar F-Type R.