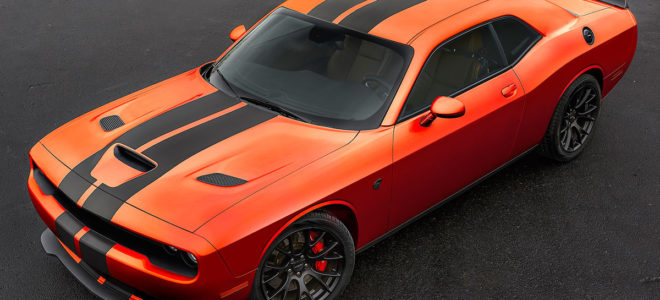 The Challenger has been currently on the market for nearly a decade but it has been actually released more than a decade ago. This makes it ancient in today's World of high performance cars and muscle cars and it can no longer compete with the likes of Mustang and Camaro. However, Dodge is set on releasing a successor even though the FCA Group was considering discontinuing the car. However, this is not the case which is a great piece of news for many. The upcoming 2018 Dodge Challenger will be a completely new car and it will be released in July 2018. Dodge already confirmed this a while ago and things seem to be on track, at least for now. However, until then they will be releasing another version of the current Challenger which will also be sold as a 2018 model. So far it seems that this may be a limited edition model to mark the end of an era for the car.
The current Challenger is based on Chrysler's LC platform which has its roots all the way back into the late '90s in a Mercedes chassis. This is also the main reason why the Challenger simply can't match its rivals. With the exception of the limited edition model, which will likely be called the ADR, all the others will be new. In fact it seems that Dodge might turn to Alfa Romeo for a new rear wheel drive platform. At first they actually dismissed these rumors but it is quite clear that Dodge doesn't actually have a suitable platform. However, while the new car will be based on an Alfa platform, this will be heavily updated in order to better fit its character. We expect it to be wider, longer and have a longer wheelbase than the Giulia. Nothing has been confirmed though so there is still plenty of time for things to change. Also, despite using an Alfa platform, the price will more than likely remain around $28,000 for a base model.
2018 Dodge Challenger – The Exterior and Interior Design
Many people suggested that the 2018 Dodge Challenger will actually be called the Barracuda and it will look completely differently than the current model. This might not be the case though. In fact, so far it seems that Dodge is not willing to change much, so the new car might be a lot closer in design than we first thought. Some even suggested that the new Challenger will look very similar to the current car in a similar fashion the new Camaro looked similar to the older model. If this is the case then Dodge will be able to retain their customers while offering a much better product.
The new chassis will also allow Dodge to offer a lot more space inside the cabin. This would be needed especially since the current car, despite its size, is not the most comfortable out there. The new model is expected to offer luxury-car levels of comfort while also retaining the performance of a true muscle car.
Under the hood of new Challenger
There is a wide range of engines on the current model and this will likely not change for the 2018 Dodge Challenger. For starters, the car is expected to ditch its old and inefficient V8 HEMI engines. This comes as a rather hard pill to swallow, especially for those in love with these engines. Unfortunately Dodge will have to meet very specific emissions regulations and the large 6.2 and 6.4 liter engines will simply not meet them. Instead, the car is more than likely going to come with turbocharged power.
The base model is expected to use a new 2 liter turbocharged inline 4 with as much as 300 horsepower. If this is the case then expect the 3.6 liter Pentastar to be completely discontinued. The larger 5.7 and 6.4 liter HEMI V8 engines are both expected to be replaced by a 3 liter twin-turbo V6. This currently makes in certain applications as much as 420 horsepower and more than 400 lb-ft of torque. In the future we might see a 500 horsepower version of the same engine. The Hellcat model on the other hand might be replaced by a new 3.8 liter twin-turbo V8 with as much as 600 horsepower. With the added benefit of being lighter, the new Dodge Challenger 2018 should have no problem at being faster than the older model.