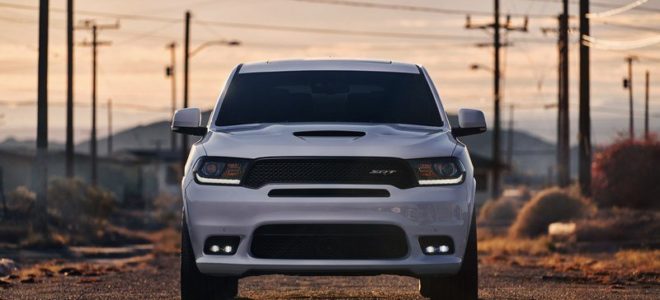 A few months ago the all new 2018 Dodge Durango SRT has been revealed as the first ever SRT product to boast seven seats. The car offers not only great value for money, but it comes with the added benefit of being one of the faster cars of its kind. The SRT is based on the regular R/T Durango, but it adds a new suspension system as well as a few other extras making it quite impressive to stay the least. This is the first time for the car to come in the SRT trim level, so it is a moment many people expected.
In Detail
The Durango is based on the same chassis as Dodge's most other cars released in the past decade. The car doesn't have a body on frame design, but it still is very rugged for its class. However, this also means it is quite heavy with the SRT tipping the scale at the north of 5,000 pounds. To make it somewhat sporty, Dodge added quite a bit of new items into the mix. For starters, the model comes with a revised suspension system with new shocks and springs.
On top of that, it shares its brakes with the Cherokee SRT. This means it gets four piston Brembo calipers in the front coupled with 2-piston brakes in the back. The rotors are much larger than in the regular model too, and to clear them, Dodge had to install 20-inch light-alloy rims. These are wrapped on the base model in 295mm section all-season tires which are actually far better than the usual crossover tire. However, for those looking for more Dodge is also offering an alternative with optional high-performance summer tires.
2018 Dodge Durango SRT Specs, Release Date and Price
With a bit different exterior, updated cabin, and most importantly the new powertrain the price of 2018 Dodge Durango SRT will go above the regular version. Worry not, the price of new SRT Durango is highly justified by everything that it offers. The cost in its entry level model is $64,000. You won't find many performance SUVs coming your way at this price. Fully packed 2018 Durango SRT comes at $71,200 and with towing capacity that it offers, among other things, is really a bargain.
FCA already introduced this model to the broad public, but it is not yet available in dealerships. According to various sources, the above mentioned will happen before the end of 2017.
| | |
| --- | --- |
| Wheelbase | 119.8 Inches |
| Height | 71.9 Inches |
| Length | 201.2 Inches |
| Width | 77.1 Inches |
| Weight | 5,510 Lbs |
| Engine | 6.4 liters naturally aspirated HEMI V8 |
| Power/torque | 475 hp and 470 lb-ft |
| Transmission | Eight-speed automatic |
| Price | $70,000 |
| Release Date | Fourth Quarter of 2017 |
Under the Hood
The best part about the 2018 Dodge Durango SRT has to be its engine. The car is being powered by a 6.4 liter naturally aspirated HEMI V8. This engine has been around for a while, and it is likely one of the best-known engines on the market. Even though it is not the most powerful or even remotely efficient, the engine offers one of the best available soundtracks, and it manages to deliver a lot of power for a three-row crossover. In fact, it will put out as much as 475 horsepower and 470 lb-ft of torque which is mighty impressive considering it all comes from a naturally aspirated engine. All that power is sent to all four wheels via a ZF 8 speed automatic.
This splits the torque with the help of a transfer case being capable of sending up to 35% to the front wheels and 65% to the rear. A limited slip differential is also part of the standard package which is impressive to see. With it, the car will hit 60 MPH in just 4.4 seconds, and it will do the standing quarter mile in 12.9 seconds which is actually faster than its close sibling. The best part is that it will even tow as much as 8,600 pounds which are a best-in-class number coming from a three-row SUV that will basically outrun a sports car.
Design
In order to match that power, the 2018 Dodge Durango SRT's look hasn't been left unchanged. In fact, Dodge did quite a few upgrades in order to make it stand out. It received an all new front fascia. This includes a new bumper with larger intakes and LED fog-lamps. Also, the grille has been split into two individual intakes while the headlights boast LED DRLs. In the back, the SRT comes with a new bumper as well as 4.0 inch tipped exhausts which look very impressive on a car this big.
2018 Dodge Durango SRT Interior
This hasn't been left unchanged either so the 2018 Dodge Durango SRT comes with a complete package. Things like FCA's 8.4-inch infotainment system, an 180MPH instrument cluster sporting a color LCD screen, leather sports seats and even a Wi-Fi hot-spot are all standard on the car. As an option, the buyer will get the chance of getting the six seats model. This will replace the regular bench-seat with a set of captain's chairs which will increase the comfort of the 2nd row of seats. Dodge will also offer an infotainment system aimed at the rear passengers, but the details are still scarce.