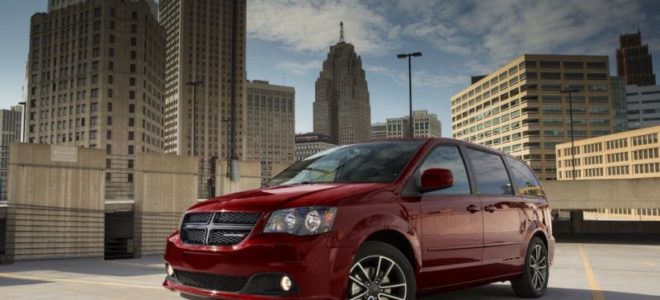 The Grand Caravan has been one of the better selling minivans in North America for more than two decades. However, the model reached the end of its life in the US while in Canada it will only be sold until the mid of 2017. Officially the car has been replaced by the Chrysler Pacifica. Despite that, it seems that it is not entirely dead. There are some strong rumors out there which suggest that a new one will be showcased with the 2018 Dodge Grand Caravan. At this point, there is very little information about this new model but it seems it might be a bit more different than what we currently know. For starters, it will not be the usual minivan.
But what then?
Well, Dodge will become FCA's sporty arm in North America and the Grand Caravan should make no exception. The car will continue to offer 7 or 8 seats but it might not be the usual minivan. Instead, it could take the form of a crossover, more similar to what the Durango used to be. However, this would still be based on a car's chassis offering front wheel drive as standard and a transverse engine. The end result should be a rather cheap crossover that will be able to carry eight people in its base configuration. Not much is known about its release date but a concept might be shown in 2017 with a production-ready model in 2018. The price would likely stay under $25,000 for a basic model which would allow it to undercut a lot of its rivals by a really big margin.
Is it really needed?
At this point, there is a lot of great minivans and seven-seat crossovers out there but there is always room for more. The 2018 Dodge Grand Caravan would likely become just as successful as its predecessor thanks to its low price and tons of space inside the cabin. However, if Dodge wants it to be successful then the Grand Caravan will have to be different. Even though it is quite early, the move to a crossover design would allow for some more serious competition for the Pilot and cars like it.
New Grand Caravan Design
The previous model looked simple and utilitarian but this will not be the case for the future 2018 Dodge Grand Caravan. If the rumors are true then expect it to grow in size quite a bit. On top of that, the car will get rid of its sliding rear doors and it will get a much more muscular shape. In the front, it is expected to get quite a few design traits from the Charger which would make for a very interesting look for sure. The only unknown factor is the actual size of the model but rumors did say that a larger footprint is to be expected.
Under the hood of 2018 Dodge Grand Caravan
Being a product of FCA's sporty arm, the future Grand Caravan won't be slow. Even the most basic model is expected to continue to use a 3.6 liter V6, most likely the updated Pentastar. This will easily make over 300 horsepower which is more than enough for a car like this. However, for those wanting more, a new 3 liter twin-turbocharged V6 could be added to the mix. This is known for making close to 400 horsepower and 400 lb-ft of torque in certain applications and it would make a great offering in a future Grand Caravan SRT. A new 2 liter turbocharged petrol engine which could offer 300 horsepower and 300 lb-ft of torque is also expected.
This will first debut on the Wrangler and it will then migrate to most of their other cars. So far the official output hasn't been released but it would make a great "economy" version for the rumored Grand Caravan.