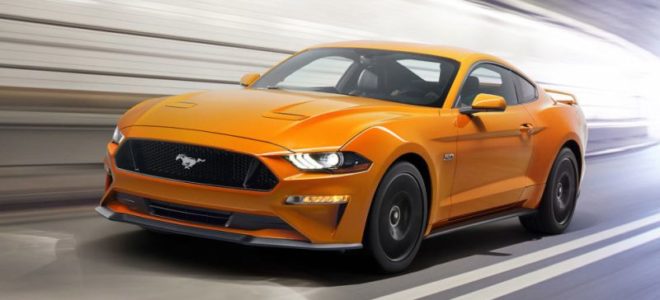 01/17/2017 UPDATE:2018 Ford Mustang Shelby GT500 and EcoBoost are here, and they have a new design, new ten-speed automatic transmission, and Shelby GT350 magnetic adaptive damper system. That's not all; Ford has a lot more changes up its sleeve because that's what's necessary if they want to continue pony car wars with Camaro. The biggest upgrade is MagneRide magnetorheological adaptive dampers which will be shared across the range. Both EcoBoost and GT version of 2018 Ford Mustang will receive this equipment. This tech should improve Mustang's handling and together with automatic transmission will do wonders for this ride. With all this, it's no wonder that the Mustang has already found its way into popular car games.
As we previously suspected six-cylinder won't be available for 2018 MY. Two engines that will feature on 2018 Ford Mustang GT and EcoBoost version are 2.3-liter EcoBoost four-cylinder and 5.0-liter V-8. Both of these will get a significant upgrade in power and torque, but Ford didn't reveal numbers so far. Another novelty on new Mustang will be the availability of both port and direct fuel injection which is a feature borrowed from new F-150 Raptor. Both engines will be mated to either six-speed manual or a ten-speed automatic transmission. Later one will do miracles for Mustangs torque distribution. This gearbox was developed in cooperation with GM, and it was impressive when used on a Raptor and Camaro ZL1 and should be good on 2018 Ford Mustang GT.
Changes didn't happen only on the performance segment but also the looks and design were significantly improved, check this out. The front end is lowered by a significant amount (20mm), and by doing this, the vehicle was given a more aggressive look. Grill is now more of a round shape, and it melts with the LED headlights in a more natural way. At the back, the diffuser is replaced on both models, while GT gets new decklid wing. On the inside nothing much has changed. The only noticeable thing is new infotainment 12inch display.
Ford and GM have two very different strategies for their pony cars. The high performance version of the Mustang is a full on circuit racer while the Camaro's is a more refined high speed cruiser. In any case, the two companies will eventually release analogue models and it seems Ford will be the first. The 2018 Ford Mustang Shelby GT500 has been rumored for a long time now and it seems the car is well under development. Not that long ago prototypes have been seen around Michigan and the cars seem to be pretty much ready to go.
What is it?
The GT500 is going to be the direct successor of the older GT500 model and the direct competitor for the Camaro ZL1. Like these two, the new model is going to offer the most amount of power ever to be offered in a Mustang in a complete package. Unlike the GT350 and its R counterpart, the GT500 is expected to be better equipped, faster in many scenarios as well as a lot more expensive.
Unfortunately at this point its release date is still unknown. There are rumors suggesting for a late 2016 release but Ford will most likely release it at the start of 2017 with the production model coming a full year after. Its price is definitely going to be higher than that of the GT350R but we are not sure how high it is going to be. Some suggested it might become the most expensive Mustang ever made.
The 2018 Ford Mustang Shelby GT500 in detail
Even though this seems rather strange, the high price tag would very likely be well worth it. Why? Well, unlike the older GT500, the new one would offer a full experience and not just straight line acceleration and speed. The car will share its entire chassis and the running gear with the GT350R which is already one of the best sports cars ever made. On top of that, it will likely come with beefier brakes, larger tires, a slightly different aerodynamic kit as well as plenty other small upgrades. The end result should be a car that handles like a GT350R but that offers the comfort and speed of a super-car.
The design – inside and out
Like with the GT350R, the 2018 Ford Mustang Shelby GT500 is going to feature the lower front end and the slimmer headlights. These will allow for an improved aerodynamic coefficient and for a more aggressive look. On top of that the car should also receive a new rear wing, a different front splitter and new wheels. All of these will make it look more like an upgraded GT350R than anything else. The cabin on the other hand will be more in line with a top of the range Mustang. This should offer all the usual commodities as well as better seats and a much nicer steering wheel.
Under the hood of 2018 Ford Mustang Shelby GT500
So far it seems that the GT500 is going to feature a rather unique powertrain. While the mighty expensive Ford GT uses a 3.5 liter twin-turbo V6 EcoBoost, the GT500 is expected to make use of a 5 liter twin-turbo V8 EcoBoost. The engine would be an all new powertrain which will eventually find its way into Ford's other cars. Some said that Ford might develop the 5.2 liter V8 for the GT500 but this is unlikely because it would cost just too much.
The "normal" 5 liter twin-turbo V8 should still be capable of delivering north of 750 horsepower and 700 lb-ft of torque if the latest rumors are true. All of that power will be routed towards the rear wheels via an automatic gearbox, most likely the same 10 speed currently found in the Camaro ZL1.