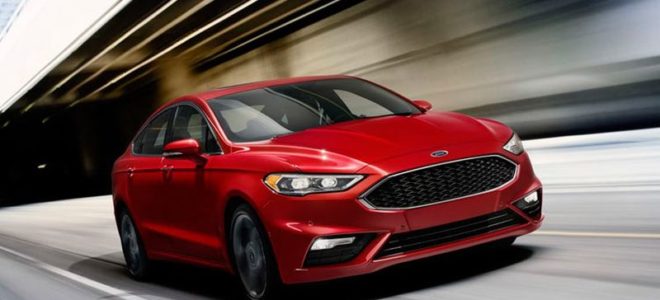 The ongoing Fusion has been around since 2012 and it received a large update with the 2016 version. This added a new trim level, a new engine as well as a lot of new equipment while looking a lot cleaner than before. However, being quite old at this point, a new model will be released sooner than many people expected. It seems that the 2018 Ford Fusion is going to be the redesign of one of Ford's best selling cars in the World. This should make the Fusion more desirable, better equipped and nicer looking as well as more economical. Even though the development is likely well under way, there is not all that much information about it, mostly because the car is expected to hit the market some time in the early 2018.
More details
It still is unclear at this point what platform the upcoming Fusion is going to use. The current model uses the modular CD4 which is an evolution of the platform found in the older Mondeo. This is fine for a car like this but it is not perfect. Because of that we expect the rumored 2018 model of the car to get an entirely new chassis. This is likely going to be developed from scratch and used in the future on Ford's other cars. This would be a modular chassis developed for either front or rear wheel drive applications. A similar route has been taken by other manufacturers and allowed them to underpin most of their cars on the same floor-pan. This would lower production costs and it would make for a more refined car because Ford would then have to improve just one chassis, not a few of them.
The design
Like with most other cars these days, the upcoming 2018 Ford Fusion will likely be larger. This is not a problem for the US market but it may pose a problem in Europe. Here people usually prefer smaller cars and the current Mondeo is already big enough. This might mean that the new Fusion would not spawn a Mondeo which would become quite interesting for both markets. Ford's current design scheme is likely going to evolve even further but expect it to be toned down a bit, especially since the Fusion might be moved further up in the compact-executive car segment.
This move towards a better car is also going to happen inside the cabin. Here the new Fusion should offer considerably more space than before. It should also improve on the materials, equipment level and features that will be offered across the range. Some even suggested that the car could receive a four seats luxury version to be sold in markets like China.
Under the hood of 2018 Ford Fusion
Because it will very likely remain front wheel drive at its core, the 2018 Ford Fusion should maintain its small and efficient engines. The base model could get to use a 1 liter 3 cylinder turbocharged petrol mill that could offer over 150 horsepower and 150 lb-ft of torque. This would make the perfect candidate for a car fleet. Further up the range a larger 1.5 liter engine with as much as 200 horsepower and 200 lb-ft of torque is possible as well. Both of these will only be available with front wheel drive.
The top end models of the car will likely stick to four cylinder engines for improved fuel efficiency and adequate amounts of power. The Sport model should also continue to be offered for this generation. However, this could add more power and even electric aids to the output of the petrol engine. A true competitor for the current M and AMG cars could also be offered with north of 400 horsepower. In any case, the high performance versions will only be offered with all wheel drive. At least in the US market, the car should receive Ford's new 9 speed automatic which has been co-developed with GM in the past few years.
Release date and price
Not much is known about the release date of the new Ford Fusion. Current model just started with sales, so the new installment shouldn't be expected before the start of 2018. Price wise it's possible that new model will be in the range of the ongoing and that figure stands around $23.000. Depending on technological improvements and costs of manufacturing the new platform a rise in the price of about $1.500 shouldn't be too surprising.