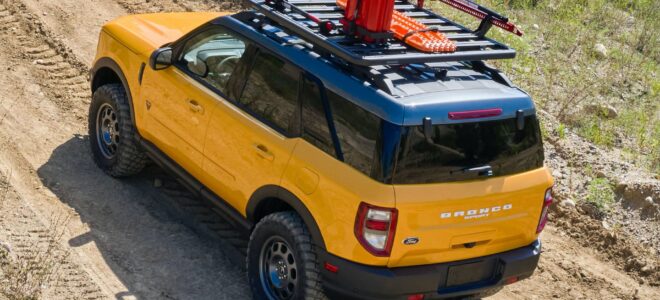 The soft rooftop of Bronco is not completely convertible. Even if you get rid of the top sheet, there will be a frame. Thus, you will feel like sitting inside a cage. So why not use a roof rack and get rid of the cage look? If you do not want the convertible look, having the rack could be beneficial. It will not only improve the overall look of your Bronco but also give you more strength and functionality.
And if you are not sure where you would find all these racks, you can go to texascompletebronco.com. At TCbronco, you will find everything you need for your Ford Bronco. You will have interior and exterior accessories led off-road lights and even customized t-shirts for TC Bronco. So whatever you are looking for, this will be the one-stop shop for you to get everything you want.
Now coming towards the roof alteration.
Convertible roof style
You already know that Ford Bronco comes with a convertible soft roof. So you will have the option to;
You can open it partially from the front.
Or open it completely, so the people sitting at the back will enjoy the open roof.
Finally, you will have the option to remove the top completely.
The choice depends on your mood and choice. If you are driving alone or with a friend and you want to enjoy the natural wind, you can remove the top partially. It will only open the area above the driver and passenger seat.
But if you are with your friends and have a fun mood, you can open it completely. Thus, your friends can stand up and will be able to enjoy themselves. Although the roof has a cage style, which a lot of people might not like but it offers safety. So if you are standing in your seats, you won't have to worry about falling. The cage style will support you.
And if you get motion sickness and need natural air continuously, you can remove the top completely. The frame will always be there, however, you can remove the soft top. It is also the best option for autumn and spring when you want to enjoy the natural environment. The rack frames are made of extruded aluminum, which bring you a strong strength.
How to remove the soft roof?
To remove the soft roof, you do not have to do a lot. If you are thinking that you might have to remove the windows, you are completely wrong. No need to go to such lengths.
All you have to do is to lower the visors of your Bronco and you will see 2 latches there. Simply release these latches that are in the headliner.
Now push the soft top up and towards the rear of your vehicle.
Your top has already gone at the back. However, it won't be stable there and might come back while you drive. Therefore, you need to secure it to prevent such happenings.
So open your toolbox and you will find some Velcro straps there. Use them to bind the soft roof with the cage. This will be helpful during your drive on off-roads and rough terrains.
Installing the roof rack
Bronco is designed for rough terrains and roads. Thus, it allows you to enjoy your journey and have the fun you are looking for. And along with the enjoyable moments, you will have better seating and a comfortable environment.
But a lot of people love to have a roof rack that provides them with more safety and security. In addition to this, it also provides more space to hold your luggage. Or simply, to alter the shape from the top of your Bronco.
So whatever your reason is, you do not have to worry about installing the roof rack. You can do so if you want to. After all, it is your vehicle and the choice will also be yours.
So this is how you will do so.
1 – Go to the workshop
If you have a workshop where to take your vehicles for tuning and maintenance, you will have an easy way. No need to tire yourself and worry about getting things done. Simply, call your workman and discuss things with him. He will guide you better and will also install the rack without any trouble. You can do your job or whatever you are busy with.
2 – Do it yourself
But if not for this, you have to follow our guide. We will tell you the steps. Simply follow them and put the rack on top of your Bronco roof.
For example, you want to install the Rhino-Rack.
1 – The first thing that you need to do is to get a hard roof. You can order your Rhino rack. Once it arrives, unbox it and you will find the manual with instructions written on it. You can get your hard roof installed by a professional. But you can adjust your roof rails by yourself.
2 – Take out the footpads from the SX series and slot them into the bottom channel on the vortex bar. Simply place it at one side of the vortex bar and slide it a bit inward. Now open up the pads again and they will be in place.
3 – Now cover the ends of the vortex bar from both sides and lock them.
4 – You are done with setting up the vortex bar. All you have to do here is to put it on the bar at the top of the rack. This is the only place where you might make a mistake because Rhino Rack does not have a specific set for the racks. So you can set them anywhere you want. But make sure that you maintain the distance of 24 inches between two rails.
5 – Make sure that the pads are at an equal distance from both sides. Once you are done checking that, you can open the ends and will see a screw over there. Just tighten it nicely and your raised rails will get in position.