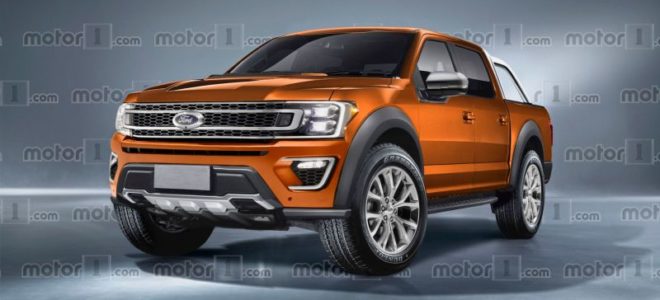 The long wait for a mid-size pickup made by Ford for US market is finally over. At 2018 North American International Auto Show, the Detroit-based company finally introduced 2019 Ford Ranger. The name-brand Ranger gets a lot of attention despite not being an entirely new truck. While the vehicle was discontinued in America for the last six years, Ford continued Ranger production in Australia, Europe, and New Zealand. The 2019 Ranger is the iteration of worldwide model adapted to the needs of US market. Blue Oval describes the vehicle as a high-strength steel made truck "tooled for North America."
Full specifications of the new pickup haven't been released yet, but we can tell that it's bigger than its predecessor. The two styles available on 2019 Ranger are SuperCab and SuperCrew. Standard cab is not included in the offering. The cargo bed also comes in two variants. Five feet, and six feet. Even the figures for payload are not yet disclosed, but Ford promises the payload in the segment. The truck that currently holds this section is Honda Ridgeline that can carry 1,580 pounds. The US pickup that comes closest to this is Ranger's prime competitor the Chevy Colorado with 1,574 pounds. The towing capacity figures are also left in the dark for the time being.
Unlike the competition, 2019 Ford Ranger comes to the market with only one powertrain in its lineup. The unit in question is a 2.3-liter EcoBoost 4-cylinder which can be found in performance versions of Focus RS, and in Mustang GT. The only available transmission is a 10-speed automatic, which will be the first one of its kind on mid-size trucks.
When loaded onto the Mustang this engine has 310 horsepower and 320 lb-ft of torque. Put it on Focus RS, and you get 350 hp and 350 pound-feet of torque. While introducing the 2019 Ranger, Ford officials haven't stated which output will 2.3 EcoBoost command on the pickup but did say that it will share some of the architectural components with both Mustang and Focus RS. Other things not revealed include fuel economy and EPA ratings, but we will know more as the truck gets close to road release.
Same as other trucks, new Ranger will come with a 4-wheel drive option. It will also offer a Dana Trac-Loc differential and electronic lock for the rear differential. To make it even more adept for off-road drive Ford will include FX4 trim in the lineup. The off-road variant will differ from standard offering thanks to the higher ground clearance, frame-mounted skid plates, off-road tires, and shock absorbers.
Also, Ford will offer TMS ( Terrain Management System) which includes different drive modes depending on the surface. These modes include: normal; grass, gravel, and snow; mud and ruts; and sand. This system is similar to the one Blue Oval uses on F-150 Raptor. The feature that makes this truck even more interesting is the Trail Control which is a function that enables the driver to focus more on steering by going into a low-speed cruise in the off-roads.
Another thing that's new on 2019 Ranger is its slogan. It went from 'built fun tough' to 'Built Ford Tough.' The theme is used across the Ford's F series. This mantra is confirmed by Ranger's new design which accentuates macho-ism. Similar to its competitors Colorado and Canyon it is now more bulkier and larger. This truck actually looks mid-size only when it stands beside Ford F-150. New Ranger now uses steel bumpers, and it has a tow hook attached directly to the frame. The two 'appearance packages' offered on 2019 Ford Ranger include Chrome Appearance Package and Sport Appearance Package.
In addition to design, and size changes, compared to the old model, new Ranger is vastly technologically improved. This could be expected considering that six years have passed from the previous version. Same as other modern truck Ford's mid-size pickup offers a plethora of driver and safety features. Some of those include automatic emergency braking, lane departure warning, lane keeping assist, adaptive cruise control, pre-collision assist with pedestrian detection, and Blind Spot Information (BLIS). Depending on the trim, not all of the above-mentioned features will be available on all models.
The infotainment system is also new, and it includes Ford's Sync 3 system compatible with Android Auto and Apple CarPlay, Alexa personal assistant feature, navigation, 4G LTE Wi-Fi system, and AC charging ports.
2019 Ford Ranger will come in four trims: STX, XL, XLT, and Lariat. The sales are expected to start in the first quarter of 2019 as 2019 MY.
10/17/2017 Update: 2019 Ford Ranger is coming, it is known! The prototypes are spotted every now and then, and now we have it on video. For a quick reminder, we are going to talk in short sentences about new Ranger at the beginning of our article. Down below, you can read our speculations in full detail.
Design wise it will look like an upgraded version of a model sold worldwide. For a fully redesigned, next-generation model we will just have to wait some more time. The photos we have for you today show a model intended for the US market. As talked about it before, it will differ from its EU and Australian counterpart.
The platform will be a body-on-frame T6, used on the ongoing Ranger and Ford Everest alike. The production of both is being handled in the land down under by Ford Australia. Another Blue Oval vehicle which will use similar underpinnings as these two is upcoming 2023 Ford Bronco.
For the powertrain specification of the 2019 Ranger scroll down for more details.
If you are interested in a performance version of 2019 Ranger, click here.
06/14/2017 UPDATE: The people from Blue Oval in Australia are more than busy working on new 2019 Ford Ranger. The vehicle is expected to be launched during next year, with the first presentation happening at 2018 North American Auto Show.
The test mules spotted this time are meant to show both the models intended for the Australian market and those that will be sold in the United States. From earlier, it is known that Ford Australia is assigned to deal with the development of new Ranger. We believe that the trucks were tested in order to check out features and technology packages.
The 2019 Ranger, which will be sold in the States is riding on a modified T6 platform. The changes lie in rear disc brakes, new engines, and coil-sprung suspension with Watt's linkage. The other one is intended for Asia Pacific region and will be more oriented on testing the safety equipment and technology. This one will probably keep the same chassis and suspension which are currently available with changes being done to the optional features, safety, and the design of the front end of the pickup.
Seeing the photos from a close distance, there are a lot of things that seem to be new on the 2019 Ford Ranger. These things include:
* Radar/LIDAR module which is going to bring updates on the radar cruise control and autonomous emergency braking
* The 360-degree camera which should serve for the detection of animals and pedestrians
* Keyless entry
* LED lights for daily driving ( Feature borrowed from Everest)
* Parking sensor on both sides of the 2019 Ranger
* The front end will be redesign in order to resemble newly inducted 2018 Ford F-150
* The general size of the truck will be reduced but not on the expense of passengers
In the engine bay, there ought to be some changes. The biggest one is that the US market won't be getting diesel powertrains. At least not in the first series. The specific options that will be available are not confirmed ( we have speculated about it bellow in the article). Probably the engine units will be transferred from worldwide models to the US specs one until Ford completely changes the platform. The upgrades are possible because the Detroit-based company would love to address the questions of power and fuel efficiency.
Stay tuned for more updates.
05/16/2017 UPDATE: The long wait for the return of Ford Ranger to the US shores is not over yet, but at least we have a new set of spy photos. So to pass the time while we wait for the 2019 Ford Ranger take a look at the pictures bellow. The truck we are all eagerly awaiting was once again spotted in the country of its destination. This is the second time that we have the opportunity to see this vehicle in the United States. The first spotting was in Dearborn, Michigan but this time the pickup was spotted in Colorado. On the high-altitude roads of this US State Ranger was once again going trough series of tests.
One of the clearest signs that 2019 Ford Ranger is still not production ready is the heavy camouflage that it still boasts. Thanks to that it is still hard for us to distinguish it from Euro-spec version. Like you already know, the Ford has an intention to differentiate US version in terms of design from the ongoing Ranger available in Europe and Australia. The goal is to make it more appealing to the US customers. We expect it to pull a page from the F-150 page and adopts its design cues. Also, we expect it to come in both Crew Cab and Super Cab options.
What will lie, under the hood, is not determined yet, but we expect An EcoBoost six and four-cylinder engines and (fingers crossed) even a diesel unit. At the summit of 2019 Ford Ranger motors, we are suspecting an EcoBoost V-6 mill while the transmission that would follow this powertrain would be a GM/Ford ten speed automatic. In the end, let's mention that both two and four-wheel drive is expected to feature.
See full spy photo gallery here.
2019 Ford Ranger Release Date
Same as with Bronco, new Ranger will be underpinned by a T6 platform. The reason is, of course, the cost management. By not developing an entirely new platform for this two vehicles Ford has saved enough money to make them both affordable and attractive. Another thing that ties these two so much for America is the location of production. Like it was said so many times before both of these will be manufactured in Ford's Wayne, Michigan facility.
Now, we are all excited, maybe more than we should be but new Ford Ranger won't come out just yet. Expect it at the 2018 Detroit Auto Show. The sales will start later next year. The truck will be sold as 2019 MY.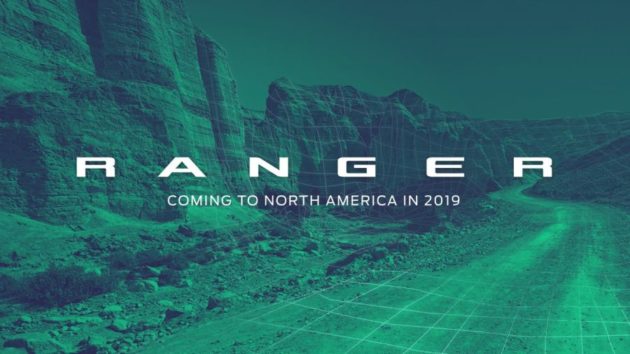 02/20/2017 UPDATE: A test mule of 2019 Ford Ranger has been spied for the first time. The location is Dearborn, Michigan near Ford's headquarters. Yes, you heard it good, the new Ranger is being tested on American soil. Despite the heavy camouflage, it is easily noticeable that this test vehicle looks much like the Ranger variant sold across the Ocean. This fact doesn't come as a surprise as it was already expected that US model would look much alike the one sold in Europe or Australia. But, and this is just an assumption, there is a possibility that the body of the overseas Ranger was used to test the engines that will be put on the US car. On the positive side of this test mule, we also noticed that the headlights and taillights of this truck look quite similar to those that debuted on the updated Ford F-150.
The all-new Ford Ranger will be tailored to the needs of North American customers with unique front styling, engines and features.

— Mike Levine (@mrlevine) 9 January 2017
The test mule, same as the production model will, is riding on a mildly revised platform which is being used on a Global model of Ranger. Despite the fact that new Ranger is going to be built in the United States in Michigan Assembly plant the mentioned platform is developed in Ford's Australian engineering facilities. The only difference is that this body-on-frame platform is going to be changed to facilitate US customers and needs of the market.
The first spotting of Ranger test mule inspired people from motor1.com to create this rendering:
2019 Ford Ranger Specs
Looking down on powertrains, Ford has more than one solution. The entry model will come with a standard turbocharged EcoBoost 2.3-liter inline-four while the premium and sport models are going to feature either EcoBoost 2.7-liter or a 3.5-liter V-6. To lower the price for base models, Ford could also find a use for its naturally aspirated 3.7-liter V-6. As far as diesel engines go Detroit-based company could utilize a 3.2-liter inline five which is already available in the states on Ford's Transit van or the 3.0-liter Diesel V-6 which will also be used on the upcoming 2018 Ford F-150. Both of these units are branded as Power Stroke. Regarding transmission, nothing is definite yet, but Ford definitely should find a way to use its brand new 10-speed automatic. The power will be transmitted to rear wheels, four wheels and possibly all wheels.
01/11/2017 UPDATE: It's been six years since Ford discontinued Ranger for US market but things are about to change. 2019 Ford Ranger will signal the return of Ford's mid-size pickup to the States. The company itself and the buyers will benefit from Ranger's popularity and revival that happened in Australia and Europe. One of the main reason for reviving this truck Michigan-based company has in its competition. They currently have nothing in their lineup to counter the likes of Chevy Colorado, GMC Canyon, Honda Ridgeline and Toyota Tacoma. Unlike Honda's truck, Ford Ranger 2019 will be genuine body-on-frame pickup. The vehicle will use slightly modified T6 platform which will also serve as the underpinning for new Bronco. As far as the drive goes new mid-size pickup from Ford will come as both FWD and AWD.
Design wise new Ranger will probably look much as its European sibling. But to Americanize it a little the vehicle will likely undergo a small facelift to bring it closer to the current gen of F-150. Story from Reddit that has traits of officialism claims that Ford's new pickup will come as Crew Cab and Super Cab. The first one will be offered as family pickup while the later on will be sold as a work truck. There is a possibility of the off-road version which will go head to head with Colorado ZR2.
Engine bay is still in the mist, but some of the real prospects are a naturally-aspirated V-6 unit as well as EcoBoost four-cylinder mill. In diesel department European five-cylinder diesel could find its way to the USA shores. As far as transmission goes these engines will probably be mated to Ford's all new ten-speed automatic. Expect for MPG to be better than it is on 2018 Ford F-150.
Together with 2019 Ranger, Ford announced the return of its iconic 4×4 SUV Bronco. Good news for all fans of Detroit automaker is that both of these models will be built in Michigan Assembly. They are currently being developed in Victoria, Australia where Blue Oval has Engineering Center.
Ford Ranger 2019 Price
To be competitive starting price for new Ranger will have to be around $25,000. With additional equipment and improved features, it will probably go over $30,000 while the rumored off-road unit could stretch up to $40,000 mark.
The release of 2019 Ford Ranger will come sometime in 2018, and its presentation will probably take place at 2018 Detroit Auto Show. Stay tuned, while we gather more info about Ranger.
Review
Even though the Ranger has been discontinued from the US market back in 2012, the truck continued around the World where it met great success. Ever since 2012, there have been rumors about it coming to the US but Ford dismissed them. Why? Well, Ford said the Ranger is too big to make sense in a market where the F-150 would be quite similar in size. However, GM proved them wrong with the Colorado which means that the Ford counterpart will actually come to the US as well. However, the truck will be launched with the 2019 Ford Ranger which will give GM plenty of time to get ahead.
The platform – in detail
Many people said that the Ranger would be the same as the European model but this is not the case. Instead, the US model of the truck will suffer similar changes to those on the Colorado. This means it will get a new design, inside and out, as well as improved or new engines. These changes are meant to make the truck legal in the United States as well as more competitive. So far Ford hasn't said when the release will happen but most information points out at a late 2017 release with the production model coming shortly after. The price, while not official at this point, will be around $25,000 for a base model. This would make it close to the Colorado while giving Ford enough wiggle room for extra features.
According to most rumors, the 2019 Ford Ranger is going to feature a 3.2 liter inline 5 turbocharged diesel. Even though this engine has been around for some time on the International model, it has been on the US market for a short amount of time in the Transit. Here it makes 185 horsepower and 350 lb-ft of torque which is comparable to GM's 2.8 liter inline 4 unit. The inline 5 has proven its reliability in numerous cases and it is expected to be installed in the Ranger with a few upgrades. These should make it a bit more efficient and it should give if a small boost in power as well. The engine is expected to develop around 10% more torque than in the Transit.
This won't be the only offering though. The US model is also expected to feature two different petrol engines. The base truck will receive a 2 or 2.3 liter turbocharged inline 4 offering around 250 horsepower and over 270 lb-ft of torque. The top end petrol engine on the other hand has been rumored to be a V6. At this point it still is unclear if it will be Ford's 2.7 liter unit or a naturally aspirated 3.5 or 3.7 liter V6. In any case, it will make around 300 horsepower and close to 300 lb-ft of torque. A manual should be offered across the range while a six speed automatic, or even Ford's 10 speed unit, will be an option.
The design, inside and out
It still is quite early to say anything about how the 2019 Ford Ranger will look. However, it is safe to assume that Ford will go for a more aggressive design. This has also been the case with the Colorado which makes sense considering their segment. The front end might feature a few cues from the F-150 but the overall design will be a lot more similar to what the Ranger currently has to offer. The cabin will go on a very similar route. Here, instead of going for the utilitarian design of the F-150, the Ranger should offer a much more premium feel. This will allow it to be used as a day-to-day vehicle and it should give it an edge over the Colorado which is a lot less impressive inside the cabin.
Here is a video of 2016 Ranger which is available in Australia: