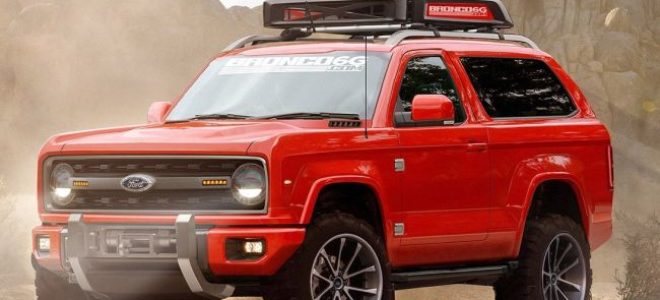 2018 Ford Bronco will eventually arrive, maybe not as 2018 MY but it will come. The excitement among fans of the brand, model, and car enthusiast, in general, is immense. The things we know are limited at the moment, but now and then something new pops up. New Bronco will be a rough SUV; it will have a raw design, planted onto the body-on-frame platform. Despite many Bronco lovers begging for two-door setup, that's just not likely to happen. The current market craves for crossovers, and SUVs, it only has no love for a two-door one. Now, sometime after Blue Oval announced new Bronco, we have new spy photos. Well, sort off.
At first glance, these photos depict Ford's Everest. The Euro and Australia SUV will according to many sources have a lot in common with 2018 Ford Bronco. In this case, the shell is Everest all right, but what's under is 100% Bronco. The only part of the car covered is the front end, grill, bumper, and headlights, which means that these pieces of upcoming Bronco are getting a shape. The rest of the vehicle is borrowed from Australian SUV. In any case, one thing of this test mule that belongs to Bronco is its stance. The height present on the photos signals Broncos future off-road ability.
Other speculations suggest that 2018 Bronco is going to come with an EcoBoost engine. The expected output of this SUV will be in the region of 325 horsepower and an appropriate amount of torque. Also, with Ford giving more space to diesel engines, this 4×4 will also receive one. The unit in question will probably be shred with 2018 Ford F-150 and upcoming Ford Ranger. The latter one needs to be taken with a pinch of salt because we are not sure in which direction the Detroit-based company wants to go with this model. What we know is that both Bronco and Ranger are going to use Ford's T6 platform, shortened to fit these models better.
Like we talked below in the article, new 2018 Ford Bronco is going to be built in Ford's factory in Wayne, Michigan. The development is being done by Ford Australia, which is also something that we mentioned earlier. Look for Broncos reappearance at upcoming North American Auto Show.
06/18/2017 UPDATE: Like you already know Bronco is coming back. Nobody is sure whether will it come as we suggest as 2018 Ford Bronco or will it be designated to another MY. That's not all that important as the fact that Blue Oval is returning Bronco nameplate. Historically this 4×4 SUV left the market in 1996. But like the other models that are discontinued this one stayed remembered. So, when Ford confirmed its return, the car enthusiasts and fans of this car alike were overjoyed. What's made the Bronco lovers even happier is the fact that new Bronco will be manufactured domestically. Latest reports are claiming that it will be built at Ford's Michigan Assembly Plant.
According to Ford's official 2018 Ford Bronco is going to be a true off-roader, just like Jeep's Wrangler. It will be 4×4, body-on-frame SUV that will be uncompromising regarding performance. The Chief of Product Development of the Detroit-based company, Raj Nair said that new Bronco would be built on the frame shared with new Ranger. Both will make their US return in following years. The main competitor will be Wrangler as mentioned earlier which is switching on aluminum chassis. 2018 Bronco will follow this suit same as new F-150.
Regarding the looks, we don't have any concrete information. The internet has few artists that made renderings ( we like this one from motor1.com), but nobody knows for sure. The Reddit AMA thread made by someone who claims that he works in Ford on new Bronco and Ranger shows us a direction. They are suggesting that 2018 Ford Bronco might pull design cues from the ongoing Everest. For you who are not familiar with this model, it is an SUV sold in Australia. It's a five-door SUV; it shares its platform with worldwide Ranger truck, and it uses Duratorq engines in Thailand.
If these rumors turn out to be true, most of the Bronco fans won't be satisfied. They were expecting something closer to the Troller sold in Brazil. Inside the cabin you can expect the similar layout to the on of Everest or new Ranger which will debut first. As for now, no specific details are available.
What will power it? Also, another unknown. A safe assumption would be that it will have an EcoBoost unit as its powertrain. These are good news. If this type of engine is good enough for F-150 Raptor and Ford GT, it's good enough for 2018 Bronco. The output numbers on this SUV would be close to 300 horsepower and a comparable figure in the torque department. It's too early to speculate about those. 2018 Ford F-150 now has a diesel engine for the first time. If the same happens with Bronco, it's a reason to celebrate.
Like we mentioned above, both Ranger and new Bronco will be manufactured in Ford's Wayne, Michigan plant. But, the development will be handled by Ford Australia. Both vehicles will use refined T6 platform which under the skin of most cars made by Ford for Australia and Pacific area. That's why it makes sense that they develop it further for the needs of US spec vehicles.
2018 Ford Bronco Price & Release date
It's not good to repeat ourselves but same as many other things on 2018 Ford Bronco the price remains unknown. For now. To speculate the cost, we would start with the value of Ford Everest in Australia. It has a price-tag standing at $40,000 which is converted price if we imagine that this vehicle is sold in the US but made in the land down under. Now, add that the production of Bronco is happening in the States and that competitors such as Wrangler and 4Runner have a price in the region of $35,000.
Then it's logical that the price of Bronco will drop in the mid-$30,000. Fair price for this popular vehicle. Despite us calling it 2018 Bronco, this 4×4 SUV won't find its way onto the market until 2019. The likeliest debut date is January of 2019 at North American Auto Show. What we are hoping for that some photos of the test mules of prototypes will be on the streets in the upcoming year. Stay with us for more info.
01/10/2017 UPDATE: Ford finally did it. During the 2017 NAIAS Michigan-based Company officially confirmed the return of Ford Bronco. The sad part of the story is that it won't 2018 Ford Bronco as we speculated but a 2023 MY. The release date will be announced at a later date, but anything from the start of 2018 till late 2019 is a possibility. Chief of product development Raj Nair confirmed that new Bronco is going to be based on 2019 Ford Ranger which will also make its return on American soil.
From this news, we can conclude that 2023 Ford Bronco will be body-on-frame SUV more similar to the early Broncos than late ninety's ones which was based on F-150. New Bronco Ford will be a real 4×4 SUV with real off-road capabilities which will create a serious competition to the Jeep Wrangler. The possibility that Bronco is going to have a retro look is high because Nair draws comparisons with Mustang and F-Series that are new vehicles that remained loyal to its iconic past.
UPDATE: It has been announced, the Bronco is coming and it's scheduled for the 2018 year release. Rumors about new Bronco have ben around since 2004 and it is quite a relief to know that it's finally coming. What comes as a real surprise is that we have newly elected president Donald Trump to thank. Well not for the 2018 Ford Bronco but for the news about its revival.
Ford would most likely keep it a secret for a little while but after Trump mentioned that Ford's moving C-Max and Fusion to Mexico is bad for America he got the response from Bill Johnson the chairman of UAW Local 900.
Johnson stated that there are no worries for America, its workers, and Ford because 2018 Ford Bronco and 2019 Ford Ranger are going to be built in Michigan. Ford has long been announcing mid-size pickup that will rival GMC Canyon and Chevy Colorado and that one will come in the form of Ranger. On the other hand, Bronco would fit into a completely new segment that is not covered by Ford at the moment. Its main purpose would be to counter Jeep's Wrangler.
Stay tuned with us for more updates but in the mid time read our predictions for 2018 Ford Bronco below.
Review
The Bronco has been discontinued from the market since 1996 and even though back in the early 2000s a concept car has been released, Ford decided to keep the car just a concept mostly because the smaller Escape filled its role and the Bronco was thought obsolete.
However, Jeep and Toyota proved that small crossovers with great off-road capability, such as the Wrangler and the 4Runner, are very sought after and even though none of them received any updates recently, both of them sell quite well for their class. Because of that it seems that Ford is finally going to confirm the rumors that they are going to make the 2018 Ford Bronco and this time around it will be more than just a concept car.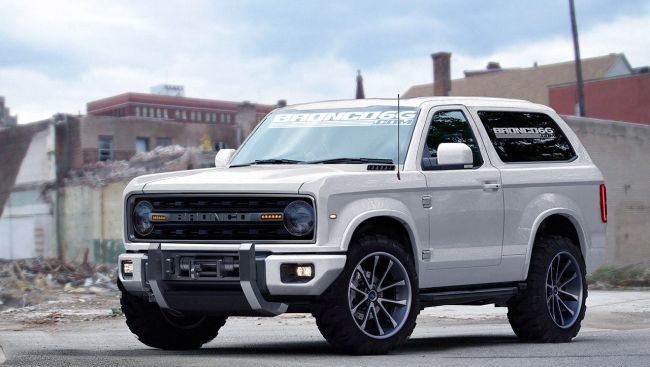 Price and Release date of 2018 Ford Bronco
The new model, according to rumors, is going to be released at the same time with the all new Ranger which may suggest that the two will share the same platform. Ford of Brazil is already making a similar car to the Wrangler on the platform of the Ranger and many thought that this particular model would be exported as the Bronco. However, it now seems that this is not true and in fact Ford is likely going to base the new Bronco on a modified chassis of the Ranger but with an entirely new body and interior that will make the small crossover a really desirable choice.
At this point there aren't any official details on the release date or actual price but it seems the car will be showcased by the end of 2017 and its price should be similar to that of the Wrangler at roughly $25,000 for a base model.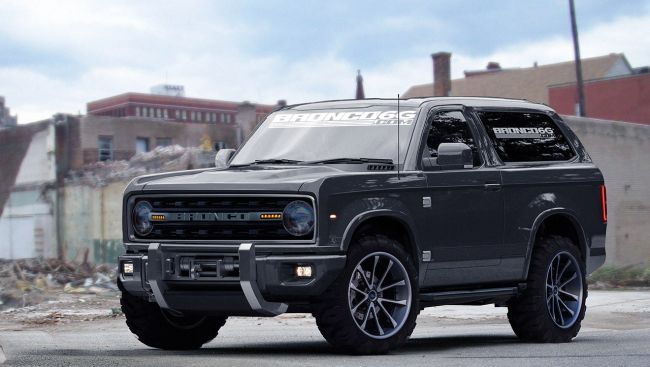 Engine and Transmission of new Bronco
Unlike the Wrangler though, the 2018 Ford Bronco is going to offer more engine options and a few more interior options which will allow the customer to get either a back to basics off-road machine or a truly high performance luxury crossover, similar to what the Mercedes G Class is but to a lower extent. We hope that Ford will manage to cram their new engines in the car, so the base model might get a 2 liter EcoBoost inline 4 with around 245 horsepower and 275 lb-ft of torque, enough for most people in Europe and sufficient for the US market.
However, for those wanting for more Ford is also likely going to outfit the Bronco with a larger 2.7 liter twin-turbocharged V6 which may easily provide upwards of 350 horsepower and 380 lb-ft of torque, a lot more than the future Wrangler and enough to pose a problem for pretty much any other high performance crossover.
A diesel is currently an option as well and considering that the US market is starting to embrace these types of engines we only hope that Ford will manage to get their 3.2 liter inline 5 turbo-diesel tested for emissions. This would be able to provide 200 horsepower and more than 400 lb-ft of torque while using a lot less fuel even than the smallest 2 liter engine.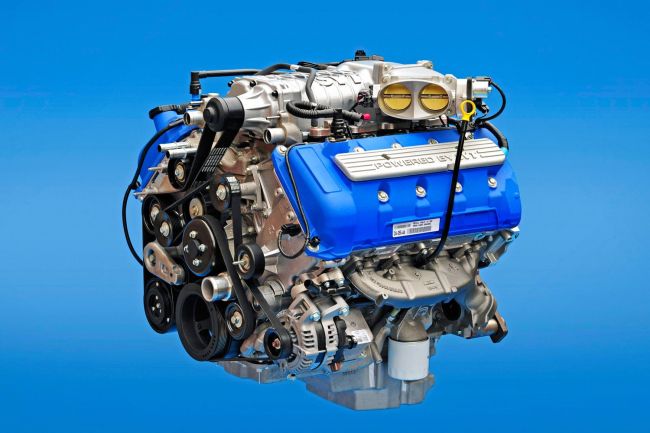 Exterior and interior Design
Like we mentioned above, we expect the upcoming 2018 Ford Bronco to be an entirely new car and not just a rehash of what the older model was. We do expect some design cues to be present on the newer model but that's about it. Expect it to be offered in two and four door versions and despite the fact it will be called the Bronco, also expect a rather fresh and modern look with enough style added from the original to make it a great buy. Its cabin will vary greatly from some really basic with waterproof materials all the way up to a leather wrapped interior with the latest security and comfort features available on the market.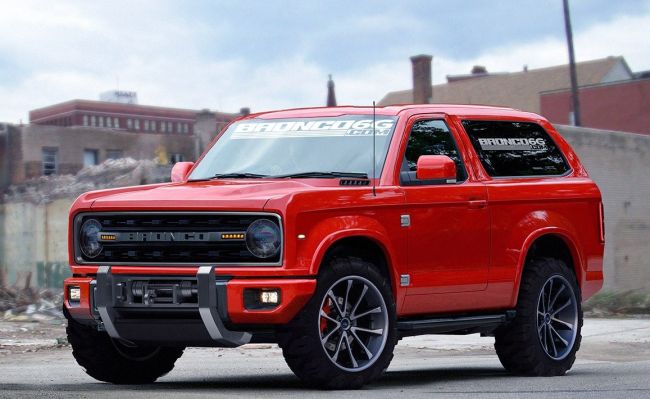 One of the potential Bronco looks: