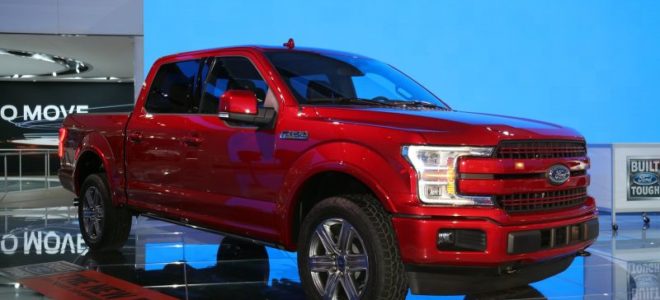 01/23/2017 UPDATE: Once again automobile history has been written. Ford will for the first time in its history offer diesel engine on its beloved F-150 Truck. 2018 Ford F-150 will go on sale in the autumn months of this year while the diesel mentioned above unit is going to follow later in 2018. F-150 is the best-selling Ford vehicle with around 820,000 pieces sold just last year. These sale figures mean that Detroit-based company is selling 93 trucks every hour.
America's best-selling pickup is crucial to the Michigan corporation, and that is why they don't stop with improvements on it. The revolution of this segment began two years ago when Ford introduced a completely aluminum chassis. The weight was decreased, and fuel economy increased. Impressive, but the changes didn't stop there. Only a few months ago Blue Oval introduced new ten-speed automatic transmission. F-150 is so important for Ford both regarding tradition and sales that they don't want it left behind the competition not even for a second. Diesel option came in the game when Detroit—based car manufacturer decided to improve its trucks towing capacity. Diesel mills are offered on other heavy duty Ford trucks, but it was never used on F-150. Competitors such are RAM, and Nissan use diesels for some time now, and they represent a significant chunk of their trucks sales.
Same as current version new 2018 Ford F-150 will use aluminum chassis. Some of the most distinct differences between ongoing and new F-150 lie in front grill which is now different on each trim and is more wider. The entire lineup now has a much larger stance. Tailgate also carries the brand logo of F-150 at the back. Also, new wheels look amazing on Ford F-150 2018.
Engine options include 3.3-liter diesel, a 3.3-liter V-6, recently improved 2.7-litre EcoBoost V6 and 5.0-liter V-8. The latest edition of Ford's engines a 3.5-liter EcoBoost V-6 which was released this year will also fill the lineup. Among other equipment, new F-150 is blessed with automatic braking with pedestrian detection, adaptive cruise control, and stop-and-go switch. 2018 Ford F-150 was presented at 2017 Detroit Auto Show which ended a few days ago.
Despite being released in 2014, the current F-150 remains the most advanced truck in its class. It gets the most amount of power and some of the most efficient engines, it is the lightest and one of the fastest as well. Despite that, Ford is actually planning a rather large update with the 2018 Ford F-150. The mid-life facelift of the truck is going to be aimed directly at the future RAM 1500 and the upcoming Silverado. Because they want to remain class leaders, Ford is going to come with some really interesting upgrades for the F-150.
2018 Ford F-150 – More details
For starters, the truck is expected to be revealed in a few months at the North American International Auto Show. However, it will actually go on sale closer to the end of 2017. The prices, at least for the base models, will remain likely unchanged. There will be some changes for the mid and top end models. These will receive more gear and there will be new trim levels which will be priced accordingly. Ford's great aluminum body and high strength steel chassis will remain unchanged. However, the truck will benefit from a revised suspension system and likely axles in order to be able to tow more than before. This would be needed in order to better compete with its rivals.
The design of new F-150
So far most test mules of the 2018 Ford F-150 were quite similar to the current truck. However, some of them did wear some heavy camouflage in the front and at the back. This may suggest two things. Ford could go for a design more similar to the Super Duty series. This has been done by their competitors and it would make sense. However, Ford might also go on a different route. Not that long ago the new Expedition has been seen wearing revealing camouflage and it seems that its design is inspired by the Explorer. This might mean that the F-150 could receive the same treatment in which case it would become one of the most aggressive looking truck in its class.
The cabin of 2018 Ford F-150
Not much is going to change here apart from a few upgrades. The new F-150 will more than likely receive Ford's latest infotainment system. Also, the truck might receive the 360 degree camera system from the larger F-250 as well as the automatic trailer-steering system which debuted on the Super Duty series.
2018 F-150 – Under the hood
The base 3.5 liter naturally aspirated V6, the 5 liter V8 and the 2.7 liter twin-turbo V6 are all expected to be carried over unchanged. The 3.5 liter EcoBoost V6 already received an upgrade to 375 horsepower and 470 lb-ft of torque and as much as 450 horsepower and 510 lb-ft of torque on the Raptor. The biggest upgrade here will be the addition of a diesel. That's right! The 2018 Ford F-150 is going to feature a diesel engine which is going to directly compete with RAM's EcoDiesel which is a problem for the latter. Even though Ford has not revealed much about this, they have been testing F-150 trucks with a few different diesel engines.
So far it seems that the 3 liter turbocharged V6 from Jaguar might be the winner. This engine has been actually developed by Ford a while ago and it would bolt to their existent 10 speed automatic gearbox. The test mules of the F-150 featuring this engine had the same front end as the EcoBoost models but these featured a completely different exhaust. The engine in the new F-150 might make as much as 250 horsepower and more than 400 lb-ft of torque. It currently makes in some Jaguar/Land Rover applications 254 horsepower and 443 lb-ft of torque which is very impressive for the size.