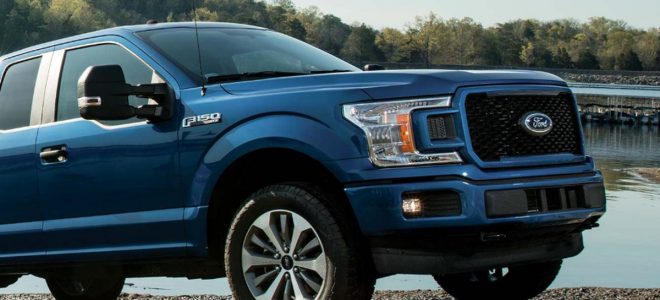 How many times have you ever needed to transport something really big, and feared it wouldn't fit in your trunk? Does your work require owning a vehicle that can transport heavy loads, or large and awkward cargo? Whatever you need to haul, there's nothing for it like owning a pick-up truck.
Here are some important considerations to look for in a truck, so you can get things moving soon for a great price.
The Versatile, Varied Ford F-150
Many people are unaware, but did you know this truck called the F-150 actually comes in seven different models? The XL, XLT, Lariat, King Ranch, Platinum, Raptor, and Limited each offer a range of further choices and customizations on everything from engines, technologies and interior features.
Some F-150s are heavier duty than others. If you don't need to haul 3,000 pounds worth of cargo, you can get a truck that has less torque per lb-foot, but has the physical space to carry oversized goods that don't weigh as much. You only have to pay for the features you need, but whatever task you need the truth to perform, the F-150 can get it done.
Specs Under the Hood
Again, when it comes to towing capacity, pound-per-foot of torque or horsepower, it's impossible to give one answer for what the F-150 delivers. At the entry level, the Ford XL F-150 comes with a 3.3 litre Ti-VCT V6 engine with 6-speed transmission, which is suitable for everyday jobs. It has three driving modes: normal, tow-haul, and sport.
This is an extremely useful truck, but there are multiple F-150s built for progressively tougher and tougher jobs. Look for a family-owned dealership that has been in business for decades selling new and used trucks. This way you'll get friendly and reliable service, while giving yourself a wide range of trucks offered at different pricing points.
Modern Safety and Comfort
While the promotional material around trucks often emphasizes their durability and ruggedness, F-150s have a range of modern technology aimed at making people safer, comfortable, and entertained.
Pre-Collision Assist with Automatic Braking keeps everybody safer with a suite of advanced driver-assist technologies. If the system detects an upcoming collision with a car or pedestrian in front of you, a warning flashes on the windshield, and there's also an audible alert. Beyond just making you aware of the danger, the vehicles brakes are readied for a full and responsive stop.
Entertainment options with certain models include a sound system by Bang and Olufsen, Sync 3 LCD touchscreen that links your smartphone to your truck, reversing sensing system, and SiriusXM Satellite Radio.
Finally, you can get a Ford-150 that has a truly spacious and comfortable cab. You'll manage just fine when you're stuck in stop-and-start highway traffic or having lunch on the job site. Ford understands that people spend a lot of time in their truck. Whether you're driving your 6-person crew to a work site or carpooling the kids, the F-150 makes it possible to transport everybody in comfort.
No two people have exactly the same needs, but there's an F-150 designed to get every job done. Visit your local dealership today to find the F-150 that's meant for you.