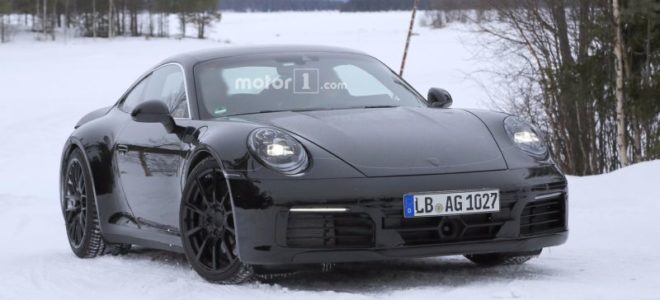 The 911 is the quintessential sports car offering incredible performance and one of the best driving experiences on the market. Even though it manages to spark intense emotions in people, so far the 911 has been one of the most successful cars in its class. The current generation also happens to be the best so far but things will have to change soon. The 991 Porsche has been around since 2011 so it will soon have to be replaced. The car did receive a facelift with the 991.2 model back in 2015 but besides a new set of engines and some cosmetic upgrades, the car was still the same as before. In order to retake the crown as the best sports car, a new model is set to release with the 2019 Porsche 911. So far this has been just a rumor but a while ago the car has been actually spied testing.
At first the new model was nothing more but a test mule with the same body as the regular 991. However, it was definitely wider and it also seemed to have a slightly longer wheelbase. More recently though a new test mule has been seen which boasted even more extensive modifications than before. It seems that Porsche is well into the development cycle and we may even see a development prototype quite soon. This will be the first generation of the 911 which will be based on an all new modular platform. This rear wheel drive, rear engine, chassis should allow Porsche to get the 911 close to perfection. The price will likely change quite a bit but the base model should still cost around $90,000 which is actually a good deal for how good the car usually is.
2019 Porsche 911 Turbo
Up until a couple of years ago the 911 featured naturally aspirated engines with the Turbo being the only one getting a twin-turbo mill. In 2015 things changed with the GT3 being the only one left with a naturally aspirated engine. It seems that the 2019 Porsche 911 will ditch these types of engines altogether. Instead, the car is going to feature all turbocharged powertrains. These will be smaller, more efficient and also more powerful. The 3 liter twin-turbo flat-six from the regular Carrera, S and 4S models is likely going to remain mostly unchanged.
This currently provides anything between 365 and 444 horsepower and up to 406 lb-ft of torque. The Turbo and Turbo S currently offer a 3.8 liter flat-six with up to 572 horsepower. It seems that things could change for this new model. Instead of larger flat-six the 911 could receive a hybrid. A 3 liter twin-turbo flat-six with around 450 horsepower mated to a couple of electric motors would easily provide north of 650 horsepower and 600 lb-ft of torque. A similar system has been used recently on the Panamera with great success.
Porsche 911 Next Generation
The GT3 RS, one of the most loved 911s ever made, will either be removed or its engine will be replaced by a turbocharged flat-six. We do hope Porsche will try to keep it alive, especially when considering how people loved it. If they will eventually keep it, we may see a new generation flat-six turbo with up to 550 horsepower and over 500 lb-ft of torque. They will likely try their best to make the engine of the 2019 Porsche 911 GT3 to feel like a naturally aspirated mill even though this is very hard to do.
Exterior and Interior of 2019 Porsche 911
This being a Porsche means that things won't change all that much. The car will likely be wider, possibly longer and lower as well. However, it will still look like a 911. We expect it to get LED headlights with four clusters in each headlight which would be similar to the Panamera. On top of that it seems that the car's rear end will evolve in something quite a bit more impressive than before. Not much can be said about the cabin of the 2019 Porsche 911. However, it is safe to assume it will feature a 2+2 configuration. We are also pretty sure Porsche will turn to the Panamera for inspiration. Expect a large widescreen and a more minimalist overall design than the one before it.
Porsche 911 Release date
The new 911 was spied two times. The first time it was in late November of 2016 and the second time was just a few weeks ago. Later photos show 2019 Porsche 911 conducting winter tests. This means that German automaker is coming close to testing a production model. Despite this, you shouldn't expect new 911 to early. Most likely this model won't be presented in its last outfit before the start of 2018. The first models introduced are going to be Carrera and Carrera S. All vehicles from the new lineup are going to be sold as 2019 MY.
Competitors
Even if 911 is not a supercar in a real sense of that word it still has outstanding numbers regarding performance. While in the past Porsche 911 seemed to be the king of its segment things have now changed. The automakers who weren't as prone to making fast cars now do so, and some of them do it successfully. But the real competition for 911 doesn't come from some unnamed competitors but from the likes of Audi R8, Nissan GT-R, Mercedes SL-Class, BMW 6-Series, 2018 Chevrolet Corvette ZR1, McLaren 570S, Mercedes-AMG/GT, Acura NSX, and Jaguar F-Type R.