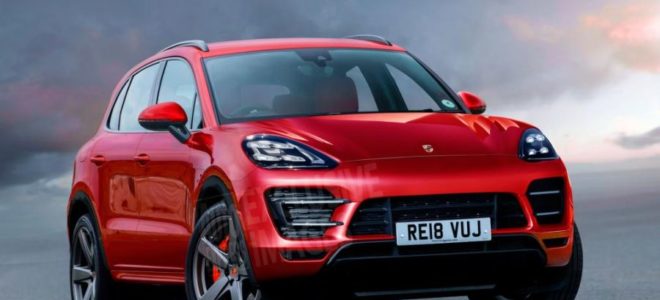 2018 Porsche Cayenne seems to be close to completion. A prototype of 2018 MY was spotted yet again. This comes as no surprise when we know that the platform on which Cayenne rides is six years old. The pictures give us clearest view yet on this SUV.
The full reveal of production ready 2018 Cayenne is set for upcoming Frankfurt Motor Show. But before that let's talk about what we saw on the latest set of photos. The pictures show 2018 Porsche Cayenne on public roads. It is clear that front fascia, especially the grille will be most refreshed. It now covers the entire lower end of the hood from side to side. If you remember, on the ongoing model, it's separated into three pieces. The wheels seem like a new addition and taillights too. They are still slightly covered, but a new design is noticeable nonetheless. Also, the headlights give away a slimmer look with a slight curve towards the upper end of the sides of the hood.
One of the questions that German automaker addressed is the weight. New Cayenne will have fewer kilos compared to the current model. To be precise, it will be one hundred kilograms lighter. This will give it more speed and agility with notably improved handling. The power for this performance-oriented SUV will come from engines shared with Porsche Panamera. To remind you, those are 2.9-liter Biturbo V-6 found in Panamera 4S. The named unit has 434hp. Another powertrain is 4.0-liter Biturbo V-8 from Panamera Turbo. This mill comes with 524 horsepower. Also, let's not forget, 2018 Porsche Cayenne will come in hybrid clothing. The electric-hybrid engine will come in a shape of a 4.0-liter TDI V-8 featured in Audi SQ7. Cayenne will logically be carrying Porsche's version of this unit. When on Audi's SUV this powerplant produces 664 pound-feet of torque.
We are not familiar with the price, but 2018 Porsche Cayenne will probably start in the region of $60,000.
04/19/2017 UPDATE: 2018 Porsche Cayenne is now closer than ever. The German automaker is bringing to a closure work on the latest installment in its SUV lineup. The Porsche's SUV history in not all that long but since the first model released in this segment, they have done more than a decent job. When Porsche introduced Cayenne for the first time, it was accepted with skepticism and doubt even by the biggest fans of this sports car manufacturer. Nonetheless, this SUV showed itself as a success not only by its design and performance, but it was a legitimate money source for the Stuttgart-based company. Together with Macan, which is now Porsche's best seller, it creates takes more than 60% of entire Porsche sales. Just last year they have sold more than 70,000 pieces.
The latest photos of this luxury performance SUV we have are actually renderings which were acquired courtesy of autoexpress.com. The pictures depict 2018 Porsche Cayenne or the design it should take on upon its debut in early 2018. The update will be substantial enough to be noticed but not enough to call it a complete redesign. From what you can see the look of new Cayenne is going to be similar to the on of its smaller sibling Macan. With this approach, it is clear that changes on this SUV are going to be rather a part of its evolution rather than a radical revolution.
Starting with the front end, we can see that the hood is going to look like a clamshell now more than ever, while the headlights (LED) are going to look like they are integrated with the bonnet. At the back, the taillights (also LED) will feature a little change, but will, on a positive side, now be connected by a strip light across the entire tailgate.
Regarding the platform, 2018 Cayenne is going to make a use of Volkswagen's MLB Evo Architecture. Interestingly enough this platform is being shared across Volkswagen group between its luxury SUV's such are Audi Q7, Bentley Bentayga, VW Touareg, and 2018 Lamborghini Urus. This platform is much lighter than the one used by ongoing Cayenne. Transfer onto new platform and addition of lighter materials (aluminum for example) could make 2018 Cayenne lose more than a hundred kilograms. These changes would drastically improve SUVs handling and fuel efficiency.
The cabin of new Cayenne will be the place where changes are going to be more thorough. Opposite of exterior where just slight touches are applied, on the inside there is going to be a complete overhaul. If you find it hard to imagine, what it will look like upon release, then take a page out of Panamera's playbook. The dashboard will consist of a new central console which will be digitalized together with rest of the dash. Displays of the highest resolution, responsive feedback controls, and all-around cabin connection will all be top notch.
Under the bonnet, things won't change much, and they shouldn't. The Cayenne's powertrain lineup is quite satisfying, and it consists of various six and eight-cylinder, both diesel and petrol mills. Nonetheless, most of this powerplants are going to undergo some revision in order to improve their performance and fuel economy. Just like on the old model the entry unit for 2018 Porsche Cayenne is going to be a V-6 Diesel for which you will need to part ways with $70,000. Top tier installments in a shape of Cayenne Turbo and Turbo S will cost you around $130,000.
They will be entirely worth of this price because Porsche is dubbing the new Cayenne as the future segment leader. Also, the way you are used to, we will have a hybrid engine under 2018 Cayenne's hood. This mill will probably be Panamera's turbocharged 671bhp engine. The unit in question will be available at a later date when regular Cayenne's already starting to dominate the roads somewhere in 2018.
Stay tuned for more updates.
02/09/2017 UPDATE: Porsche Cayenne has been around for some time now, and for the most of its lifespan, it has been one of the most dominant performance suvs on the market. The time has taken its toll on the Cayenne, and current gen model is approaching the end of its predicted life cycle. This introduction may sound sad but don't worry a successor has been spotted testing on more than one occasion in the past few months. Latest spy photos are showing 2018 Porsche Cayenne conducting winter tests. The exterior has lost most of its camouflage, and now we have somehow clear signs of just ow will this vehicle look.
The Cayenne will be out this year as 2018 model year, and at moments of its arrival, it will be improved regarding dynamics, fuel efficiency and most importantly in the performance segment. All of this changes are thanks to Volkswagen MLB Platform which is doing wonders for the models of VW Group. Before Porsche Cayenne 2018 this platform was successfully implemented onto 2017 Bentley Bentayga, 2018 Audi Q5 and will feature on VW Touareg and Lamborghini Urus.
By using this platform, new Cayenne will benefit from losing weight which will consequently improve its rigidity and handling. The platform is built on a combination of aluminum, high-strength steel and carbon fibers. Due to this mix Porsche's SUV will be lighter by almost 220 pounds which were necessary because the current version of Cayenne weighs 4,500 lb.
2018 Porsche Cayenne Redesign
Regarding the design now is clear that 2018 Porsche Cayenne will borrow design cues from its siblings the Macan and Panamera. At the front, hood lines are going to be similar to the ones on Macan while the air intakes are going to be reminiscence ones on the Panamera. The roofline is going to have a drop from the front to the rear end. The space inside lost by this is going to be compensated by extending the wheelbase so more legroom would be created. Also, headlights and taillights on the test mule are tempered with to remind us of ones existing on the current model. Rest assured new Cayenne will be equipped with a whole new set of lights.
In the end, under the hood where it matters, 2018 Cayenne is going to have a colorful set of engines. For a base model, there will be naturally-aspirated V-6, for mid-range, you will have a turbocharged V-6 in Cayenne S, a plug-in hybrid for Cayenne E-Hybrid and a twin-turbocharged V-8 inside of 2018 Porsche Cayenne Turbo.
On the inside before official photos and information of new Cayenne come around for inspiration you can look at Panamera insides. The dashboard will be stripped of buttons thanks to improved touchscreen infotainment system. On the side of safety and tech, this SUV will have set of connectivity options and electronic drivers aids complementary with today's standards and regulations.
The Cayenne is the car that saved Porsche and it is also the crossover that set the trend for luxury and high speed performance. Since it was originally released, it and its rivals evolved tremendously so there are now a lot more competitive cars in its class. The ongoing model is no longer the fastest crossover out there but it seems this is about to change with the 2018 Porsche Cayenne. So far there have been numerous sightings of the car, both in test mule form and in prototype form. In any case, it seems that the new model is slightly larger than before being a bit wider and a bit shorter in height. The length on the other hand seems to be right about the same.
Release date and price of 2018 Porsche Cayenne
The new Cayenne is going to use the same MLB Evo modular platform as the Bentayga and all the other VW-Group longitudinal engined cars. This platform is a lot more impressive than the previous one mainly because it adds a lot of new materials. It is built mainly out of aluminum with some high strength steel suspension components. Some cars can also benefit from composites which will allow to further drop the weight and make the cars a bit more rigid. The Cayenne will benefit from the best out there which means it might get to use some carbon fiber parts. The release date for the new car has been set for the mid of 2017 with a production version coming later the same year. Its price is unlikely going to change much from the current model. This means it will likely start around $60,000 and go up from there.
Exterior design of 2018 Cayenne
Like with most other cars from the German manufacturer, the 2018 Porsche Cayenne is not exactly going to change all that much. The development mules and prototypes do seem very similar to what is currently available. The proportions should be improved slightly thanks to the new size. The actual design of the car is expected to borrow cues from the new Panamera as well as from the Mission E concept. Expect it to boast new headlights, a slightly more aggressive grille and even a new rear end with an LED strip instead of the usual tail lights.
2018 Porsche Cayenne Interior
There will be a similar story here. So far Porsche proved that if the car is not broken, they won't fix it. The new Cayenne will likely benefit from slightly better materials as well as a better driving position. Besides that though, it will be mostly identical to their other cars and the ongoing Cayenne. Some suggested that it will borrow some parts from the Panamera which would actually make quite a bit of sense considering that this also happened for the previous models.
Engine and transmission
Porsche has been set on downsizing their engines and they started with the 911 and Boxster. Well, the 2018 Porsche Cayenne should follow a similar route. The older 3.6 liter naturally aspirated V6 should be gone. In its place a smaller turbocharged four cylinder is likely. This should still offer around 300 horsepower but considerably more torque.
Further up the range, the S and GTS should both get to use a new 2.9 liter V6 with anything between 400 and 440 horsepower as well as more than 400 lb-ft of torque. The Turbo S, which has been missing from the US market lately, should get to use a 4 liter twin-turbo V8, an Audi-based powertrain. This should offer over 550 horsepower and 550 lb-ft of torque. In any case, all wheel drive is going to be standard across the range while an eight speed dual-clutch automatic will be the only option for a gearbox.