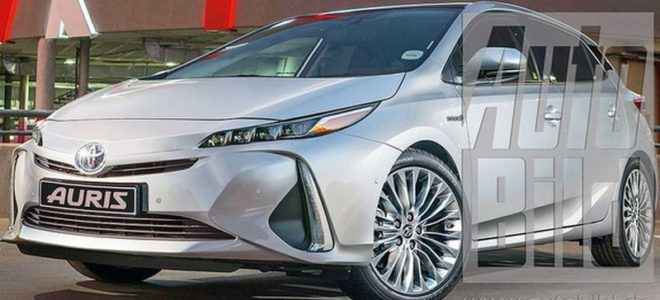 A while ago Toyota decided to replace the Corolla in Europe, and a few other markets, with the Auris. This new car was still based on the same platform as before but it offered a more modern design and a fresh new name. Even though it didn't manage to become the best selling car in its class, it still sold reasonably well. Its second generation, released in 2012, was also the most successful so far. The car has also been available in the US since 2014 where it actually managed to impress quite a few people. However, its design is getting old so an all new model is going to be released with the 2018 Toyota Auris. The new car hasn't been confirmed by the Japanese manufacturer so far but its camouflaged prototype has been seen a few times so far. Unlike many other new cars, the upcoming Auris won't have an evolutionary design but rather a revolutionary one.
The car is likely going to be based on Toyota's brand new New Global Architecture, or TNGA. This has been first seen on the Prius where it managed to impress everyone. With this new platform the Auris should become better to drive, more comfortable as well as safer. It will likely not be much different in terms of size. However, thanks to a new suspension setup it should be able to offer more room inside the cabin. The new platform will also allow for more engine options than before and for a considerably lighter build.
Exterior and Interior Design
Even though it has been released in 2012, the current car doesn't really feel dated which is really surprising. The upcoming 2018 Toyota Auris will more than likely build on its success, so expect the same type of understated design which worked wonders so far. The center stack will likely get the same minimalist feel which is also present in its predecessor and in the new C-HR. On top of that, expect the driving position to be lower than before.
The instrument cluster will also boast a lower cowl so the driver will get a better view out. The rear passengers will likely get more space thanks to the more compact suspension setup. These alone should allow the new Auris to become one of the more desired cars in its class. The only drawback of the current car was the choice of materials. While it was built better than most, the cheap plastics really let it down. For the new 2018 version Toyota is expected to improve the quality by a good margin.
We said a while back the 2018 Toyota Auris has been spied testing on the open roads and its design is rather impressive. For starters, it doesn't seem much larger than its predecessor. However, it is definitely both lower and wider than before. The hood is considerably lower than on its predecessor, the grille is slimmer and mounted lower while the bumper features a larger intake. The headlights are no longer the slim units found on its predecessor. Instead it seems Toyota is moving to a bolder design with much larger headlights that seem to have a 3D effect to them. The window has a more aggressive rake to it and even though it is camouflaged, it seems the roof might be slightly arched towards the back for a more coupe-like feel.
Under the hood of new Auris
The car has been available so far with a set of naturally aspirated and turbocharged engines. Unfortunately none of them made that much power or torque. The upcoming 2018 Toyota Auris might change all of that. Rumors suggest the car will get rid of all of its naturally aspirated engines. Instead Toyota is expected to offer their new 1.2 liter turbo-four as the new base engine. This should offer around 114 horsepower and 136 lb-ft of torque. A new generation 1.5 liter turbo-three is also a real possibility. This hasn't been used yet but it seems it might offer anything between 130 and 180 horsepower. A hybrid, likely still using the old 1.8 liter powertrain, is also possible in some markets. We still hope Toyota will decide to replace their aging CVT gearbox with a new generation automatic. A 6 speed manual is likely going to be offered in some European markets as well.
2018 Toyota Auris Price & Release date
The weirdly looking camouflaged Auris can only mean one thing. The tests on it have just begun. This also means that we won't be seeing it anytime soon. To improve a fine model such is this one it takes time, and Toyota won't rush anything. We should expect new Auris in spring or even summer of 2018. Today, we bet on it that it will be 2018 MY but as time passes it is possible that Japanese manufacturer is going to market this one as 2019 MY.
The price remains an unknown which is fine for an automobile which is this early in development. More will be known as the date of release approaches. But for now, let say that current generation of Auris starts from £15,995.