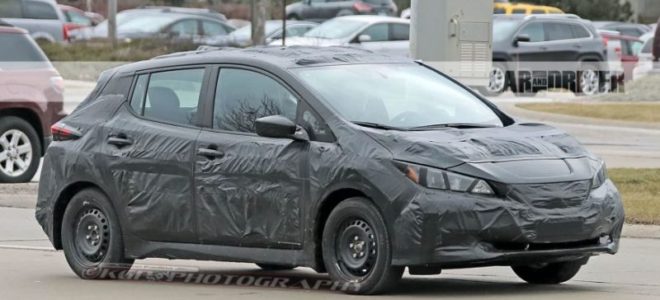 06/22/2017 UPDATE: Despite the fact that Nissan has promised us new photos and info about upcoming 2018 Nissan Leaf now and then, that hasn't actually happened. For now, they have only released one photo. A teaser image of the headlights. Thankfully, the spy photographers from insideeevs.com have caught prototypes of 2018 Leaf on the road and supplied us with pictures. The new set of spy photos shows Nissan best-selling electric car both from inside and outside.
The 2018 Nissan Leaf spied this time around was stripped of some camouflage. Thanks to this we can now better see its design. And, what's more important, we have a clear look at what's inside the cabin. From what can be seen on the spy photos the interior is near completion. What you can see today is quite close to the production version. Also, it doesn't differ too much (as we hoped) from the current model. It just looks like the improved and updated version of the ongoing Leaf.
On the outside, the 2018 Leaf seems to feature a fake grille (probably to be replaced pre-production), which is equipped with a charging port. This is different from the current Leaf, same as the headlights. For the later, we already know that they are going to be all-new. At the rear, it seems that Nissan decided to let go of old design. This is good news because at the back Leaf needed a more traditional look.
Nissan Leaf was always a vehicle that stood out from the lineup of this Japanese manufacturer. With 2018 Leaf they have decided to bring it closer to its siblings. The change is always good, and this one was expected but still is welcomed. Regardless of this, the sales of this vehicle won't depend on its styling. What people are interested in are its range and price. If price/range ratio is good, Nissan won't have any problems with the sales of this EV.
2018 Nissan Leaf will be available in dealerships in early 2018. MSRP is expected to be in the region of $30,000. The battery on entry-level models should be able to power the motors for 150 miles on a single charge. The range-topping battery pack (~60 kWh) which is going to be available with 2018 Leaf, should offer 200 miles of all electric drive.
CLICK HERE TO SEE THE LATEST SPY PHOTO GALLERY
05/24/2017 UPDATE: The Nissan company started, what seems to be, a full-scale campaign for the introduction of 2018 Nissan Leaf. They will be giving us photos, information and more and more details about upcoming next-gen Leaf. The vehicle in question is scheduled for a release later this year, so the time is just right for the start of this campaign. The first clue that the Japanese-manufacturer has given us is a teaser photo of Leaf's headlight. On the picture, you can see that new light has more sophisticated lamps, more stylish design, and it gives an impression that it will be more efficient than before.
The new headlights could be seen in the spy photos that we provided earlier. But, this time around we have a clear look at them thanks to Nissan. The 2018 Leaf itself is going to be an all-around stylish vehicle, which wasn't the case before. Most of the customers bought it for what it offers and not for the way it looks. Talking about design, it seems that new Leaf is going to be a combination of two things. First one is IDS Concept which was presented at 2015 Tokyo Motor Show. The second one is current design path on which Nissan walks. The latter one means that new Leaf is going to pull style cues from latest and ongoing Nissan models mostly from all-new Micra.
Besides this teaser photo, no more information was given by the Yokohama-based company. Despite this, from earlier is known that in addition to restyling, new Leaf is gong to come with improved range. The recently released Chevrolet Bolt EV comes with a range of 238 miles per charge. This means that if Nisan wants to stay competitive, it needs to be in a 200+ miles range sector. It would be even better for them if the limit were set at 250 miles per charge, or not to ask too much, even beyond that. The battery that will provide this range is going to be 60-kWh lithium-ion as seen on the IDS concept. More info coming your way as soon Nissan updates us on new Leaf.
03/22/2017 Review: When it was released back in 2010 the Leaf was one of the most advanced electric cars on the market. However, times change and it is no longer able to hold its own against newer rivals. Its moderate 107 mile range and uninspired looks make it lose quite a bit of sales against its competitors. In order to get back at the top it seems that the Japanese manufacturer is looking to release a new model with the 2018 Nissan Leaf. Even though Nissan didn't actually announce the new model, it has been spied wearing camouflage a few times now. The upcoming Leaf is expected to use an evolution of the current car's platform. The modifications will basically transform it in a modular platform so Nissan will be able to install different powertrains and battery packages in it.
2018 Nissan Leaf Price
Nissan's new design scheme has been previewed by the 2015 Sway Concept showcased at the Geneva Auto Show. However, it seems that the production model won't be as futuristic as we thought but more on that later. One of the largest problems with the current model has to be the range. This will definitely be addressed with a lot of upgrades under its skin. Not only it will be more efficient and powerful but it should also be lighter. It seems that Nissan will try to come up with a modern and competitive electric car but they might be a bit too late to the party. Its price is expected to remain right around $31,500 which is more than some of its more capable rivals. If they manage to offer a more comprehensive package then Nissan will likely easily outsell them, especially since the Leaf remains the best selling electric cars to date with over a quarter of a million units.
Release date of 2018 Nissan Leaf
Japanese car manufacturer won't be able to revolutionize car market with new Leaf like it did back in 2011 but the car will give its competitors a run for their money. Considering that Nissan is conducting changes on this vehicle inside out, including exterior, interior and under the hood changes they won't be in much hurry to show us completed model.
Camouflaged mules have been spotted a few times already, so we know that work is in progress, but we are not expecting completion during this year. With all of the upgrades that are rumored wait for this electric car is going to be the one worth waiting. In following months we will inform you of any substantial information that comes our way and supply you with new spy photos, but the official release of this car shouldn't be expected before the start of 2018.
New Nissan Leaf 2018
Most of us thought that the 2018 Nissan Leaf was going to share a lot in common with the new Micra. However, this is not the case. Instead it seems that they are looking to build on the design of the original Leaf. While the camouflaged model manages to hide its traits quite well, it is quite clear that it features the same profile design as the ongoing model. It is just as tall and it seems to be roughly as big as its predecessor. In the front the car also seems to do away with a grille and instead offering something similar to the older generation. The rear on the other hand seems to be quite similar to that of the Sway Concept with similar tail lights and a rather small rear window. A small spoiler as well as a diffuser seem to be standard but these are likely used for aerodynamic purposes.
Interior of new Leaf
The first generation borrowed parts from quite a few different cars but this might change for the 2018 Nissan Leaf. It seems that this time around Nissan is going to give their electric offering a unique character. We expect a more futuristic-looking dashboard with less buttons and possibly a center screen that will control most of the functions offered by the car. In terms of space it should be just as good as before but this time around it will likely offer considerably more storage spaces.
2018 Leaf Range and Specs
The largest upgrade over the older model will be the battery. It seems that the 2018 Nissan Leaf will be available with two battery-packs. The base model will get a 40 kWh unit while the top end version might get a 60 kWh pack. The latter should allow the Leaf to go well past 200 miles on a single charge. Over its rivals the Leaf is also expected to be compatible with 150-kW chargers which would give it a huge advantage. This should allow either of the two batteries to fully charge in less than 45 minutes which would make it one of the most impressive electric cars around. Unfortunately though, the front wheel drive design is here to stay. It seems that the new Leaf might continue to use a similarly powerful electric motor. This should offer right around 107 horsepower and 187 lb-ft of torque. While this is not bad for an electric car, it is definitely sub-par when compared to some of the new generation electric cars currently out there.
Competitors
The competition in electric cars segment is much fiercer than it was when Leaf first entered the market. We would dare to say that Nissan's small EV was the car, which maybe didn't create the segment, but it definitely gave it a shape that it has today. Nonetheless, when 2018 Leaf hits the streets, some of its main rivals will already be circling the block or in other cases will be close to their releases. Just to name a few of the most talked-about adversaries here is the list that includes the likes of BMW i3, Tesla Model 3, Tesla Model S, Chevrolet Volt, Ford C-Max, Ford Focus Electric, Toyota Prius, Renault Zoe, and Hyundai Ioniq.