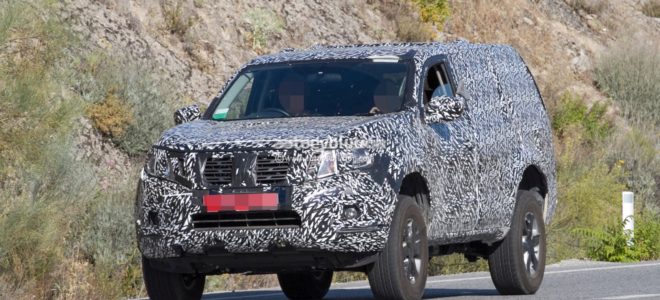 The Pathfinder has been revised not that long ago with the 2017 MY. The car received a fresh exterior but it still is average at best. It has more power and it is more efficient but the chassis is old and doesn't feel as good as it should. It is also quite pricey and not that well equipped for how much it costs. Even though it might be a bit early, considering the car has been released back in 2012, there are many rumors out there suggesting an all new model with the 2019 Nissan Pathfinder. The new car is supposedly based on a revised chassis, it features new engines and it is a lot more fun to drive than its predecessor.
2019 Nissan Pathfinder – In detail
Why did Nissan update the current model then? Well, the current refresh is nothing major. While the car does have a new front end and a new engine, that's about it. The interior is as it was back in 2012 and the running gear is awful for this type of car. The new model is expected to ride on a revised D-platform which is going to have an entirely new suspension setup. It seems that with it, the car will become much better in terms of handling and it will be able to handle bumps with more ease. Also, the new platform might get a longer wheelbase which will likely translate in a longer overall vehicle. Even so, the car is expected to be as light as before which is always good news. Even though the release date is still at least a year away, when it will hit the market its price will likely be similar to the current model at right around $30,000.
The design of new Pathfinder
The current car looks quite good actually despite being similar to a minivan. This has been the trend in its class and we are not sure that the 2019 Nissan Pathfinder will change much. The front end is likely going to carry over some of its traits which make it look a lot more mature than the older models. The wide V-shaped grille and serious-looking headlights make up for a really imposing look. The new model will likely be similar to it. However, from the profile the new car will likely change quite a bit. We expect more muscular lines and likely an overall more masculine-looking car which will make the new Pathfinder look a lot more like a true SUV.
Inside the cabin
There is no denial about the fact the current car is nothing to write home about. While the layout of the seats is excellent, everything else is average at best. There is too much cheap plastic for $30,000 and all the controls feel dates. The new car is expected to borrow some of the design, and features, found in the Murano. Expect a wider center console, a new instrument cluster, much nicer HVAC grilles and even a new steering wheel more similar to Nissan's newest vehicles such as the Rogue.
Under the hood of Nissan Pathfinder 2019
A hybrid is highly unlikely at this point, especially since engines tend to be more fuel efficient as time passes by. The 2019 Nissan Pathfinder is likely going to feature a 3.5 liter naturally aspirated V6 with close to 300 horsepower and 260 lb-ft of torque. Front wheel drive will be standard while an all wheel drive system will be an option. Like before, a CVT gearbox is more than likely going to be used. Even though this doesn't seem like much, the powertrain did not disappoint in the current car either. In the future we may see a turbocharged V6 but until then this is the most probable powertrain for the new Pathfinder.