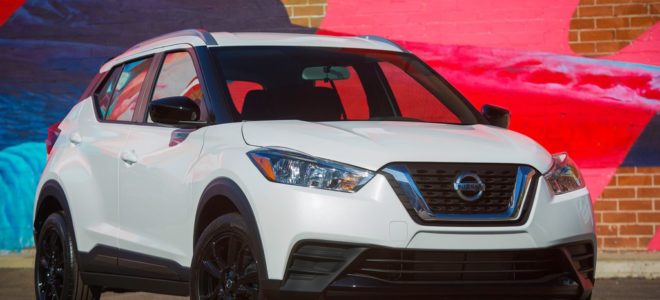 When it hit the market for the first time, Nissan Juke left quite an impression. It had a look that differentiates it from the competition. Under the hood there was a potent four-cylinder engine, that gave it some performance to brag with. Regardless of that, it has been discontinued. But, worry not Nissan didn't leave this place empty on its SUV/Crossover shelf. Thanks to that we today have a brand new 2018 Nissan Kicks.
Both vehicles fit into the same segment but they more differences than they have in common. New 2018 Kicks is what you would call a conventional subcompact crossover. It has less of that funky Juke-like exterior, and its on-road ability, but its striving towards comfort on the inside combined with more natural Nissan look.
2018 Nissan Kicks Design – Exterior
2018 Nissan Kicks shares the name and most of its components with its South American sibling. But, both models have almost nothing in common with Juke crossover. Compared to the Juke new Kicks Nissan is bigger, its wheelbase is 3.5 inches longer, the entire length is prolonged by 6.7-inches, while the height is increased by 0.6-inches. With its size, this crossover sits below Rogue Sport, and both are part of Nissan's subcompact segment. With this all-round size difference, new 2018 Kicks offers 25 cubic feet more space in behind the rear seats compared to the crossover it replaced. Thanks to the new height/width ratio it also provides more space for passengers on both ends of the vehicle.
2018 Nissan Kicks Specs – Under The Hood
Unfortunately for all of the improvements made on making the Kicks better and bigger, Nissan didn't do anything to enlarge its power under the hood. The only powertrain offered with 2018 Nissan Kicks is a 1.6-liter naturally aspirated in-line four unit. This powerplant produces 125 hp and 115 lb-ft of torque. Compared to the Juke's 1.6-liter turbocharged mill, this is a 63 horsepower/62lb-ft of torque downgrade. To make things even worse, and take all of the fun from this crossover Nissan decided to offer it only with a CVT transmission and FWD. What's missing is the all wheel drive and six-speed manual gearbox, both of which were available on Juke NISMO and NISMO RS models.
2018 Nissan Kicks Interior & Features
The Japanese manufacturer decided to make it at least a bit interesting by offering Kicks in variety o colors. The color schemes available are white, orange, or red with a black roof; gray with an orange roof; and blue with a white roof. On the inside, Nissan added more attractive dashboard with a 7.0-inch display. If you remember, Juke's interior lacked modernity. Some of the features that 2018 Kicks has in the cabin include Apple CarPlay and Android Auto. Both of the features are standard on SV, and SR trims.
The base model comes with Bluetooth, three USB ports, automated emergency braking, and a backup camera. Making these a standard equipment is an elegant touch by Nissan. With SV trim your Kicks will be enriched by blind-spot monitoring, 17-inch wheels, automatic climate control, and remote start. Moving on, and SR trim will add you 360-degree camera system, LED accent lights, chrome grille accents, fog lights, and body-color bumper inserts.
2018 Nissan Kicks Price and Release date
There is no word on the pricing just yet across the trims, but the base price is known. 2018 Nissan Kicks will come at an MSRP of $19,000 for its entry version. With its excellent looks, this should put it at the top of the food chain. The competitors in the form of Jeep Renegade and Kia Soul are more expensive in their base versions. Compared to its predecessor, the Juke, it looks even better. The ongoing version of Juke is priced at $21,225 in its lowest trim.
The 2018 Kicks debuted at 2017 Los Angeles Motor Show. Despite its late 2017 debut, it won't go on sale in the near future. First pieces of Kicks are expected on the United States market in June of 2018.