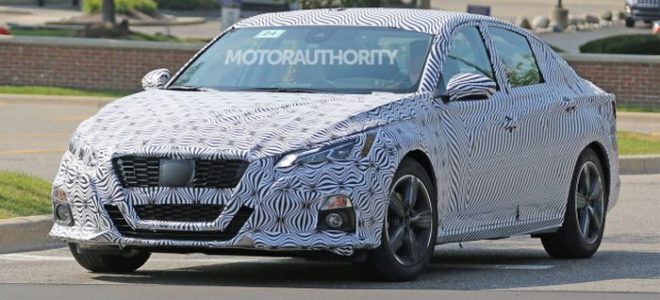 The Altima is a great car despite what so many people say about it. It manages to offer the comfort and driving experience provided by a much more expensive vehicle so there is nothing really wrong with it. However, the Altima is not perfect. Its design is quite polarizing and it doesn't really manage to offer the quality inside the cabin that some of its customers want. On top of that, its running gear might prove a bit too restrictive when it comes to high-speed driving. While the car is perfectly fine on regular roads, it might feel overwhelmed when pushed to its limit. In order to solve these issues it seems Nissan is readying a 6th generation for the car. This will be released with the 2019 Nissan Altima and things definitely look impressive so far.
2019 Nissan Altima Redesign & News
At this point Nissan didn't confirm this upcoming vehicle. However, the new Altima has been spied testing a few times now and we have a pretty good idea about what its possible design and some of the upcoming features. One of the biggest changes for the car is going to be its platform. Even though the car will still have some things in common with its predecessor, it looks like Nissan will work on its chassis in order to offer a more rigid structure. The end result should be better NVH levels without compromising on anything. The car is also expected to receive a new running gear which will make the Altima as good to drive as its larger sibling.
The exterior design
One of the most impressive features of the upcoming 2019 Nissan Altima is definitely going to be the way it looks. Even though the car has yet to be released, its has been seen with its production body and things look impressive. For starters, the car doesn't really seem much bigger than its predecessor. However, it seems to have a new roof-line, a different window-line as well as a brand new front end. The latter reminds us of the Vmotion 2.0 concept with some cues from Nissan's newer models. The swept-back headlights and the bulkier fenders are definitely going to be seen across the range. However, the honeycomb-mesh grille and the new bumper might not. Instead these may be the hint that Nissan is working on a performance version of the Altima. Even though this is just a rumor, it would actually make a lot of sense considering the current market conditions.
The interior design
Another great thing about the prototype we have seen a while ago is that its cabin was left completely uncovered. Thanks to that we have a great look at its interior and things look quite impressive. This particular car had a flat-bottom steering wheel, aluminum inserts all around the cabin as well as sports seats. This further solidifies the idea that this was in fact a sports version and not the regular Altima. On top of that it also looks like the 2019 Nissan Altima will build on the success of its predecessor. The AC vents look similar and so does the instrument cluster. However, it sports a brand new infotainment system with a larger screen that is now mounted on the dashboard instead of in it. This not only improves visibility but also makes the cabin a bit less cluttered.
Release date & Price of 2019 Nissan Altima
Earlier this year we saw the preview of Nissan's 2019 Altima, and now we have first set of spy photos. The Vmotion 2.0 concept was a pleasure for the eye, and we hope that the prototypes when striped of camouflage will not disappoint us. The renewed sedan from Japan will enter its sixth generation with this model. According to various sources, the car is due to arrive in 2018. The showrooms might greet us with this model in early months of next year, while for the dealerships we will have to wait till mid-2018. New Altima will be sold as 2019 MY.
2019 Nissan Altima price will go a bit over what's currently on the market. Looking at cost, across trims it will be increased in excess from $500 to $1,000. The current Altima offerings are as follows. The base version starts at $23,300; SR model is standing at $25,300; the model which won't be available anymore the V6 installment was $28,000, and at the far end is a totally equipped 3.5 SL iteration priced around mid-$30,000. With its performance, quality, and design Altima stands toe to toe with models such as Toyota Camry, Honda Accord, Ford Fusion, Hyundai Sonata, Kia Optima and Subaru Legacy.
Under the hood – 2019 Altima Specs
The current Altima is available with a V6 but it looks like the future 2019 Nissan Altima is no longer going to feature it as an option. Instead, the car is expected to be powered by 4 cylinder engines only. These have evolved tremendously in the past few years so they are more efficient and usually more powerful than their naturally aspirated V6 counterparts. The base version of the Altima is expected to come equipped with Nissan's 1.6 liter turbo-four which has been around for a while now.
This will be a novelty for the US market but it has been used before on the car. It is known to make anything between 180 and 205 horsepower and north of 200 lb-ft of torque. The range-topping engine will likely be a new 2.0 liter turbo-four good for up to 300 horsepower. All engines are expected to be mated to a CVT gearbox and the front wheels in the base trim levels. The higher end versions are also expected to be available with an optional all wheel drive system.