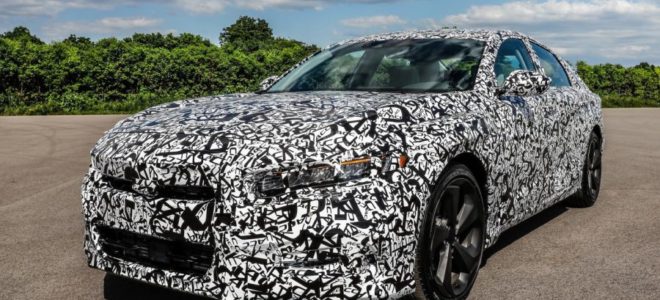 06/21/2017 UPDATE: Accord sedan is one of the most selling vehicles in North America. It was at this position for years, and it's going to stay there if 2018 Honda Accord turns out like this sketch. What sketch? The one that teased upcoming Accord. A few days ago Japanese manufacturer released teaser photo of their upcoming mid-size sedan. The official presentation will happen in one month time, to be precise on 14th of July.
You probably noticed that Honda's campaign for 2018 Accord is on the jump-off in recent times. The reason is undoubtedly the popularity of this vehicle on the North American continent. Since its introduction in 1976 Minato-based company sold more than 13 million copies of Honda Accord. It was the first Japanese vehicle manufactured on US soil. Eleven of thirteen millions of Accord sedans were produced in the United States of America.
Even 2017 MY of Accord is selling excellent. It currently holds the second place, behind also Honda's product, the Civic. Their plan is probably to launch it on the pedestal once again. From what we heard so far there is no reason for why the tenth generation of this car won't reach sales stardom.
2018 Honda Accord will be produced at Honda's Marysville plant in Ohio. It will have an all new 2.0-liter engine and also new ten-speed transmission. The gearbox is also the US made but in automaker's Anna, Ohio, and Tallapoosa, Georgia factories. The sales of this model will start in late fall of this year. The price will be disclosed closer to the release date.
06/11/2017 UPDATE: No, the 2018 Honda Accord is not yet here, but lucky few had a chance to drive it for the first time. The reason for why did the Japanese automaker allow this testing was to show off Accords new engine. Not only that but also an all new ten-speed automatic transmission. The unit in question is 2.0-liter turbo engine which is going to replace Honda's V-6 as the leading powerplant in this sedan. From what was seen at its first presentation there are reasons to be excited about this four-cylinder mill.
As we said, 2.0-liter turbo unit is going to replace old 3.5-liter V-6 as the top-tier engine in Accord. The outgoing V-6 engine was one of the strongest and the smoothest engines in family sedans, so the question remains where does new turbo-four unit stands compared to it.
Straight from the people who tested it, we have information that the four-cylinder engine feels a lot faster, a LOT! The torque is delivered straight up, and this is thanks to the low-inertia turbocharger. The car can easily reach the speeds of 80 to 110 mph, and in this segment, it does not fall back behind the V-6. The top speed of 2018 Honda Accord is 124mph (200km/k), and even at this speed the vehicle feels stable and is easy to maneuver.
The test vehicle was still a pre-production car, but the drive itself and Honda's engineers did reveal a few things. For starters, at top speeds new engine is nowhere near the V-6. We deem this as less important because you are not going to buy Accord for its performance. The positive aspect of the ability of this 2.0-liter turbocharged unit is that it has a lot of similarities with the engine that powers the Civic Type R. Many components, including the engine block are shared between two models. The difference lies in the fuel ( Accord will use 87-octane regular gas), and Accord's unit will have less horsepower. It will have more than V-6 had but less from Type R. We're not going to speculate about output just yet but let's say that it will have between 278 and 306 hp and between 252 and 295 lb-ft of torque.
The smaller engine has one huge advantage tied to it. Like you probably can guess the thing in question is fuel economy. Honda didn't disclose the fuel economy numbers, but they have stated that it will better than outgoing 3.5-liter V-6. Another thing that 2018 Accord shares with another Honda model is the transmission. The new 10-speed is not the same as the one used in Odyssey, but they are quite similar. The difference between the two lies in the fact that these vehicles don't share the power outputs.
The all-new ten-speed is quite extraordinary, moving smoothly between gears both when accelerating and when braking. With the first one, it is quite fast to jump between the speeds in order to maximize the speeding up when you are pressing the gas pedal. When you are at the wheel, it will fell almost like you are driving a vehicle that has Honda's CVT with all of its advantages and none of the drawbacks. Turning on Normal mode leaves you to go trough speeds on pedal shifters which are mounted on the steering wheel. The better feeling comes with Sport mode when shifting function works on its own. One of the testers noticed that shifting from fifth to fourth speed sounds quite bad, and Honda engineers took written notes on this.
This vehicle, with its redesign, and updates is mainly aimed at dueling more with the German automakers. The officials at sight from the Minato-based company confirmed this. The models they were watching and trying to outdo are Mercedes-Benz C and E-Class and BMW's 3 and 5-Series.
2018 Honda Accord Release date and Price
The 2018 Honda Accord that was tested had a steering wheel mounted on the left side, so the chances are that the North-American spec vehicle was tested. It was still nuder the heavy wrap both from outside and inside, so it is hard to give out more details on the design. The headlights looked like they belong to an Acura vehicle because they had traits of Jewel Eye design which is Acura trademark. At the rear end, you can notice dual exhaust pipes with outlets positioned on both sides of the bumper. The all-around design of this Accord is going to be something completely new to Honda and the World. The chances are that Accord's design cues will be shared across entire Honda lineup.
2018 Honda Accord release date is scheduled for late fall of this year followed by a start of sales in early 2018. It will come at a price which was not disclosed yet, but it will be more than the current $31,800 which is the price of the base model of 2017 Accord.
04/18/2017 UPDATE: We all knew that new Accord is on the way, but the last spy photos we had are almost one year old. Now, we are at it again as we have acquired best spy photos, so far, of 2018 Honda Accord. The upcoming model will be the tenth generation of this sedan and Honda decided to step the game up. The latest iteration of Accord is going to have a new style; it is going to be longer, wider, and with more sleeker sidelines. If you carefully follow the Japanese manufacturer in question here, then you will see the resemblance between new Accord and the freshly introduced Civic. From its smaller sibling Accord is going to borrow headlights styling and also parts of front fascia are going to similar to the one of the Civic, mostly the grille. Also, new Accord is going to have a more sportier design which will be expressed to more lowered roofline at the back and a much shorter decklid.
The changes on this model were necessary for many reasons, but one of them stands out. Despite the fact that Accord was always one of the leaders in its segment, design wise it was never one of the most appealing cars. This is no secret, just look at the models like Chevrolet Malibu, Mazda 6, or KIA Optima, and you must agree that they all look better than Honda Accord.
Back to the spy photos, where we have some new clues on the design of 2018 Accord. The headlights will now be more thin, with a wider stance and will spread from the end of the grill all the way into the corners of the hood. The grill will now be more expressed, not only by the size (it is bigger now) but it will also feature chrome details and a larger Honda emblem in the middle. As far as the fog lights are concerned, they seem to retain the same shape as the daylight version.
Moving on and we have less and less material to work with. Thanks to the, still present, heavy camouflage the conclusions we draw next can't be taken as hundred percent accurate. The roofline is sportier as we mentioned, but it is nowhere close to being aggressive as it is on Civic, but it is definitely lower than on current gen of Accord. At the rear, the taillights are not visible enough to make any statement, and looking at the wheels we can say that they look same as on the ongoing model.
To see the spy photos gallery click here.
11/07/2016 Review: The reigning generation of Honda's Accord started production back in 2012. It is currently one of the world's, and Honda's of course, most selling mid-size sedans. Despite having it's mid-cycle face-lift in 2016 Honda is planning a complete redesign by the end of the next year. Currently, in its ninth generation, Honda's chiefs have decided that the time is right for their beloved model to enter its tenth generation . Being around for some time now the current model is getting outdated so with 2018 Honda Accord Japanese manufacturer will try to continue the tradition of quality and performance. Together with this, they will also try to keep the selling number, or even improve them, in aim for this model to become a global bestseller.
2018 Honda Accord Interior and Exterior
Similar to what other car manufacturers are doing (mainly Volkswagen) Honda is planning on transferring most of its model on a single platform. In accordance with this plan, 2018 Honda Accord will probably ride on a platform which will debut on new CR-V. Oher possibility which is even more likely is that new Accord will share its platform with the European version of Civic Type R.
Exterior-wise there isn't much to say because the spotted mules of the latest generation of Accord were heavy camouflaged. Despite this, we managed to draw a couple of conclusions. First of all similarity with the latest Civic installment is more than obvious. The difference lies in boxier appearance in general and more skewed front end. Thanks to this both front grill and headlights are more square-like than they were before. From first spy photos, we can also conclude that 2018 Honda Accord will feature LED lights technology. To continue its comparison with Civic the new model will have similar roofline and uncharacteristically short trunk.
Interior is the part of the car that we are most unfamiliar with. Spy photos gave a glimpse at the interior but not much can be concluded from them. Dashboard shape can't be seen but it features more buttons than on the previous installment which brought us the conclusion that new Accord will feature next-gen infotainment system. Center display will be bigger than it's on the current model and it will feature touchscreen technology. Apple Car Play and Android Auto will most likely come as standard features.
Engine and Transmission of 2018 Honda Accord
Same as the current models the 2018 Honda Accord will be offered with 1.5-liter in-line four-cylinder engines. What remains unknown is whether will V-6 options find its way on the latest generation of Accord. Rumors are saying that these engines that are being used on higher trims of Accord could lose its place to 2.0-liter turbocharged ones that are being used on the European version of Civic Type R. This seems like a real possibility considering that all of the Honda's competition have completely transferred to four-cylinder powertrains. As of yet, there is no word of hybrid or fully electric Accord.
If we take into account that 2018 Honda Accord is going to ride on a new platform, with a significant increase in size and with a completely improved technology we can be sure that price will grow compared to current model. With starting price for the current model being in the region of $23,000 we can expect at least $2,000 more needed for the base model of 2018 Accord. The new model shouldn't be expected before the end of the next year. If you are looking a clue for when it might be shown to the world, this year could point to that. The European version of Civic Type R was presented at the Paris Motor Show while the US version was presented a the SEMA. We are expecting for Accord to follow in its footsteps.