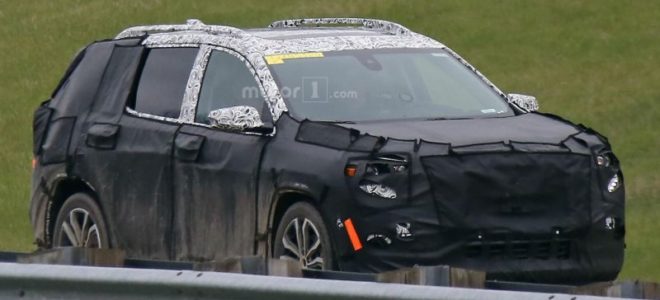 Although many of us would thing that all GMC models come with a long history behind them, some of them are just new. This is true for the GMC Terrain model, which 2018-year model will be just second iteration of the Terrain nameplate. The previous model had some pretty fixable weak points, such as the large mass of the vehicle itself and not so comfortable and technology rich interior. The new model will surely address those issues, but, overall, it is a pretty decent SUV. Although not yet confirmed, the new Terrain will get new engines that may improve the fuel economy over the previous generation. 2018 GMC Terrain will also be somewhat smaller than its predecessor, but how much exactly is remained to be seen, as the model is still under wrappers, being tested. We look forward to trying out the new model, but for now, let us see what we will be dealing with soon.
2018 GMC Terrain Engine and Performance
We should expect the new GMC Terrain to come in two engine options to choose from. Starting with the basic engine, it will be a 1.4-liter Ecotec inline 4-cylinder petrol engine, capable of delivering 153 horsepower at 5600 rpm, with a peak torque output of 177 pounds-feet, at 2000 – 4000 rpm. The engine will have direct injected fuel delivery system, with electronic throttle control. The valvetrain specifications are dual overhead camshafts, four valves per cylinder and continuously variable valve timing, to ensure better fuel economy. Direct injection technology on this engine is responsible for 11% improvement in terms of power and 20% improvement in terms of torque over the non-direct injected version of the same engine.
The engine will feature aluminum cylinder block, to enhance performance and efficiency. The second engine option will include a 2.0-liter inline 4-cylinder petrol engine, capable of delivering 272 horsepower at 5500 rpm, with a maximum torque output of 260 pounds-feet of torque, at 1700-5500 rpm. Maximum engine rotation speed is set at 7000 rpm. Additional features of this engine will include electronic throttle control, variable valve timing, belt alternator starter, 2-stage thermostat, 2-stage variable displacement oil pump, modular balance shaft system in oil pan, electronic bypass valve, dual-scroll turbocharger. The compress ratio of this engine is 9:5:1, while the engine orientation is either longitudinal or transverse.
Interior and Exterior design of 2018 GMC Terrain
Although the 2018 GMC Terrain is still under wrappers, being tested on the track, we should be able to see some design changes over the previous model, such as the fact that the new model will lose its toaster shaped silhouette and adopt a sleeker shape with lower roofline. The new model will be smaller, lighter, sleeker and we should expect everything else to evolve with that, such as the front grille, that has to be reduced in size. The new Terrain will ride on the same global compact platform that underpins the Chevy Cruze.
On the inside, we should expect many features, some of which include an audio system, 7-inch color touchscreen with infotainment system, USB port, aux input jack, 6-speaker sound system, SiriusXM Satellite Radio, OnStar 4G LTE and built-in Wi-Fi hotspot, as well as many safety features, such as stability control system with traction control, daytime running lamps, airbags, rear vision camera, tire pressure monitor system, door locks, rear child security, etc.
Pricing and Release Date
We should expect the new GMC Terrain to arrive sometime in the mid-early 2017, or late 2016 which is less likely. As far as the prices are concerned, the new Terrain will start at around $25,000 for the base model, ranging up to around $50,000+ for the most expensive trim level and additional features.