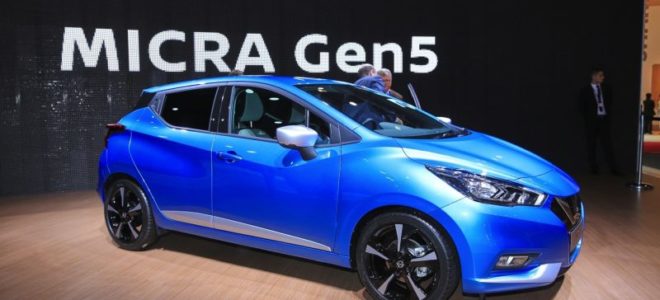 So far the Micra has been a rather unappealing car which was not as successful as some of its rivals. This was mainly because it had a rather unusual design and average features at best. However, in order to get back out there, Nissan released a brand new model a few months ago with the all new Micra. The car is based on a new platform this time around, it is larger, it has a lot more kit for the price and it is also more powerful. The 2018 Nissan Micra is actually based on the new Clio which has been around for a few years now. While it shares the same wheelbase, engines and even some parts inside the cabin, the new Micra looks completely new with clear design cues from Nissan's past concept cars.
2018 Nissan Micra – More than just a Clio
Even though the new Micra shares a lot in common with the Renault, it also comes with a lot more. For starters, there are plenty of customization options which will allow the buyer to choose everything from the exterior color to the interior stitching. There will be sticker packages available in order to bring the customization to a new level. The car will become available for sale in Europe in the first quarter of 2017. A US model is still a possibility at this point, especially since the US hatchback market started to grow in the past few years. The price has not been revealed up to this point but most rumors suggest a similar price to the older model. This is actually great because it means similar prices to its competitors while also offering more gear.
The design of new Micra
The new 2018 Nissan Micra is mostly based on the Sway concept car which was released back in 2015 at Geneva. It features a sporty, sculpted and rather clean design for this class. The Renault influence is clear the car having mostly the same glasshouse as its sibling. However, the front end is a lot more expressive featuring Nissan's V-shaped grille design and hood for that matter. The headlights are large and swept back, the bumper features small side valances and the fog-lamps give it a really aggressive look. The back is dominated by an edgy design with a high load floor, a small hatch door and C-shaped tail lights which do resemble the original concept. For an extra dose of sportiness, the fog-lamp has been mounted in the center of the bumper which is reminiscent of a race car.
Nissan worked wonders here and everything is well above the average of its class. The dashboard has a really clean design dominated by a large, and standard, seven inch touch-screen infotainment unit. This can be had with a 360 degree camera system, Android or Apple CarPlay and even a premium sound system. The entire interior can be configured with different colors which will elevate the experience quite a bit. The steering wheel found in the 2018 Nissan Micra has a flat bottom across the range and it is multi-functional which is a really interesting touch. The only grief here would have to be the lack of an armrest on the base models.
Under the hood of Nissan Micra 2018
The base engine on the 2018 Nissan Micra is a tiny 1 liter naturally aspirated mill offering 71 horsepower and 67 lb-ft of torque. This is the same unit found in the Renault Twingo but this time around mated to a six speed manual and front wheel drive. A turbocharged 0.9 liter 3 cylinder unit is also available with 90 horsepower and 100 lb-ft of torque with an overboost function that will pump it to 95 horsepower. While these two will likely be quite successful, at least in Europe the 1.5 liter turbocharged diesel is expected to become the main seller.
This engine will offer 95 horsepower and well over 130 lb-ft of torque which is quite a bit for a car the size of the Micra. So far it seems that a six speed manual gearbox is going to be the only option. A NISMO model might be added in the future. Rumors say that this might offer a 1.8 liter turbocharged inline 4 and not the 1.6 liter in the Clio RS. This engine might offer in excess of 250 horsepower but so far Nissan did not confirm it.
2018 Micra Competitors
With its latest design changes, Micra will be more than able to fight of its main competitors. The mini segment is not popular like it once was, but world's automakers still fight for every piece of the 'car selling pie.' New Micra Nissan 2018 will have stand shoulder to shoulder with likes of Hyundai i20, Suzuki Swift, Ford Figo, etc.