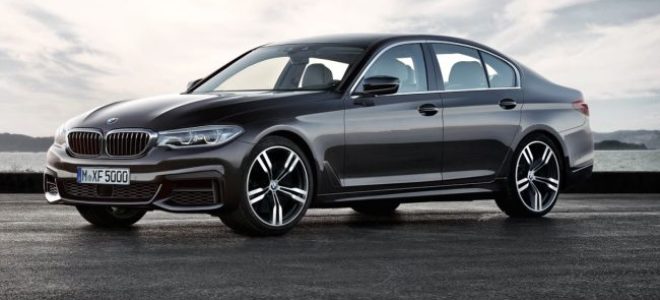 UPDATE: BMW recently made press announcement regarding the new BMW 5-Series, and together with it they released new set of photos. These pictures are in detail showing development and incorporation of new 3D modeling technology. What we managed to notice while watching 3D modeling is a glimpse on the exterior design of 2017 BMW 5-Series. While still under camouflage, it was easier to notice the lines of the car, than on the other spy photos that had previously been available to us. As previously announced the car will only be slightly changed, and that can be confirmed, by looking at the front side of the chassis and from the tail-lights that look awfully familiar.
What can't be seen by only looking at it, is the expected loss of weight. Chassis, that for the most part, is going to be built from aluminum and carbon fiber will make the car 400-500 pounds lighter. This should have effect on the handling of the car, and more importantly should influence fuel economy. Engine wise new BMW 5-Series will carry BMW's latest generation of turbocharged four-cylinder (B48) and six-cylinder (B58) engines. Not much is known about M edition of new 5-Series, only that is expected to boast 600 hp, and that it will probably be presented few months after the regular model. Official presentation of 2017 BMW 5-Series should be expected at the 2016 Paris Motor Show.
With each passing generation cars become heavier and not as engaging to drive as they used to be and this is exactly what happened with the F10 BMW 5 Series. Unlike the first models of the 5 Series which were light high performance luxury sedans, the current 5 Series is just a luxury vehicle and not that good to drive anymore despite its rear wheel drive chassis. Well, things are about to change with the 2017 BMW 5-Series which will be an all new model based on an entirely new architecture. The new CLAR platform will allow BMW to shed between 200 and 300 pounds of weight with ease and thanks to a more rigid chassis, the car should become quite a bit better to drive than its predecessor.
2017 BMW 5-Series Review
In fact many people expect the 2017 model of the 5 Series to be a return to its roots with a highly specialized chassis that will offer not only a comfortable ride but also an exquisite driving experience. Considering that the new BMW 7 Series which is based on the same platform is a lot better to drive than before, the new 5 Series has all the chances to become great again. Up until a few weeks ago we didn't know too many details about the car. Lot has happened in the past few weeks. Multiple production-ready prototypes have been spied wearing heavy camouflage on them. Even though there are still a few unknown features, some of the car's new design traits can easily be seen through the camouflage.
The weight loss and massive improvement in the structural rigidity of the 2017 BMW 5-Series will be thanks to its chassis which is now going to be made out of aluminum, high strength steel and carbon fiber in key areas. This will basically make BMW 5-Series the first luxury sedan to use carbon fiber in its chassis.
Computer rendering by artists from: caradvice.com.au
Engine and Transmission of 2017 BMW 5-Series
Thanks to the lower weight, the new 5 Series will likely get quite a bit faster than before and the lower weight and new design which will certainly improve aerodynamics will allow it to be more efficient as well. The base engine, at least in Europe, should be a 2 liter turbocharged inline 4 petrol engine that will offer more than 260 horsepower and 250 lb-ft of torque which would be quite a bit more than the corresponding Audi A6. In the US on the other hand the BMW 5 Series will very likely be available with BMW's new 3 liter 6 cylinder petrol engine which will be able to offer between 310 and 450 horsepower and close to 400 lb-ft of torque.
Some markets are also going to receive diesel engines ranging from a small 2 liter unit offering between 160 and 230 horsepower and all the way up to an all new 3 liter turbocharged inline 6 diesel which will benefit from two regular turbochargers and an electric supercharger that should allow the car to offer closer to 400 horsepower and more than 550 lb-ft of torque, basically more than any other diesel in a production car.
Design
The camouflaged model of the 2017 BMW 5-Series also reveals some interesting aspects about its design. Firstly, it doesn't look like an all new model but more like an evolution of the ongoing generation and that's to be expected, especially if we take a look at their other cars. The 5 Series will borrow some design traits from the 7 Series but it will also feature a more athletic look as well. We expected that inside the cabin the car would look a lot like the 7 Series as well but this seems not to be true. In fact BMW will offer the 5 Series with a sportier interior that will feature less buttons than before and a much nicer ambiance which will certainly give it some credit over the rather dull E Class.
BMW 5-Series 2017 Price and Release date
Latest news on new 2017 5-Series BMW are saying that the car has reached final stage of development. Everything is going as planed for German car manufacturing giants from Munich, so the scheduled official presentation should happen by the end of this year. Showroom appearance is expected at the 2017 Detroit Auto Show, where it should clash with it's main competitors seen in Mercedes model E-Class, Jaguar XF and Audi A6 respectably. Starting price for the base model with lowest trim of equipment should be around $52,200 which is about $2000 more comparing to the 2016 year model. Depending on the trim level and available equipment price might rose up to $69.000.
Photo credit to: motorauthority.com