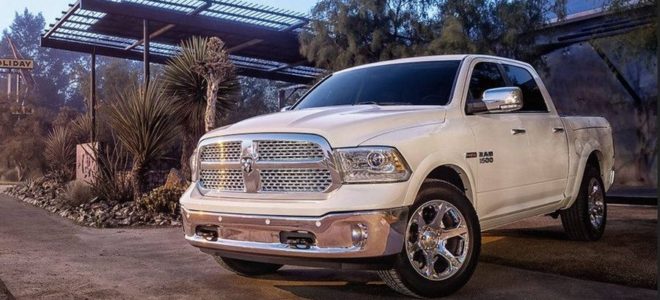 Trough history of pickups, its buyers expected a lot from towing capacity, they wanted large payload, and torque to support the two. Today, the things changed. The truck enthusiasts wish to, and carmakers give them, luxurious and spacey cabins, and the latest available technology. Looking at the most recent spy photos of 2019 Ram 1500, this truck is going to have it all. The infotainment system on Ram's latest installment is going to be FCA's UConnect. It is newest 4.0 package that comes with an inverted LCD screen.
The touchscreen systems that are vertically-oriented are available in some Volvo, Tesla, and Toyota models, but not on any truck. Well, at least not until now. The 2019 Ram 1500 is going to be the first pickup to have this system. The screen is tall, and it has hard buttons on both side. Some of them mimic controls that you already have on the touchscreen.
At the bottom, there is an additional set of buttons, that probably has something to do with the software. At this moment, we can't be sure of their exact function. Also, below the screen, you will find toggle switches which are used to control Ram's air suspension setup manually. In the end, you have two dials, which are there to control audio volume and tuning.
Also, as you can see on the key fob, 2019 Ram 1500 is going to have the buttons for adjusting the trucks ride height. This will be very useful when you need to take the payload, and the rear end needs to be lowered. You will be able to use this control from outside of the vehicle. Stay tuned as more info comes our way before the 2018 debut of this truck.
10/17/2017 Update: Ram's most popular product is coming in a shape of 2019 Ram 1500. It will be redesigned for the following year as you already know. The truck will be a new generation under a code name DT. The debut is scheduled for 2018 NAIAS. The vehicle will have a more modern look as you can see on the latest set of spy photos.
Its trademark cross grille will remain the same, while the headlights will have more square-like shape. The led technology will be applied both upfront and at the back. The hood is a bit bulked up showing the traits of its powertrain. Also, the rest of the body has pronounced design.
On the inside, Ram won't change much with 2019 1500. The large display will be positioned at the top of the central console, while under it there will be familiar rotary dial controllers. The same type of dial will also be used for the transmission. The later one will most likely be an eight-speed automatic. The prototypes have been showed in few shapes through the year. This makes us believe that a Mega Cab option will be available on 2019 MY.
Like we already talked, under the bonnet, you will find a 3.6-liter V-6 and 5.7-liter V-8 powertrains. Also, regardless of FCA's diesel issues, an oil-burner version will be available. Rumors suggest a hybrid and even a performance version of 1500 which would rival F-150 Raptor.The underpinning material for new body-on-frame 2019 Ram 1500 is going to be steel with aluminum parts. The less weight achieved this way and will do wonders for its fuel economy.
Stay tuned as we bring you more information on new 1500.
06/28/2017 UPDATE: If you have read our article, you know that 2019 RAM 1500 is on the way. Today we have latest spy photos of a model which is undergoing a redesign. Hence, the update on our post. The next-gen of this highly popular truck is code-named the DT. The upcoming vehicle will have a debut in the late months of this year or early in 2018. The latter option is more likely because this is one of the best-selling FCA models. The company will like it to stay like that or even to improve. Not to mention that the new Silverado is getting ready and new F-150 is already here. That is why they will try to make 2019 1500 the best they can, and for that you need time.
The primary goal of FCA is to modernize the 1500 truck. They will try to achieve this by improving the front fascia. Don't worry, the trademark grille will remain, probably in the same shape. The starting point is going to be the headlights. On the new model, they will lose some of their height and widths. With a slimmer look and packed with LED tech they ought to leave an impression. The spotted prototype is big in size which is one of the clear signals that the 2019 RAM 1500 will have Mega cab option.
Inside the cabin, you will find a similar layout. The top of the center stack is going to be occupied by a large display touchscreen. The rotary dials will be put under it. Another thing rotary is going to be the transmission, like its the case on the ongoing model.
The gearbox available is going to be an eight-speed automatic. The engines which this transmission command will be a 3.6-liter V-6 and 5.7-liter V-8 like it's the case on the current installments. The FCA company currently has legal issues regarding their diesel powertrains but despite this 2019 1500 will have an oil-powered unit in the future. Just how important is the 1500 truck for this company can be seen trough their plans to create V-8 options with more power (to rival F-150 Raptor) and also a hybrid truck.
2019 RAM 1500 will be underpinned by an all-new body-on-frame platform. The materials used will be mostly light-weight ( panels made of aluminum) in order for the truck to shed some weight. The same platform is going to be under the upcoming Jeep Wagoneer and Grand Wagoneer.
Stay tuned for more news, and read our speculative review below.
04/10/2017 Review: The RAM 1500 has been around for a while at this point and it is the oldest truck in its class. Even though this is the case, it still sells quite well. It is the only half-a-ton truck offering a diesel at this point but this won't last for much longer. In order to remain competitive a new model will eventually have to be released. So far it seems that most rumors point out at the 2019 RAM 1500 as being the next generation truck. Being a new model RAM will have plenty of new features to work with.
For starters, it seems that the new model of the RAM will be based on a new chassis. Like in the case of its rivals, the chassis is likely going to be made mostly out of high strength steel. However, instead of using an all aluminum body, it seems RAM is going for aluminum parts. These will make it easier to repair, and cheaper, while coming with all the advantages.
2019 RAM 1500 Redesign
So far it seems that the cab will be made out of steel while the bed, doors, hood, fenders and possibly roof could be made out of aluminum. Together with the high strength steel chassis, the new RAM might be able to boast beefier axles and components while also weighing slightly less than before. This would be the perfect trade-off. On top of the new construction, new engines, a new look and more than likely a new interior are going to be in store. The price, for a civilian model, is still going to be quite close to $30,000 for a base version. This generation might also include a high performance variant but not much has been said up to this point.
It is quite clear that the 2019 RAM 1500 will look quite a bit differently than what is currently available. Even though RAM still hasn't showcased the model, we were lucky enough to see a leaked image a while back. This showcased the truck's front end which is not what most of us imagined. For starters, the crosshair grille is there to stay and its overall appearance seems to be more of an update than anything else. The truck does seem to get new headlights, inspired by those on the Charger, LED daytime running lights on the grille as well as what seems to be an aluminum protective plate on the bumper.
The front end seems to be more rounded than before as well and the wheel arches seem noticeably wider as well. A higher performance model based on the RAM Rebel is also a real possibility despite not being confirmed. Another interesting fact about the future 2019 RAM 1500 is the addition of a new cab. This has been seen a few times on a test mule and it is noticeably longer than the regular crew-cab model.
2019 RAM 1500 Spy Photos
Interior layout
The test mules also showcased some interior features from the Chrysler Pacifica minivan. Things like the minivan's steering wheel and center infotainment system were definitely inside the truck's test mule. We wouldn't be surprised if RAM decides to keep them but only wearing different badges. Over the older model the new truck will likely feature better materials, more features as well as a vastly superior infotainment system. An automatic trailer-control system and possibly a 360-degree camera system might be added for those needing a reliable tow vehicle.
Under the hood of new RAM 1500
One of RAM's largest shortcomings has to be the lack of a turbocharged gasoline engine. Even though they do have the EcoDiesel, which is great, they can't really offer the fuel efficiency of a turbocharged engine. Things might change for the 2019 RAM 1500. The old 5.7 liter V8 engine might get replaced with a twin-turbo V6 offering a similar amount of power. The 3 liter diesel is here to stay but it might be boosted to over 420 lb-ft of torque and 250 horsepower.
The base 3.6 liter V6 might get a small update in order to deliver little over 310 horsepower and 270 lb-ft of torque. While most others moved to 10 speed transmissions, RAM might stick to their true and tested 8 speed unit. This could be updated with a new software in order to make better use of the revised engines so the overall experience will be seamless.
Release date of 2019 RAM 1500
The test mules that we have on spy photos show 1500 model at early stages of development. The work has just begun, but people from RAM have a clear idea where they want to go. This was confirmed by leaked photos from dealership meeting. The pictures in question depict both ends of the new truck, and we have to say that what we saw is very likable. But, nonetheless, there is still a long way to go until production ready model. With its biggest rivals already having their models ready and set to go or are in closing stages of development RAM won't allow itself the luxury to be left far behind.
Early months of 2018 should be the time when you need to look out for new 1500. Early mans January and the first month of the year means NAIAS. The FCA group confirmed that by the start of the new year they would already have 2019 RAM 1500 on the production line. So, to conclude, in Detroit you will have the production model to be, on stage, while the dealership ready one might see the light of day in Chicago or more likely in NY. The production of the truck will be moved from Warren to the Sterling Heights plant. The pickup will be sold as 2019 MY.
The Truck Rivalry
If you are an American or just live in the States, you know what it means to own a truck. It's a family car; it's a workhorse, some would call it a type of luxury vehicle. This view on the trucks by US customers made the pickup truck market one of the fiercest ones out there. And how it wouldn't be when RAM 1500 has competitors such as Ford F-150, Chevrolet Silverado, GMC Sierra, Nissan Titan, and Toyota Tundra. Interestingly all of these models have recently been introduced in new clothes or are close to finishing the product. This puts additional pressure on RAM engineers, but they will duly deliver. We just have to wait and see.