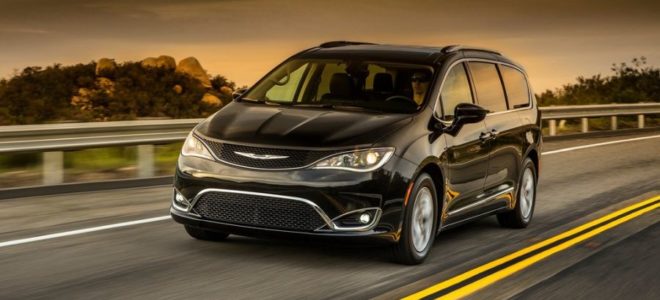 The Pacifica is Chrysler's new minivan which has been released last year as a 2017 model. Despite being new, ,it seems that there are people waiting for an update. Not that long ago rumors about the 2018 Chrysler Pacifica started to spread. Even though these are just rumors, it seems that there are quite a few insiders confirming them. For starters, it seems that the price might not change all that much which is usually the norm with a car this new. However, it is quite unusual for a one year-old model to receive a revision. This update for the 2018 Pacifica is mostly set to make the minivan slightly more competitive. The lower end trim levels are not as good when it comes to the interior materials and on top of that, it might do with better features inside the cabin on the higher end models as well.
2018 Pacifica Chrysler Changes
Back in 2016 the car has been introduced as a complete replacement for the older Town & Country. Unlike its predecessor though, the Pacifica now comes with a more upmarket interior as well as a more futuristic exterior. All of these allowed it to sell nearly 65,000 units in its first year which is quite good considering it was released quite late in showrooms. In order to outsell some of its competitors it seems the update will come with some interesting changes. For starters, the 2018 Chrysler Pacifica will look mostly the same as before. Also, its powertrain will more than likely remain identical to the one in the ongoing version. However, the interior of the minivan as well as some of the inserts inside will change. All of these should allow it to be seen more like a premium minivan and less just like a dull people carrier.
Even though the 200 is no longer in production, most of its design traits have been transferred to the Pacifica. The minivan gets a nearly identical front end with very similar headlights, grille and bumper. The Pacifica also gets an unusual amount of chrome for this class which might be seen as tacky by some. In order to change that, the 2018 Chrysler Pacifica might also get a less ostentatious high end trim level. This could get blacked out details on the outside, blacked out headlights and fog-lights surrounds as well as darker wheels. With the help of a few unique color schemes, the Pacifica might become one of the classiest offerings around. Some also suggested the 2018 Chrysler Pacifica might get full LED headlights and tail lights on the Premium and Platinum trim levels.
Inside the Cabin
Likely one of the largest drawbacks of the current models is the color of its seats. With the exception of the hybrid and Limited models, all versions of the minivan get either black or white seats. Some people do not like black leather seats due to their heat-soaking ability while the white seats are usually not ideal for a minivan used to carry kids around. Also, it may also receive Chrysler new infotainment system which still uses the same software but on a much better hardware than before. This would be able to be updated in the future giving the Pacifica a clear advantage over the competition.
Chrysler Pacifica Hybrid – The Only One in Its Class
The Pacifica is the only hybrid minivan currently on the market and it seems this won't change in the near future. The 2018 Chrysler Pacifica should still come with the same 2 engines as before. The base model will receive the 3.6 liter naturally aspirated V6 with 287 horsepower and 262 lb-ft of torque. Unfortunately the 9 speed automatic will be retained which is not ideal due to the constant gear-changing. This might be addressed by a software update in which case it would make the new Pacifica considerably better to drive. The hybrid will use a similar 3.6 liter V6 but this time running in an Atkinson cycle. With the help of 2 electric motors and a large 16 kWh battery-pack, the hybrid will be able to run up to 33 miles on a single charge. On top of that, it will easily return over 32 average MPG when running on gasoline which is still very good for a combined output of 260 horsepower. The only drawback of the hybrid will remain the price which will still be quite high when compared to the regular 3.6 liter model.
2018 Chrysler Pacifica Release date
In the moment of writing this article, Chrysler didn't disclose anything about the release date of 2018 Pacifica. According to information that is circling the net new Pacifica will be showroomed in September of this year. This would normally be the case with a model that will be transferred from past MY unchanged. But, in the mid-time, some of its rivals have stepped up the game, and Chrysler's minivan could follow suit. The subtle changes that we talked about are imminent but if US company opts for something bigger in order to step some more on rivals toes the release will be postponed. We believe that there are two possible release dates of 2018 Chrysler Pacifica. First one is September, and there we would have a little-changed minivan, and the second one is early 2018, possibly January or February, and there we would have a slightly more upgraded Pacifica. Stay tuned with us as we bring you an exact release date for this model.
The Minivan Rivalry
The minivan segment looks, to an untrained eye, as a peaceful one. This couldn't be further from truth. The market has turned towards crossovers and SUVs there's no doubt about it, but carmakers stay loyal to family cars called minivans. To make this claim more clear to you we have examples of Pacifica's fiercest rivals both of which have introduced new models in last few weeks or are about to present them. The later one is 2018 Toyota Sienna which will debut with a facelift at the 2017 New York Auto Show, and the first one is 2018 Honda Odyssey which had an introduction at 2017 NAIAS. These two are the fiercest rivals in the segment. Other, not less important but less competitive are KIA Sedona, Dodge Grand Caravan, and Nissan Quest.