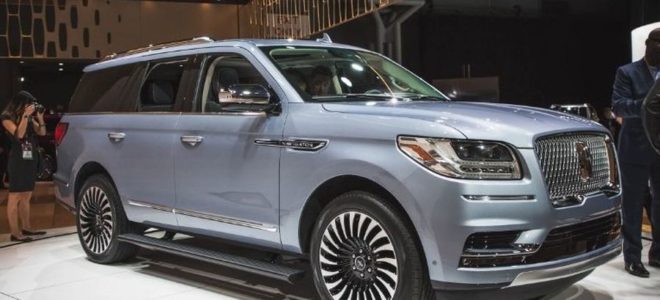 04/13/2017: Most of you don't remember now, but the SUV that launched all that hype about out-of-ordinary large SUV's was actually Lincoln's Navigator. Back in the day, it was one of the most popular vehicles in its class until the moment it was dethroned by Cadillac Escalade. But now, with the release of 2018 Lincoln Navigator they could be back at the top of the summit in the segment they helped create. On another positive side, it could help putting Lincoln brand on a whole new level.
Similar to its less luxury counterpart the 2018 Ford Expedition the new Navigator's focal point is the all-new aluminum chassis. The material of the mold is new, but the body-on-frame architecture will follow the new generation of Navigator SUV. According to sources from US company, the latest installment of this vehicle has lost almost 200 pounds. Despite lowering the overall weight 2018 Navigator is going to weight in excess three ton. Interesting fact tied to its weight loss is that it actually got bigger. Offered in two versions, standard and prolonged L it is larger in both cases.
As you know three years ago in 2014 Dearborn-based company decided to say goodbye to its V-8 engine. In its place, they have installed a turbocharged, direct-injected 3.5-liter V-6. The new powertrain has proved itself valuable, and it's going to be available on 2018 Navigator. Regarding the power output of this unit (it has been slightly revised) the numbers have gone up. From previous 380hp it now has 450 horsepower while in the case of torque it has gone from 460 all up to 500 lb-ft. If you did your homework, you know that these figures are similar to those of Ford F-150 Raptor. In terms of transmission, you have only ten-speed automatic gearbox which transfers power to the rear or all wheels.
From the outside, you will immediately notice that new 2018 Lincoln Navigator didn't stray too far from 2015 Concept. The wheels styled like turbines are there and so is a large chrome grille up front. In the middle section of the grille, there is a large Lincoln badge which glows in the moments when a driver approaches. This small touch was created as a part of a welcoming sequence and is a part of four glowing pieces that also include puddle lights, taillights, and bulbs in the bottom of the front fascia. Talking about lamps, the headlights on 2018 Navigator are sensitive, adaptive and can adjust automatically depending on your speed. On the inside, you will find series of ambient lights separated for each row individually.
Talking about rows, we thought about seats which now (Perfect Position Seats same as in Continental) come with cooling and massage functions. In the second row, you can choose from two options, the first one being a three-seat bench and the second one a two captain's chairs. Don't think that sitting at the back is not fun. New Navigator offers, for the passengers at the rear, a 10-inch screens on the front seat-backs, six USB ports, WiFi connectivity, four 12-volt power sources, an 110-volt AC outlet, 20-speaker Revel II system, and a wireless device charger. As far as the driver is concerned in addition to the excellent driving experience, he will have latest Sync 3 system with Apple CarPlay and Android Auto compatibility, a 12-inch virtual instrument cluster, and a head-display available as an optional feature. Driver assistance consists of 360-degree-view camera, Ford's Trailer Backup Assist, and Adaptive cruise control with stop-and-go capability.
02/17/2017 Review: After being around for a decade, Lincoln finally announced the discontinuation of Navigator's third generation. The fourth model is not out just yet but it is expected in the next few months. The 2018 Lincoln Navigator is going to have little to nothing in common with the ongoing model and that is great. It will feature a brand new chassis, a lot of improvements in terms of design and refinement as well as a new engine. All of these should allow the massive SUV to compete once again with the likes of the Mercedes GLS or the Range Rover.
2018 Lincoln Navigator Price
The ongoing model started at roughly $65,000 and topped out not much higher than $80,000. This made in pale in comparison with the Range Rover or even the Mercedes GLS, both available in trim levels going well past $150,000. This is not going to happen with the new model though. A high ranked Lincoln official stated not that long ago that a $100,000 Navigator should not be out of the question. They want to become a true luxury car manufacturer and the first step is to offer the best they can. This will only be possible by upping the prices of their cars and that is not entirely a bad thing. The upcoming 2018 Lincoln Navigator is expected to be more luxurious, better to drive and quite a bit faster than before.
Release date of 2018 Lincoln Navigator
If we take into account the similarity between Navigator and the Expedition we can also assume that under the camouflage of what we presumed was Ford's Expedition test mule was Navigator in disguise. With Expedition being presented a while ago the work on new Lincolns luxury SUV is probably near the end. Previously we believed that it would be shown at the 2017 NAIAS, but that wasn't the case. We predict that its introduction will follow the one of the Expedition so the wait should be nearly over. Being a large eight-seated SUV new Navigator will probably have biggest sales in the States, and that is why we believe that it will be presented at one of the North American Auto shows. One of the major shows coming our way is 2017 New York International Auto Show which starts on April 14th. Expect to see 2018 Navigator showing off in Big Apple.
Lincoln Navigator Redesign
The ongoing model looked a bit too much like the Expedition which shared the same chassis and engine. This is not going to be the case with the 2018 car though. We already seen the prototypes for the Expedition and that car has very little in common with the older model. The prototype for the new Navigator was quite heavily camouflaged but it seems it does borrow quite a bit from the concept they shown a while back. This is great because that concept was something unique and we do hope it will take as much as possible from it. The massive rectangular front grille, the swept back headlights, the massive amounts of chrome and the car's low but wide stance should all be seen on the production 2018 Lincoln Navigator. The production model will feature four regular doors and it will do without those steps. However, most of the concept is quite close to what Lincoln can make today.
So far the Navigator was nothing more than just a pumped up F-150. This is no longer going to be the case with the new model though. The concept featured a brand new design which is actually expected on the upcoming production version as well. The car is expected to be available in 4, 5, 6 or 7 seats configurations. The most expensive is expected to be the 4-seats model which has been rumored to cost well past $100,000. This would give Lincoln an answer for the Bentayga or the upcoming Q8 and it would become the first American manufacturer to offer such a car. We do hope Lincoln is not going to use the plastics found in their top end Continental which doesn't really feel as expensive as it should.
Engine Options
The 2018 Lincoln Navigator is likely going to stick with a 3.5 liter twin-turbocharged V6. Some rumors suggested that a 2.7 or 3 liter engine is a real possibility, especially with a weight loss of nearly 1,000 pounds. While this would be great for fuel economy, it wouldn't really fit the car. Ford's new 3.5 liter engine on the other hand would be perfect. This currently makes between 365 and 450 horsepower and north of 450 lb-ft of torque. The engine is known to be quite reliable and it does provide a good amount of torque in the low range. This would make the Navigator a breeze to drive. Unfortunately, it still is expected to get rear wheel drive as standard with the all wheel drive system being an option. Luckily though, the car will more than likely get to use Ford' s brand new 10 speed automatic as standard.