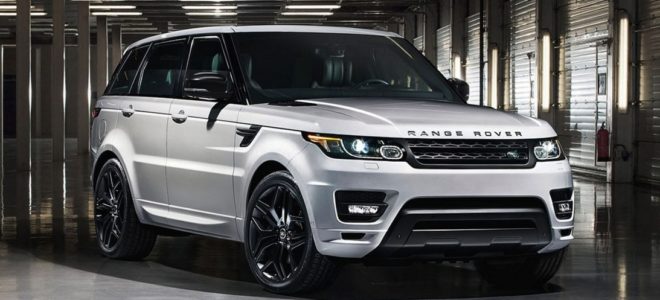 The Land Rover company and their top dog in terrain conquering – the Range Rover has always represented the benchmark when it comes to the true off-road capabilities. We're not underestimating the competition, but we have to state that the Range Rover is the dream car of any off-road enthusiast, but, at the same time, packing sublime luxury, which is something most heavy-duty off-roaders lack. The new 2017 Land Rover Range Rover will feature a subtle facelift when it comes to the exterior and we might expect some modifications in terms of engine power increase. Let's look at what new Range Rover has to offer.
2017 Land Rover Range Rover Powertrain, Performance
The engine lineup isn't like to change, but each engine might get a power output increase, as mention at the beginning. The new 2017 Land Rover Range Rover, just like the previous model, will feature three engine options to choose from. Starting with the weaker petrol, although it is far from weak, it will be a 3.0-liter V6 engine, capable of delivering 340 horsepower, with a peak torque output of 332 pounds-feet. The engine is able to accelerate the 2-ton vehicle from 0 to 60 in just under 7 seconds, which is a pretty admirable result.
The top speed of this beast is set at 130 mph. The torque is transmitted to the wheels via an 8-speed automatic transmission system, that is likely going to be borrowed from the Jaguar F-Type SVR, that will allow for faster shift times. The second, more powerful option will include a 5.0-liter supercharged V8, also likely to be borrowed from the F-Type Jag. The engine will pack 25 horses more than the ongoing model, for a total of 567 horsepower, with a maximum torque output of 461 pounds-feet of torque. The acceleration from this engine is just mind blowing, given the fact that it is, in fact, a full-sized SUV. From 0 to 60, this monster can go in just 5 seconds, with a top speed rated at 140 mph.
Fuel Economy
As far as the fuel economy goes, the 3.0-liter V6 gives 17 mpg in the city, 22 mpg on the highway and 19 mpg combined. The V8 gives 14 mpg in the city, 19 mpg on the highway and 16 mpg combined. The third engine will be a 3.0-liter turbocharged diesel engine, also known as the TD6. The engine is rated at 254 horsepower and very high torque output of 443 pounds-feet. EPA estimated fuel economy of this engine is 22 mpg in the city, 29 mpg on the highway, which gives a combined mpg of 25.
Addition of Diesel Engine
The only real addition to Range Rover engine lineup is, and that comes as surprise, 2.0-l Ingenium diesel engine. This comes as surprise, because this will be first time ever that Land Rover includes four-cylinder engine, that is by the way a diesel in a full-size SUV. This engine is able to produce 240 hp (179 kW) and 500 Nm (369 lb-ft) of torque, which is terms of fuel consumption translates as consumption of 45.6 mpg (5.2 l/100 km).
Exterior Change
The changes in the exterior are very subtle and are mostly located on the front fascia. The new Range Rover will ditch the old three-bar grill and replace it with a multi-strip honeycomb arrangement. We're not sure that this design is a better fit to the overall look, but we'll give it a chance. Also, the new Rover will get an updated front bumper with redesign side air intakes. Headlights, as well as taillights and overall rear side will remain (almost) the same, but some of the parts of the car are still hidden beneath the wrappers.
Interior and Features
Bursting with luxury elements, the new Range Rover won't lack any of the modern features. The cabin is spacious, offering enough head and leg room for both driver and passengers. Leather upholstery, large steering wheel with integrated buttons for easy access and minimalistic design of the dashboard and central console give the impression of a car made for the future. The base model will include features such as rearview camera, keyless entry and ignition, heated front seats, front and rear parking cameras, 8-inch LCD display with infotainment system and much more. These are just some of the standard features that were available on the previous models.
New Features
Interior and equipment are parts of new Range Rover Sport that were vastly improved. The list of things that were improved and added to new Range Rover is very long. It starts with technology that can be called 'drivers assistance', that improves handling and sense of driving all round. Advanced Tow Assist is entirely new feature that improves cars towing ability, in a sense that makes steering the car backwards while towing much easier.
Feature that is available in many other car models, and from this year is standard, in new Range Rover is Speed Limiter that reads signs that show speed limit and accordingly adjusts the speed of the vehicle. All new Driver Condition Monitor is a gadget that is part of cars computer system that detects, and warns the driver, if he feels fatigued or tired. Last but not least addition in a new 2017 Land Rover Range Rover is Low Traction Launch, that enables the car to release it self from standing position while is on low-grip surfaces such are: wet grass, ice or mud.
Pricing and Release Date
The starting price for the base model of 2017 Land Rover Range Rover will be around $65,650, and as can be expected it will only rise for the upper trim models. The release date for this model is scheduled for the beginning of 2017, but according to sources from Land Rover official presentation will happen before the end of current year. This signals us, that we might even see new Range Rover on the streets during 2016.
Here is a video, of previous, Range Rover ability: