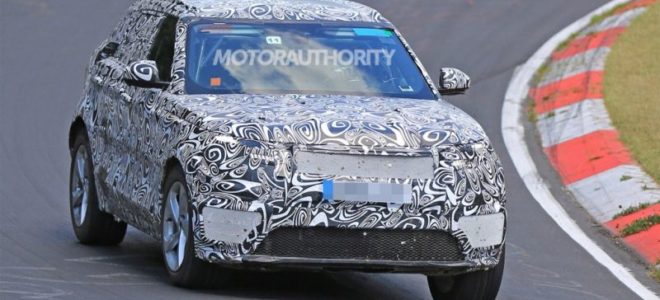 There is no denial about the fact crossovers are currently the best selling cars out there. Combined they sell more than any other type of car on the market. Even though most of them are useless in off-road, people prefer them due to the added safety and better all around visibility. Most manufacturers already have their rosters done but Land Rover is not one of these manufacturers. Even though they have plenty of cars ranging from the Discovery Sport all the way up to the Range Rover. So far they have been lacking a true sporty crossover to compete with the X6. Well, this is about to change because not that long ago the 2018 Range Rover Sport Coupe has been spied. The car will directly compete with the BMW X6 and the Mercedes GLE and it is expected to take a completely different route than the two.
Unlike what most of us thought, the Range Rover Sport Coupe won't use the same chassis as the regular Sport. Instead, it will actually be based on the same platform that underpins the Jaguar F-Pace. This makes extensive use of aluminum and composites, so it is noticeably lighter than the Range Rover Sport. In fact the Coupe version is expected to be with up to 1,000 pounds lighter which would definitely improve the way it drives. There are some drawbacks with this platform though. It seems that the car will be around 185 inches in length which is 7 inches less than both the X6 and GLE. It also seems to be narrower and shorter which could both become serious issues in the future.
Under the hood
The 2018 Range Rover Sport Coupe will more than likely feature Jaguar's current lineup of engines. This has been in use in other Land Rover vehicles for some time now. Europe is the only market expected to receive a 2 liter turbocharged inline 4 Ingenium unit. This could offer around 250 horsepower and 270 lb-ft of torque, enough for most people and definitely enough for those buying the car strictly for the way it looks. A 3 liter supercharged V6 engine is also a real possibility. This is currently available in other cars where it makes 340 to 380 horsepower and 332 lb-ft of torque. A 3 liter Ford-derived diesel with up to 260 horsepower is also a real possibility. Unfortunately none of these engines is really enough to face the competition. Like with most other cars from Land Rover, the Sport Coupe will come with all wheel drive as standard. Also, it should get an 8 speed automatic as its sole transmission.
A higher performance version?
Both Mercedes and BMW have tremendously powerful versions of their cars. It would be a mistake for the English company not to release such a model. Because of that, we expect the 2018 Range Rover Sport Coupe to feature something rather unique. It seems that the car may receive a new generation 3 liter Ingenium engine with north of 400 horsepower. This has been rumored for some time and it is expected to debut in the near future. This engine would eventually replace the aging 3 liter gas and diesel Ford-derived engines while offering better fuel efficiency and considerably more power. Unfortunately Jaguar hasn't actually released much information on this engine, so things might change in the future.
Design Changes on Range Rover's 2018 Sport Coupe
The 2018 Range Rover Sport Coupe seems to go on a different route than most of its rivals. Instead of offering a coupe-like design, similar to the X6, Range Rover is going for something a bit more subtle. The Sport Coupe seems to feature a very similar front end to the Evoque. However, the profile as well as the back of the car seem to be all new. The rear window has a noticeable rake to it while on the profile we can see a set of really muscular lines. The end result should be something more similar to Porsche's Macan rather than BMW's X6. The interior is more than likely going to be heavily influenced by the larger models such as the Sport or the regular full blown Range Rover.
2018 Range Rover Sport Coupe Release date
Despite the fact that that Coventry-based company is working some time now on its Sports Coupe SUV we won't' be seeing their latest installment for some time now. From the information that can be gathered across the Internet release of 2018 Range Rover Sport Coupe before the end of 2017 would be considered a surprise. The start of 2018 seems more likely than late 2017, and at this point as a more reasonable date. The thing that we can look forward to is its saloon presentation which could happen during this year. If we would have to guess when will it happen then it's going down at 2017 Frankfurt Motor Show.
Range Rover Sport Coupe Price
With this car in many segments trying to mimic the X6 one of these things is going top be the price. In the same manner, in which X6 is at the summit of BMW's SUV lineup, Sport Coupe is going to have the highest rank in Range Rover's. With it being positioned above Range Rover Sport it's easy to determine that the price of 2018 Range Rover Sport Coupe is going to start at $60,000 mark. The higher trims and suspected performance edition of Sports Coupe could go well above $100,000.