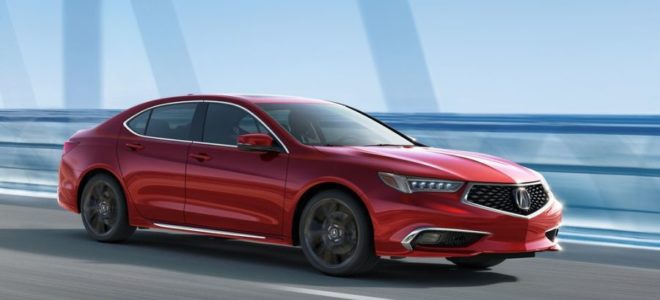 04/17/2017 UPDATE: It's been two years since Acura said goodbye to the TSX and TL and replaced them both with TLX. In the beginning, this model was selling well but then came the global drop in sedans popularity which affected this vehicle too. That's why the upper-level chiefs of Japanese company decided that the time is about right for a slight refresh, and that is why we today have updated 2018 Acura TLX on our hands. With this facelift, head-honchos of Honda's luxury brand are hoping to regain some of the sales lost in the previous period.
Exterior Changes – 2018 Acura TLX
There is one thing that every carmaker changes with mid-cycle refresh and that is the grille. The case is the same with 2018 TLX. New TLX now has a pentagonal grille similar to the one that debuted on ongoing MDX crossover. Interestingly both of these models debuted in New York. These two cars are the first one from Acura family to receive the grille shaped like this. First hints at new design from this manufacturer came from Acura Precision Concept. The change was one of those that were necessary because the chrome grille from every other Acura model in recent years was long outdated. The front end restyle is completed with a new bumper, slightly different hood, and changed fenders. As for the upper-level V-6 model it got a revised rear bumper which now has integrated diffuser and rectangular exhaust pipes.
Also, you will now have an A-Specs package available that comes with a 206 horsepower 2.4-liter four-cylinder or with even more powerful 3.5-liter V-6 with 290hp. The following unit replaces the previous version of top trim TLX known as the GT package which is available on ongoing models. In addition to the V-6 mentioned above, with this pack, you also get dark-colored 19-inch wheels pitch-dark black rear bumper and aggressively expressed front fascia, round exhaust pipes and fog lights of the same shape. With this package, on the inside, you can choose from an either black or red leather interior, you get a sporty steering wheel, seats adjusted for aggressive driving, aluminum details, red ambient lights, front seats with ventilation, and a wireless charging pad. If you opt for the A-Spec package, you will also get firmer suspension kit, with springs more stiff and a tweaked rear anti-roll bar.
2018 TLX Acura Interior and Safety
The A-Specs is the only mechanical novelty in the lineup, and the rest of the options are transferred from existing models. In terms of transmission, the four-cylinder unit is mated to an eight-speed dual-clutch automatic transmission, while the V-6 mill has a regular nine-speed gearbox. The 2018 Acura TLX with FWD has a four-wheel steering which in return enhances its agility. If you opt for the V-6 version, you will get a torque vectoring all-wheel drive which now comes without any additional cost like it was the case with previous models when it was available only on Technology and Advanced packages.
But worry not, if the package of your choice includes one of those two you will get quite a bit of additional equipment. With Technology Package you will get new seats that come wit color-contrasting accents and a power-button cushion extension. At the same time, Advance Package brings trapezoidal LED fog lamps, 360-degree-view camera, a wireless charging pad, a heated steering wheel, heated rear seats, white ambient lighting, power-folding mirrors, and a decklid spoiler.
The thing in common with all of the models of 2018 Acura TLX is the refreshed and improved infotainment system. The system in question consists of two screens, which was not so practical before, but people from Japanese company now claim that it has more understandable controls, better responsiveness, and it is compatible with Apple CarPlay and Android Auto. From safety features on 2018 TLX, you will find forward-collision warning, automated emergency braking, adaptive cruise control, lane-keeping assist, and a low-speed follow feature. The later, when used, brings a small portion of autonomous driving on the table.
2018 Acura TLX Release date and Price
As far as the price is concerned the official figures haven't been stated as of yet. Most likely the price will go a little up, but it won't go far away from current $32,950 for an entry level model. If you are interested in official release date (the New York presentation was just a showing off), you will have to wait for June. Worry not, the summer is just behind the corner.
04/06/2017 Review: The TLX is an entry-level luxury car based on the Honda Accord. Despite sharing the same platform as the Honda, it has a unique running gear, different engines as well as a completely different exterior and interior. The end result is one of the more comfortable and quiet cars to drive in its class. The downside has to be the uninspiring driving characteristics which do let it down, even when compared to the Accord. Also, the interior of the TLX is not exactly on par with its competitors and the Honda-inherited infotainment system is definitely the worst out there. Even though up to this point it was nothing but a rumor, a while back we managed to see the first glimpse of the upcoming 2018 Acura TLX and the future definitely looks promising. The car's exterior seems to have changed quite a bit when compared to the one before it. Even though this is still not clear, its interior is also expected to be new.
2018 Acura TLX Specs
If Acura manages to solve the issues with the running gear then the TLX will become a worthy offering in its class. While this model will be sold for at least a couple of years, its future is still uncertain, especially now when Honda moved the Accord to the new Civic's platform. With the 2018 TLX we should also see at least a new trim level. The name for this is still unknown but it is quite clear that the car's exterior is sportier than before. The price will likely increase as well. This has been the trend for the past few years, so expect a new base price of more than $33,000 with the top end model going for well past $46,000.
So far it seems that the 2018 Acura TLX will boast roughly the same engines as before. The base model will get to use a 2.4 liter naturally aspirated inline 4. This K24 mill will provide roughly 206 horsepower and 182 lb-ft of torque which is in the lower range of its class. However, thanks to being a naturally aspirated engine, the 2.4 liter unit is one of the best when it comes to sub-200 horsepower engines due to its immediate response. Helping it deliver its best, an 8 speed dual-clutch automatic will drive the front wheels. Unlike most cars at this price point, the TLX will get all-wheel steer as standard with the base engine which is quite impressive. Further up the range we should see the 3.5 liter naturally aspirated V6 which is currently good for 290 horsepower and 267 lb-ft of torque. This will drive either the front or all four wheels via a 9 speed automatic. This could actually be replaced by Honda's new 10 speed automatic gearbox. The great all wheel steer won't be available but instead Acura will provide a torque vectoring system which should handle things nicely.
The Running Gear of new TLX
We did say that the car's driving characteristics were not exactly class winning. The suspension system was a bit too soft and this might change for this new model. Even though the base car might remain the same, the sporty version will definitely change. For starters we expect new shocks and springs, possibly a lower ground clearance and larger, and wider, wheels. The end result should be a true back-to-basics sports sedan with all the benefits of also providing plenty of luxury features.
2018 Acura TLX Redesign – Interior and Exterior
So far the interior of the 2018 Acura TLX has been kept under wraps, so we can't really tell how it will look. We do know however that they are more than likely going to ditch the two-screens infotainment system which has been voted as one of the worst on the market. In its place we should see Honda's brand new unit which is a definite improvement. Its exterior on the other hand suffered quite a few upgrades, all of which make it seem a lot beefier than before. We can safely say this because the car was seen without any type of camouflage a few months back. The front end seems to borrow from Acura's newer models with the pentagonal grille. Also, all LED headlights seem to be standard. The cars seen testing were definitely the sports versions because all of them had all new front and rear bumpers and all-black accents all around.
2018 TLX Acura Release date
The official release date of 2018 Acura TLX is scheduled for a time later this year, but the first presentation will happen in just a few days. Acura teased us a few weeks ago with a picture of the front end of the model while the spy photos were circling the net for a few months back. Japanese manufacturer confirmed that first showcasing will happen on 2017 New York International Auto Show, and as far is the TLX with stretched wheelbase concerned it will be presented at Shanghai Auto Show. The model will come as an updated version of the previous model, and the differences are going to include series of exterior changes and addition of various tech features that weren't available before. That is the main reason for why are we eagerly expecting for first photos that will come to us from Big Apple.
Competitors
The popularity of mid-size sedans is in decline, but most of the manufacturer are still dedicated to improving their models. The TLX which was introduced in 2015 is already under the knife of its designers which shows that Japanese company is more than ready to develop its model further and to make it as competitive as they can. Regarding competition new TLX will go, same as before, against the likes of Audi A4, 2019 Mercedes-Benz C-Class, Alfa Romeo Giulia, BMW 3-Series, BMW 4-Series Gran Coupe, Jaguar XE, and Infiniti Q50.