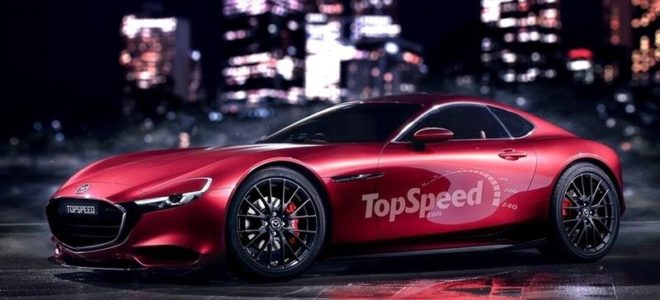 Everyone thought that the Wankel engine was dead. This type of internal combustion engine has a few problems such as the Apex seals, a high oil consumption and really bad emissions. Because of that the only manufacturer that made one was Mazda which offered one in the RX-8 up until 2012 when it was discontinued for good. However, it seems that the engine is not dead and it might come back to life with the 2018 Mazda RX-7, the car everyone is waiting for. The RX-7 has been used in the past for two-door, two-seats sports cars and these are now among some of the most desirable Japanese cars ever made.
Is it real?
Well, not that long ago the RX-Vision concept was released and together with it, Mazda said that a production car might be in store. The rumored RX-7 would be loosely based on this concept but it would use the modular platform found in the MX-5. Expect it to be longer, wider and likely quite similar in height to the MX-5. This will make the RX-7 have pretty much the perfect proportions for a true sports car. There is still no official information on the release date or price.
However, it seems that Mazda wants to compete with the upcoming Supra, which means that they may price the RX-7 between $40,000 and $50,000. In this price range there are competitors like the Cayman, the upcoming Z5 and a lot of other interesting cars, so it remains to be seen how good the RX-7 will be. The release date will most likely be set for the mid of 2018.
The selling point
The 2018 Mazda RX-7 will definitely feature a Wankel rotary engine which means it will be the only new car to have one. This will basically assure that Mazda will sell plenty of them just because of that. So far they haven't said much about the engine in terms of specs. However, Mazda did say that the new rotary will be more efficient, more powerful and it will be able to meet all the emission's regulations. While some suggested that a hybrid powertrain would be used, Mazda dismissed these rumors.
Instead, the engine will most likely be a twin-rotor 1.6 liter petrol engine sporting turbocharging. The end result should be around 400 horsepower and over 300 lb-ft of torque which is very impressive for this size. Also, some of the usual problems will be gone such as the Apex seals or the high fuel consumption. Mazda did say that the engine will also be considerably more efficient than what the RX-8 had. A six speed manual gearbox, rear wheel drive and a mechanical LSD are expected on the base model. An automatic should also be an option.
2018 Mazda RX-7 – How it will look?
Some suggested that the 2018 Mazda RX-7 would be part of the Mazda 6 range as the coupe version. However, while this would make sense, this is highly unlikely considering that the 6 is front wheel drive. Instead, the RX-7 will most likely get a design inspired by that of the Vision concept car. Expect it to have a long hood, a short rear end as well as a really low roof-line. Unlike what some suggested, it will remain a two-door coupe. A convertible is highly unlikely at this point which is fine considering the target market.
We don't expect too much from the RX-7 in terms of interior. Like with the original, a really minimalistic look is to be expected. This is pretty much the norm these days for any true sports car and it will likely not change for the near future. Two seats will be all it has to offer but it should offer a low and centered driving position which is to be desired from a car in this class.
Video of Mazda RX Vision Concept: