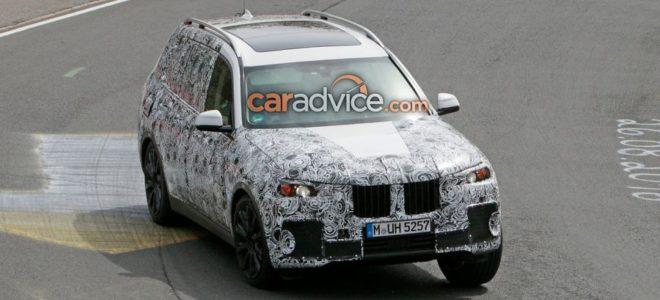 A few months ago the German manufacturer showcased the concept of the upcoming 2019 BMW X7 SUV. The vehicle showed at Frankfurt Motor Show give as an idea just how the forthcoming BMW's flagship is going to look. But, from the latest spy photos, we can see that Munich-based car giant is continuing work on this SUV. So, the design we saw a few months back might not be its final look.
The latest testings are being conducted in California, United States. The 2019 X7 is still covered in heavy camouflage, and what is strange, is not wearing its production headlights. We say that that's strange because on an earlier set of spy photos we had it had been wearing lights that looked production ready.
Similarly to 5-Series, and 7-Series it is going to be built on all-new CLAR platform which will also underpin upcoming Rolls-Royce Phantom and Cullinan. Under the hood, the powertrain used is going to be the same one used on BMW 7-Series. This means that new 2019 X7 is going to feature six-cylinder as the base option, turbocharged four-cylinder for plug-in hybrid and V-8 as mid-range options, and powerful V12 at the summit.
The main reason why the new X7 was spotted in the US is that the final product will be assembled on US soil right here in Spartanburg, South Carolina where BMW has a facility. The production will kick off in mid-2018 while the sales will start late on, during the same year.
The base version will exit the plant first, and it will be a standard 7-seat variant. After that, you will have a more luxurious two-row option whose price will enter the six figures region. We are not sure of the top end models of 2019 BMW X7 because there are rumors that BMW is going to push the ceiling even higher whit an X8 model.
06/26/2017 UPDATE: There wasn't too many news about 2019 BMW X7 in recent times. The Munich car giant is currently working on a few projects but the only one kept in secrecy is the X7 flagship. Now, the vehicle was spotted on Nurburgring. Also, according to sources, the SUV will be previewed on 2017 Frankfurt Motor Show. Most likely in concept form, but nonetheless it would be good to see this car. The actual 2019 X7 will be showcased in one year period.
The reason for keeping X7 a secret probably lies in the fact that there is still time for it to be completed. The vehicle in BMW's focus at the moment is the X2 compact crossover. In addition to them working on that car, their main competitor Audi is not rushing the Q8. This leaves enough time for them to take it easy with X7. The plan is to launch it in the US at the beginning of 2019.
2019 X7 BMW will be the biggest model in the Bavarian lineup. Also, it will be the first from this company that will have three-row seats. The accent will be on the practicality of this vehicle because BMW already has enough high-on-style SUVs.
The engines will vary from a 740e unit that is a symbiosis of a 2.0-liter TwinPower Turbo (255 hp) and an eDrive electric motor (111 hp). With joint efforts, they produce 322 horsepower. This combo is intended for the Chinese market.
The US spec vehicles will have more power to them. The first option is the 3.0-liter inline-6 (xDrive40i) and a 4.4-liter twin-turbo V8 that has 450 hp. The 3.0-liter mill will come in three different variations. Those include 30d with one turbocharger, 40d with two, and 50d with four. The same variants are available on the ongoing 7-Series.
05/29/2017 Review: More than a decade ago BMW started the luxury crossover craze with their X5. This offered the same level of performance as an executive sedan while also offering the benefits of the SUV body. However, even though they started it, BMW didn't really went ahead and release an entire range of cars up until recently. The last one to join their ranks is going to be the 2019 BMW X7, their brand new flagship crossover which is meant to offer the same level of features and comfort as their 7 Series.
Just like the sedan, the X7 is going to be based on their brand new CLAR architecture. This means it will be mostly built out of aluminum with some carbon fiber inserts. The latter will add to its structural rigidity without adding too much weight. The end result should be one of the most comfortable rides on the market.
The 2019 X7 will be wider, taller and longer than the smaller X5. On top of that it will also boast a considerably longer wheelbase. The latter is needed because the X7 is also expected to be offered in a 7-seats version. This would be the first 7-seats crossover in BMW lineup but we do hope they will get it right the first time. Because it will be considerably larger than their other crossovers, the X7 is also going to be quite a bit heavier despite having an aluminum construction.
Because of that it seems that the car will come as standard with an air-ride system. This will not only provide a self-leveling feature but it will also give it complete control over its body. The end result should be a comfortable yet composed ride which will also mean a great driving experience, something which is increasingly rare these days.
Exterior design of new X7
Even though the 2019 BMW X7 is still under development and the German manufacturer refused to offer any details, the car has been spied testing wearing heavy camouflage. The best part about this camouflaged model is the fact that it looked pretty much ready for production. Unlike most early renders, it seems the car will boast a massive kidney-grille in the front, similar headlights to those found on the 7-Series as well as a new bumper design never seen before.
The windshield and front doors seem to be very similar to those on the X5 so we wouldn't be surprised if they are in fact the same. The car is quite long but the roof has a nice arch to it with the rear corner-windows being quite small and making it look a lot shorter than it really is. In the back it seems the car will boast thick D-pillars which likely suggests the car won't offer a stellar experience in the 3rd row of seats.
Inside the cabin
It is quite clear at this point that the 2019 BMW X7 will offer more room than the equivalent X5 on the front and middle seats. The rearmost seats on the other hand will be a different story. It seems that the Munich-based company will offer less space than expected in order to keep the car's proportions unchanged. They also talked a while ago about a 4-seats model with individual bucket seats which would likely become its top end offering. With the 7-seats up the X7 is expected to have very little trunk space available, especially since it doesn't seem as big as the early rumors reported.
Under the hood – BMW X7 Specs
Unlike the sedan, the 2019 BMW X7 will more than likely come as standard with a 3.0 liter turbocharged inline 6 engine. This should offer right around 322 horsepower and 332 lb-ft of torque. A more powerful 4.4 liter twin-turbo V8 offering north of 449 horsepower and 479 lb-ft of torque is also a real possibility. These are expected to be the only offerings for the US market. In Europe the car may also receive a larger 6.6 liter twin-turbo V112 with as much as 601 horsepower and 590 lb-ft of torque. All cars will come equipped with an 8 speed automatic and BMW's xDrive all wheel drive system. A set of diesel engines ranging from 261 all the way up to 394 horsepower is also going to be available in select markets around the World.
2019 BMW X7 Price & Release date
At first, it was estimated that new X7 is going arrive early this year. Geneva Auto Show was the targeted location. Clearly, now that almost half of 2017 is behind us, together with Swiss biggest auto show, we can say that those estimations were wrong. The production of new X7 was pushed back, and as things stand now, we will be seeing it later this year. Now, the sources claim that 2019 BMW X7 is going to take a bow at Frankfurt Motor Show in September.
This sounds reasonable because of German roots of this SUV. Consequently, this means that production is going to start in late 2017 or early 2018. As one thing leads to another, this means that the sales will start in spring or summer of following year. That is why BMW is going to sell this model as 2019 MY.
When German automaker announced that X7 is coming our way they didn't disclose too much. It was known that it was going to be BMW's biggest SUV, that it's going to have seven seats and that it will be super-luxury. Additionally, they announced at what models it will be aimed at. Range Rover, Bentley Bentayga, and upcoming Rolls-Royce Cullinan were in the mix. When you walk in a company like this, a hefty price tag is something that comes naturally. That's why new X7 is going to cost from $70,000 for entry models all up to $125,000 for top-tier fully loaded version.