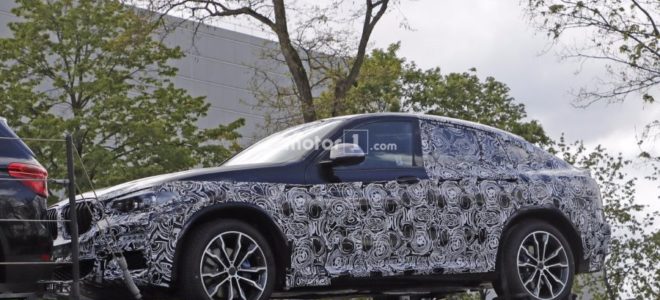 06/19/2017 UPDATE: One of the car market segments which is currently expanding is the SUV-coupe segment. As such, the news of new crossover-coupes are just popping out. One of those companies that created the trend is BMW. So, it comes as no surprise that we are already writing an update on their 2019 BMW X4 SUV-coupe. This segment is actually so harsh that just after three years Munich giant is launching a new generation of X4. The prototype spotted this time around seems to be sport version the M40i. Another option is that it could be a vehicle from a lower lineup with an M package. The large exhaust pipes at the back suggest that it's probably an M version.
If you look at the rear end of 2019 X4, you could be mistaken that the taillights belong to GLC Mercedes. The assumption would, of course, be wrong because BMW was swimming in SUV-coupe sea long before Benz jumped in. The X4 nameplate was one of the pioneers of this segment.
As for the power under the hood, there will be a difference between regular and X4 M. The latter one will be the range-topping with an output of 500 horsepower. This power will come from a six-cylinder biturbo engine. Despite this sounding amazing, the M version will arrive in 2019 a full year after the regular installment. Now, talking about standard one, it will drain strength from a single-turbo engine which will come with 355 horsepower. The same output figures are available on the ongoing model. The Bavarian company thinks that this is enough to rival GLC 43 and SQ5.
According to bmwblog.com who always has best insights into the situation in BMW, it is possible that M40i comes with 360hp in BMW X3. This would be an upgrade on the current version. It would be aided by an M40d that has 320 hp. X3 will also come with M Performance Package. So, we will wait for the release of X3 later this month and then we will know more details about 2019 BMW X4.
05/24/2017 Review: So far BMW has been following a 7-year production plan with all of their cars. However, they are about to break this cycle with the upcoming 2019 BMW X4. Not that long ago it has been confirmed that the second generation of the X4, codenamed G02, has been spied wearing heavy camouflage. However, the changes are not as big as we would have hoped. Instead, the new X4, despite being a new model, seem a lot more like an updated version of the current car.
The design is similar while most rumors also suggest the interior won't be all that different either. However, the car is likely going to receive more engine choices and it might get a brand new running gear as well. These alone should be worth the wait especially since they will solve most of the car's original problems.
The 2019 X4 is going to be based on BMW's new CLAR architecture which has been first seen on the new 7 Series. This uses an all new aluminum spaceframe while also allowing BMW to reinforce key areas of the body with carbon composites. This means that the weight drops over its predecessor while its structural rigidity increases by a considerable margin. Considering the outgoing X4 lacks the great driving dynamics of a BMW, this new platform should allow it to shine.
With the new chassis the car is also expected to get an all new running gear. It seems that the suspension components will mostly be made out of aluminum in order to decrease the unsprung weight. With the help of a new steering rack the 2019 BMW X4 should become what it was always supposed to be.
2019 BMW X4 Exterior Design
We reported not that long ago that the 2019 X4 will be very similar to its predecessor and so far it seems that this is true. The camouflaged prototype seen not that long ago looks to be mostly identical to the ongoing model. The wheel arches, overall roof-line, the front fenders, hood and the front windows are identical to its predecessor. However, the rear windows including the rear windshield are new.
These have likely been modified in order to improve the view out while maintaining the coupe-look. The rear of the car also boasts a new roof-spoiler, a subtle rear trunk-mounted wing, new tail lights and a new bumper with rectangular exhausts. In the front it seems the car will receive a larger kidney-grille as well as 7 Series-inspired headlights. These changes should allow the X4 to shine.
2019 BMW X4 Interior
Even though there is still little information about the interior of the 2019 BMW X4, it is safe to assume it will share most of its cabin with the upcoming 3 Series. Expect a more minimalist-looking dashboard with a center-mounted screen and less buttons than before. The car is likely going to receive a fully digital instrument cluster, slightly better materials on the dashboard and possibly new rear seats. The latter has been rumored for a while and the change of its rear windows could mean just that. Some also suggested BMW ditched the 5-seats layout altogether in order to go for 4 individual seats which would certainly make it quite a bit more premium-feeling than before.
2019 BMW X4 Specs
The base version of the 2019 BMW X4 will likely carry over the old 2.0 liter turbocharged inline 4 gas engine. This made between 181 and 242 horsepower and it might receive a small bump to get it closer to 250 horsepower. The 3.0 liter turbocharged inline 6 gas engine is also likely going to stay. The engine will likely make anything between 310 and 370 horsepower for the top end M40i version. A set of diesel engines offering between 190 and over 310 horsepower should also be available.
With this generation it seems BMW will release a new trim level with the M40d. This is expected to boast north of 340 horsepower and 500 lb-ft of torque. A high performance X4 M is also a real possibility. This might get the same engine as the M3 which is known to make in excess of 450 horsepower. A 6 speed manual is unlikely so most, if not all, models will come equipped with an 8 speed automatic and all wheel drive as standard.
2019 BMW X4 Release date & Price
Taking into account that Munich-based company is currently working on completing the work on BMW X3 the introduction of new X4 is just going to have to wait. It is not a surprise that X3 has the priority because current X4 is built on its architecture. This is going to change for the upcoming model, but nonetheless, the release of this crossover is not scheduled for this year.
The possibility is high that a production near model might be seen during this year. Completed vehicle will most likely be shown in early months of 2018 with a sales date set for summer months of the same year. We are of this opinion because BMW X3 is going to be shown during June of this year, officially presented at Frankfurt Motor Show, and the sales will beginning before the year ends. A similar scenario is what is expected for 2019 BMW X4.
The price of this vehicle is not yet published. This is normal because the development of new X4 has just begun. Considering the transfer to the new platform, improved interior and addition of new features the price will go up. There is no doubt about it. The current edition of BMW X4 is priced at $46,545 for its base model. The top tier xDriveM40i goes for the price of $59,095.