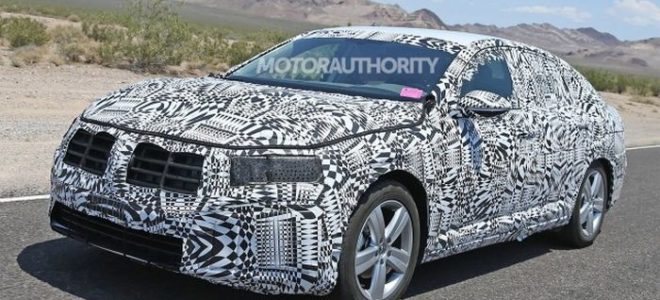 Released in 2010, the ongoing generation of the Jetta is not really up to date. The car is based on an aging platform and it usually comes with older engines than its hatch counterpart. Luckily it seems a new model is well under development. The upcoming 2018 Volkswagen Jetta has been spied testing a short while ago and it looks like VW is nearing the end of its development process. Even though the German manufacturer decided to keep quiet, it looks like the car will have its design based on the 2014 mid-size Lamando coupe concept. On top of the design change, the new Jetta will receive a new platform, better engines as well as a much nicer interior. The end result should be a more premium car than before at roughly the same price point which would mean a massive win for both VW and their customers.
2018 Volkswagen Jetta Redesign
Even though we can't see much from the latest spy shots, it seems the new car is larger than its predecessor. While the wheelbase is unusually short, the car is longer and wider. The roof-line also seems to be higher which would also suggest more passenger space. The test mule was equipped with 16 inch rims so the brakes are likely slightly better than those of its predecessor which was also available with 15 inch rims. The MQB modular platform will also mean the new Jetta is going to be quite a bit lighter and more rigid. The latter will give the car better NVH levels and it should allow it to be much safer too. Just like with its predecessor, the car is expected to retain a twist-beam rear axle. While this is cheap and offers a good amount of comfort, it is not nearly as good as a fully independent suspension setup.
The interior
It might be quite early to say much about the cabin of the 2018 Volkswagen Jetta, but even so we do have a pretty good idea about what it will have to offer. Unlike its predecessor, the new car is likely going to share its entire dashboard, seating layout and most of the features with the Golf. This means the dashboard will boast a more conservative design and the materials used inside will be much improved from the last generation.
Thanks to its wider platform, the car is also set to offer more room than before for both the front and rear passengers. However, because the wheelbase seems to be roughly the same as before, it won't provide all that much extra rear legroom but it will offer more headroom as it will be taller. The trunk is set to increase as well which is mostly thanks to its longer rear overhang.
The exterior design
As we said above, the 2018 Volkswagen Jetta test mule was heavily camouflaged so the details were hidden. However, from these spy shots we can clearly see the roof-line as well as the car's proportions. The new Jetta seems to look a lot like the Volkswagen Lamando which is a Chinese-only car. The two seem to share the same profile and the new Jetta's front end seems to be quite close to that of the Lamando too. This is actually great news as the Lamando has to be one of the best looking cars VW released in the past decade.
Under the hood of 2018 Jetta
Thanks to the new platform the upcoming 2018 Volkswagen Jetta will be able to make use of VW's latest engines. The base model is likely going to feature a 1.2 liter TSI powertrain offering between 86 and up to 110 horsepower. Their new 1.0 liter TSI engine might also become available in some markets offering as much as 115 horsepower. The higher end versions are set to receive a 1.5 liter turbo-four good for up to 150 horsepower.
A set of diesel engines comprised out of a 1.6 liter and a 2.0 liter turbo-four will be made available in Europe as well. These will likely offer between 110 and up to 190 horsepower. All cars are set to come with front wheel drive and a 6 speed manual as standard. A new 7 speed DSG gearbox will likely be an option. A high performance model offering a 2.0 liter turbo-four with north of 200 horsepower is also a real possibility at this point.
2018 Volkswagen Jetta Release date & Price
The current generation of VW Jetta has been on the market, well, for too long. With common design and six years under its belt, it needed change. The change is imminently happening but when? According to information available to us, 2018 Jetta could arrive later this year. But, don't be too impatient, because there could be a possible delay and the reveal of this vehicle could be postponed until the first months of 2018. Exact plans of VW company for this sedan are not made public, but one thing is for sure. 2018 Volkswagen Jetta might be late to the party, but as things stand now, it can't be too early.
As we said, the design and tech on current-gen Jetta are out of date, and at the same time, most of its rivals were refreshed. Even before the competitors sorted out their models, they had the upper hand over VW. With upcoming 2018 Jetta, the German automaker will try to set the things right and counter the likes of Chevy Cruze, Ford Focus, Honda Civic, Hyundai Elantra, Mazda 3, and Toyota Corolla. In addition to redesigned exterior, improved in-cabin look, updated safety, and technology new Jetta will offer a fair price for what it offers. It is expected that the price for the entry level of this vehicle starts at $18,000.