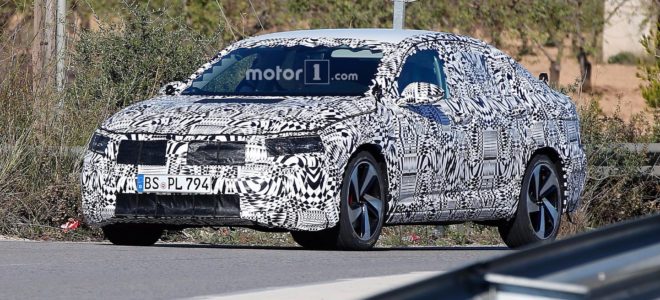 New Jetta from VW will debut at the upcoming 2018 North American Auto Show in Detroit. For 2019 Volkswagen Jetta GLI you will have to wait a bit longer than that. But, the first signs that it's underway are spy photos that were taken a few days ago.
The first sign showing us that this is a GLI version are red-hot brake calipers. The second sign is dual exhaust pipes looking mean at the back. Also, like its usually the case with sports versions of any vehicle, the ride is set lower, and the wheel arches and wheels are bigger.
The CEO of Volkswagen North America Hinrich Woebcken said that the 2019 Jetta GLI would arrive within 12 months of regular Jetta debut. This means that the sedan is due for 2019 MY. The latest version of GLI Jetta hit the market deprived of a manual transmission, but we are hopeful that this is going to change with upcoming model. The fans of sports Jetta have said that the car wasn't the same without a manual gearbox.
With every new model, the car makers are using the term 'all-new,' but this isn't always the case. Luckily for all of us, 2019 Volkswagen Jetta is actually going to be a new model by all means. The first reason for this is that the car is going to start using new MQB platform. It will fit on a more massive body frame which can be seen in the spy photos. The interior will also be overhauled, and if you can't wait to see it when new Jetta arrives, then take a look at the recently face-lifted VW Golf.
Under the bonnet of 2019 Jetta GLI, you will probably find a 2.0 TSI unit, which on the current model has 210 horsepower. Expect for this four-cylinder to be upgraded by another 10 hp which would give it an output equal to that of Golf GTI Performance.
If you can't wait for the 2019 Volkswagen Jetta GLI, a regular model will hit dealerships in early spring of 2018.