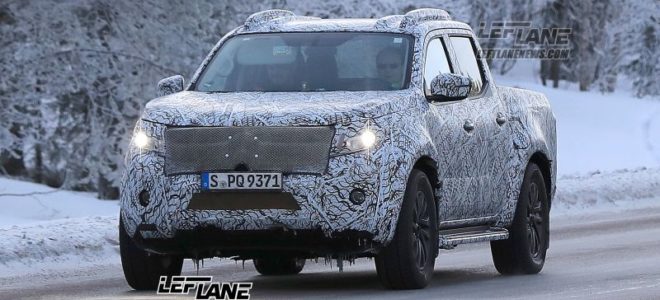 05/11/2017 UPDATE: The 2018 Mercedes-Benz X-Class will enter production later this year in Renault-Nissan plant in the vicinity of Barcelona, Spain. One of the clearest signals that this is close to happening is the fact that new X-Class was spied while road testing once again. This spy video shows Mercedes's truck camouflaged as it can get, but nonetheless something that is close to the production installment. The location of the footage is one of the public roads in Germany.
Looking at the exterior of Mercedes X-Class it is clear that the model won't be much different from Concept X-Class which was presented some time ago. The camo on the vehicle that was recently spotted hides the grille while from the previous photos we saw that the grill would have a two-bar layout. This design cues also show a lot of similarity with a concept which predates it. One of the most visible differences between concept and final product might lie in the shape of headlights. They will remain LED sourced, but the overall shape will go from being sharp and wide to a more box-like form.
New spy photos are here, but they still don't show any trace of the interior. Looking back on the concept, there is no doubt that it will be highly elegant and luxury. The bed is large and cozy, and it will be able to accept a lot of load, but this won't take anything of that 'Mercedes' feel. The cabin will be covered in high-end material such as Nappa leather, chromed pieces here and there, and aluminum details.
The platform on which is 2018 Mercedes-Benz X-Class rides is the same one used on Nissan Navara and Renault Alaskan. Despite the fact that this is the case German automaker claims that they have changed more than enough details so that when you drive inside X-Class, you will know that it's a Mercedes and not a Renault or Nissan. The high-end trim will be powered by a V-6 turbo-diesel engine, and it will be equipped with an all-wheel drive. With power from V-6, 2018 X-Class would be able to tow 7,702 pounds with an available payload of 2,430 pounds. Bellow in the lineup powertrain options would be various four-cylinder units.
As things stand now, Mercedes won't try to push their luck with performance AMG version of X-Class. According to their researchers, the market doesn't need another performance truck, at least for now.
Also, this model won't reach US shores. The pickup market there (United States) is crazy, and with the imminent arrival of 2019 Ranger, it will only get harder for Benz to make a breakthrough the way they are used to. Beyond the States, it seems that X-Class is going to be in high demand. The UK customers showed so much interest that Mercedes started to take orders before the official premiere of this truck and with production a year away.
03/13/2017 Review: The US market loves trucks and this is quite clear if we look at their sales numbers. The European market on the other hand is a completely different story. However, things changed in the past few years because trucks are usually considerably cheaper to insure. Because of that manufacturers started to offer premium versions of their trucks. Mercedes saw this as an opportunity so they worked with their close partner, Nissan, in order to develop a new premium truck. In fact Mercedes' spokesman said that the upcoming 2018 Mercedes-Benz X-Class is going to be the first true premium truck out there. So far it seems that this might be true but things could change in the near future.
Mercedes-Benz X-Class Price and Deatils
Instead of building a new truck from scratch, the X-Class is actually based on the current generation Navara. This is actually one of the best choices because the Navara already had a really unique suspension system among trucks. The fully independent setup should allow the X-Class to drive just as good as a smaller car while providing the comfort of a limousine and the off-road abilities of a true truck. Up to this point Mercedes didn't disclose too much information about it. Even so, it seems they are targeting the higher end SUV market with this truck because it seems to offer everything an SUV offers with the added benefit of being cheaper to run. The price hasn't been announced so far but it seems it might cost well in excess of $45,000. So far Mercedes said that the truck won't get to the US but things changed recently. A few weeks back Mercedes' CEO stated that they are looking at the US market closely and that the 2018 Mercedes-Benz X-Class might be in fact made in the US for the US market.
New 2018 X-Class Mercedes Interior
Being a premium truck also means that it has to impress its driver each and every time he steps into the cabin. Well, even though the X-Class is officially made by their van division, we have to say that the X-Class is a true winner. The dashboard has a unique design with features and design cues taken from the C and G Class. The center stack is tall but still quite airy while the materials, features and overall feel of the cabin seems to be on par with any other modern Mercedes. The instrument cluster, steering wheel and likely seats come straight from the C-Class which with the added visibility make up for a really interesting overall package.
The Exterior Design of 2018 Mercedes X-Class
So far they showcased two versions of the 2018 Mercedes-Benz X-Class. There is a premium road-going model as well as an all out off-road machine. Both of them share quite a few traits between them. For starters, the truck is definitely wider than the original Navara. While the windows, doors and roof didn't change, the bed, front end, part of the underside and even the front fenders are all new. With these changes the X-Class really looks like a brand new truck. It manages to look not only aggressive but also classy at the same time. If they actually decide to sell it in the US then Mercedes will more than likely start to be known as a premium truck manufacturer.
2018 Mercedes-Benz X-Class Engine Specs
It is a well known fact that the European market is fond of diesel engines. Because of that, the 2018 X-Class is more than likely is going to hit the market with a 3 liter turbocharged V6 diesel or a newly developed 3 liter inline 6. The only problem with the latter would be its length so it may not fit under the hood of the truck. In any case, the engine will likely develop between 200 and 300 horsepower and north of 400 lb-ft of torque. A 7 or 9 speed automatic gearbox is likely going to be standard while Mercedes' 4Matic all wheel drive system is actually going to be offered on the base trim level. The diesel won't be the only option though. A 2 or 3 liter gasoline engine with as much as 350 horsepower and over 350 lb-ft of torque is also a real possibility. This would appeal to the US customers who prefer gas engines for their smoothness and superior power.
2018 X-Class Mercedes-Benz Truck Release date
The X-Class was presented last fall in its concept form. The Stylish Explorer and Powerful Adventurer were accepted so well that Mercedes posted an option of pre-order on its website. Despite the fact that many people wanted to be the first one to get this premium truck they were also impatient to wait for it because there was no date set for its release. At the time the German automaker didn't know when will the production version be ready but now things seem much clearer. The Concept is behind us, and with new spy photos, we have first information about its release. According to sources, 2018 X-Class is going to be presented before the year ends. In the Europe, the main stage is going to be in Frankfurt, while in the US ( if Mercedes opt to push the X-Class across the Ocean) it's going to be in Los Angeles or Las Vegas. After the production model debuts, you can expect for it to be available in the dealerships at the start of 2018.
Competitors
The 2018 Mercedes-Benz X-Class is going to be the hottest truck when it hits the world wide markets (we are going to count, Europe, Asia, Australia, US, and South America) and it will give the currently available trucks a run for their money. Depending on the market it will go against Toyota Hilux, Ford Ranger, Nissan Navara, Mitsubishi Triton, and Volkswagen Amarok in Australia and Europe. If it reaches the US shores, it will go against the established elite trucks such as 2018 Ford F-150, 2019 Chevrolet Silverado, 2018 Toyota Tundra, and 2019 RAM 1500.