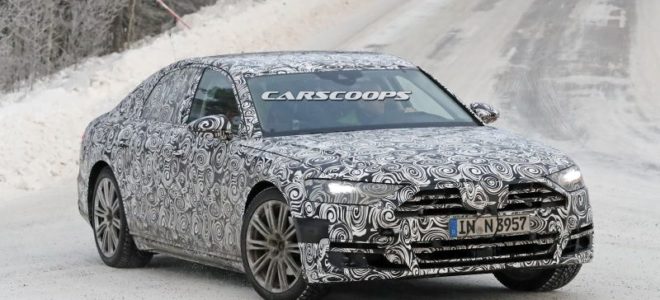 06/17/2017 UPDATE: The exterior and interior of 2018 Audi A8 were both partially revealed by the German automaker. They have used a teaser video to show us the lines of new A8. The highlights of the video focus on the cars remote parking feature. Other segments of the short movie show us the design of the taillights. Also, as you can notice the footage showcases side profile of the car, front end, and small details of the interior.
From earlier, trough spy photos we know that the 2018 A8 has Prologue Concept as its inspiration. The man in charge of the design is Marc Lichte. He is the head of the design department. New A8 is the first serial production car that comes from Audi under his watch. On his appointment, he stated that new Audi models are going to have more personality and differentiation.
A few weeks back the Ingolstadt-based company revealed that new A8 would have 48V mild hybrid system under its hood. The mentioned system will be a standard feature on all A8's. As per sources, their flagship luxury sedan will be able to ride at speeds between 30 and 160 km/h on a primary engine. After A8 this setup will become standard on other vehicles in the lineup such as A6 and A7. The v48 hybrid system can cooperate with all V6, V8 and W12 petrol engines from Audi offering. Also, diesel V6 and V8 are complementary with it.
Same as with other new vehicles from VW Group, 2018 Audi A8 will ride on MLB Evo platform. The named platform is refined for this car to be able to use FWD, AWD and to fit longitudinal engines. The chassis of new A8 consists out of a mixture of high-strength steel, aluminum, magnesium, and carbon-fiber reinforced plastic. You probably thought that thanks to this it's going to weight less. Well, you're wrong. The 2018 A8 will actually be heavier than its predecessor. To be precise, it will be heavier for 50 kilograms.
Audi will present the fourth generation of its premium flagship sedan on July 11.
03/06/2017 UPDATE: The Audi's flagship sedan A8 is one of the best models in its class. It sells way better the rivals such as Jaguar XJ, Maserati Quattroporte, and Lexus LS. This is all good, but the wound that hurts Ingolstadt company the most is the fact that they are second on sales to their local adversaries. Both Mercedes and BMW top the Audi in sales within this class with its respectable models – Mercedes-Benz S-Class and BMW 7-Series. Audi wouldn't be one of the World's premium manufacturers if it would leave things like this. Their plan is to get on top of the sales in this segment with their latest installment the 2018 Audi A8.
The main reason for why did the Audi lost its momentum in the race with BMW and Mercedes was because their model was bitten by the tooth of time. In the mid-time, all of its rivals released new models while Audi sticks to their old architecture and design. This all is about to change with the upcoming A8.
2018 Audi A8 Redesign
Latest spy photos of the all-new 2018 Audi A8 are coming from Sweden where that great limousine is undergoing winter tests. From latest pictures, we can clearly see that new A8 is inspired by the Prologue concept. The design won't be entirely borrowed from named concept, but it will be adjusted for buyers who are more conservative. This model will, like most that come out of VW Group factories, be built on MLB EVO platform same as are new Audi A7 and Bentley Bentayga. The goal is the same as with every new model which is based on this aluminum platform. Reduce weight and fuel efficiency. This move was actually made by Audi in 1994 with the same model when it brought revolution to this segment.
In addition to less weight and improved efficiency new A8 will also easier receive new engines which are all adjusted to the new platform. This will allow Audi to put a hybrid powertrain under the bonnet of new A8. Rumored mill in hybrid variant is a 3.0-liter V-6 which comes in a place of smaller inline four engines. Rest of the lineup will most likely be transferred from the current edition of this model. This list includes each and probably every engine currently available from V-6 and V-8 to W-12 gasoline engines to diesel with six, eight and, just imagine it, ten cylinders. It's not yet confirmed, but you can expect an S8 performance version with 600hp ready to battle AMG S63 and BMW M760i.
Release date of 2018 Audi A8
As far as the equipment goes, the 2018 Audi A8 will be a pioneer of Audi's latest infotainment systems, safety features, and Audi's autonomous capabilities.
You can expect 2018 A8 later this year with official presentation coming in September on home turf in Frankfurt.
06/15/2016 Review: Not that long ago Audi started a mission to redesign basically all of their cars and make them better to drive, more comfortable and quite a bit more efficient as well. The first was the Q7, then the A4 and now's the time for the 2018 Audi A8 which will be their third car to use the all new MLB Evo platform. This still uses a longitudinally mounted front engine and it still is being made mostly out of aluminum but this time around Audi and VW worked quite a bit in order to increase the rigidity of the chassis and make the car lighter. In fact, while the current model is also made out of aluminum, we expect the new A8 to shed at least 400 pounds of weight for the lower end models.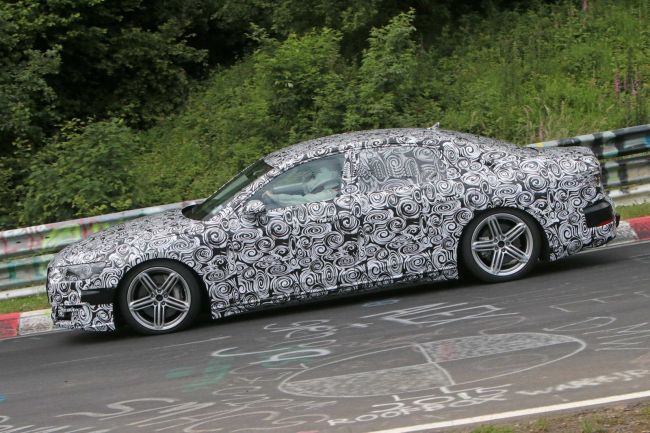 Price
This is a rather big chunk of weight and it should make the upcoming A8 a lot better to drive than before. Besides the new platform which the car will be based on, the A8 will also receive new engines and an all new look inside and out. A new range-topping trim level is also going to be added to the range in order to compete with the S600 Maybach but for now this model is still well under wraps. The price will likely not change much, if at all, but the new special edition model as well as a possible RS version of the A8 could finally breach the $200,000 threshold.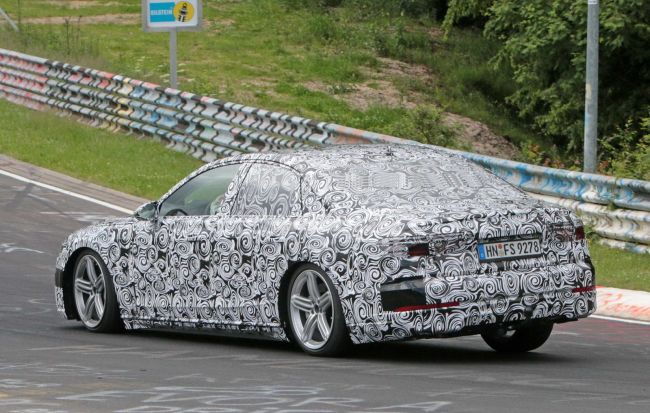 Exterior Design of new A8
Even though the car is still more than a year away from its official launch, not too long ago we have seen the 2018 Audi A8 under camouflage without any real placeholders and like many of us expected, the car seems to look a lot like an evolution of the older model rather than an entirely new car. The front end looks to take some design cues from the Prologue concept car which was showcased a couple of years ago while at the back it will share its design with the new Q7 and its individual LEDs for the tail lights. The new hexagonal 3D grille and recessed headlights make for a more aggressive look than before but the car still looks quite tame in comparison with the new 7 Series for example.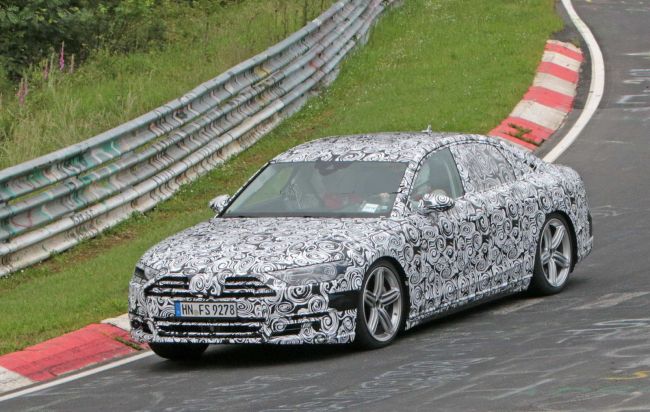 Audi A8 2018 Interior
Expect the cabin of the new A8 to be packed with the latest technology and features Audi has to offer. Also, this will be their first car to feature a true autonomous driving feature that will be able to steer, accelerate, brake and even avoid certain situations on clearly marked roads. Later down the road a better system might also be installed but until then people will have to get used to a similar system to that on the Model S.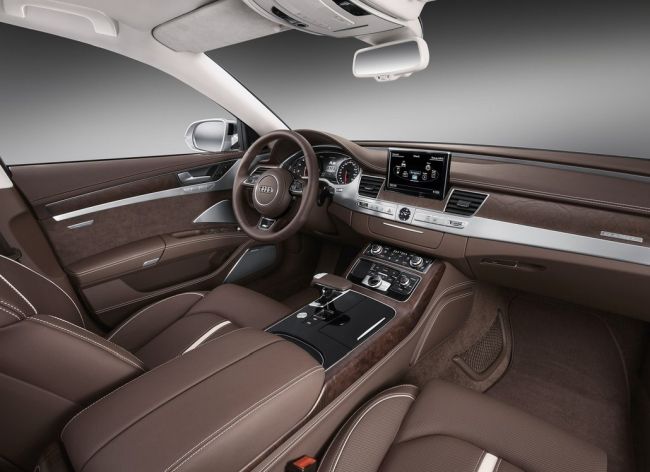 Engine and Transmission
Thanks to the massive weight loss, the upcoming 2018 Audi A8 will definitely be available with smaller engines than before. This time around a 2 liter turbocharged inline 4 mill will definitely be offered as standard in Europe. On the US market on the other hand the car is expected to receive a new 3 liter twin-turbocharged V6 petrol engine. This unit has an output ranging from 350 all the way up to more than 400 horsepower and over 400 lb-ft of torque.
A 4 liter twin-turbo V8 with close to 600 horsepower is expected to be offered on the S8. The rumored RS8 might actually get a rather impressive W12 twin-turbocharged 6 liter mill offering over 700 horsepower and 700 lb-ft of torque. The transmission of choice will still be an 8 speed automatic and all wheel drive should remain standard across the range. In the US and likely China a hybrid might be offered at a later date but this hasn't been confirmed just yet.